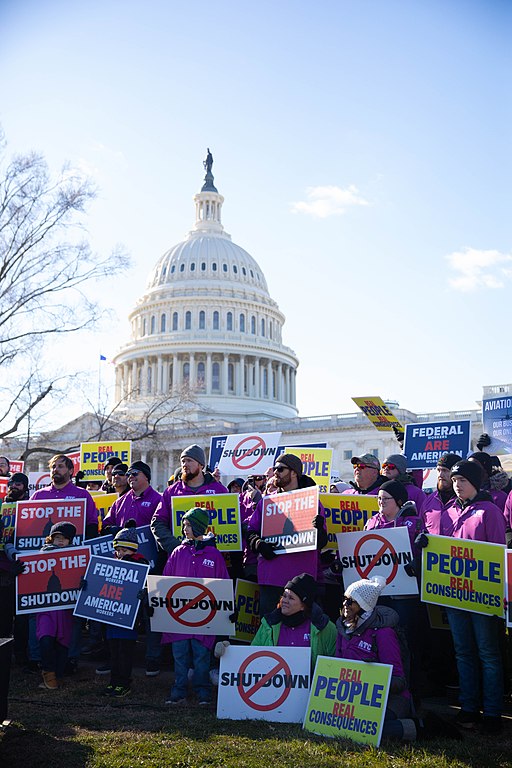 Shutdown rally
Photo by Senate Democrats via Wikimedia Commons
The 35-day federal government shutdown did not affect major national library entities, which had received funding prior to President Trump's refusal, on December 20, 2018, to sign a short-term spending bill that would have funded the government through early February. Staff at the Institute of Museum and Library Services (IMLS) and the Library of Congress (LC), as well as the U.S. Department of Education (DoE), were able to continue their work uninterrupted through the partial government shutdown that began at midnight EST on December 22, 2018 and ended on January 25. (The threat of a second shutdown three weeks after a temporary spending bill was passed was averted by Trump's February 15 declaration of a national emergency in order to bypass funding negotiations with Congress.)
However, contract workers within those agencies, and in government libraries across the country, were not so fortunate. While an estimated 800,000 furloughed workers on federal payrolls expected to receive back pay after the shutdown ended, contract workers were simply on leave without pay for that period of time.
A number of library or library-related agencies operated on a partial basis. The National Archives and Records Administration (NARA), for example, was shut down, with all archival facilities and NARA-operated presidential libraries closed to the public. But NARA Federal Records Centers remained open, and the NARA-administered Office of the Federal Register, according to the agency's website, was "allowed to publish documents from unfunded agencies that directly related to the performance of governmental functions necessary to address imminent threats to the safety of human life or protection of property." Unfunded agencies were required to submit a special handling letter along with their documents, stating that they performed critical functions.
Similarly, the contingency staffing plan developed by the U.S. Department of Health and Human Services provided for the retention of enough National Institute of Health IT staff to keep the National Library of Medicine (NLM) data center operational, to serve its external biomedical databases. Some federal agency depository libraries were closed, while others operated with minimal staffing; federal court depository libraries were also affected.
SECOND ORDER EFFECTS
Secondary impacts from agencies that were closed included academic libraries hampered by the National Science Foundation's suspension of grant proposal reviews and postdoctoral fellowship applications. And some traveling to the American Library Association (ALA) Midwinter Meeting in Seattle encountered major airport delays due to staffing shortages among TSA agents and air traffic controllers.
The process of putting together the federal budget for FY2020 will likely be affected as well. The U.S. Office of Management and Budget (OMB) needs to review all federal programs and their appropriations, but was unable to do that work during the shutdown because it was considered a nonessential function. "So even agencies like IMLS and the Department of Education that were open could only do so much as far as putting together their next year's budget," explained ALA deputy director of government relations Kevin Maher.
This, in turn, will slow down the advocacy work necessary to keep the Library Services and Technology Act (LSTA) and education programs funded in the face of another potential threat from the administration to zero them out. "Budgets tend to be DOA once they get to the Hill," Maher told LJ, "but they need this [appropriations review] as a starting point, and you have to know what to respond to. So that probably [will be] delayed as well."
CONTRACTOR BLUES
For contractors working in government libraries, the shutdown was a particularly anxious time. The government does not keep an official record of how many contractors it hires, but Paul Light, Paulette Goddard Professor of Public Service at New York University, estimates that there are close to 4.1 million workers in the United States who are either on contract or who work from federal grant funds.
"The first week of the furlough was between Christmas and New Year's, so it really felt more like a vacation than anything else," recalled Jacob Berg, senior librarian at the Stephen B. Low Library and Information Center at the U.S. Department of State's Foreign Service Institute in Arlington, VA, and a contractor via the LAC Group. "Some of that is my privilege showing, because if I miss a week's pay—well, so be it. But the weeks following that were, I would say, less amusing."
Berg's wife, also a federal employee, was furloughed as well, and the two "started to get a little bit stir crazy," he told LJ. "We did a lot of cleaning. The dogs were very happy and very well walked." Because he wouldn't be getting back pay, Berg filed for unemployment.
At the National Oceanic and Atmospheric Administration (NOAA) Central Library in Silver Spring, MD, about half of the staff are contractors, said bibliometrics librarian Jamie Roberts. A contractor herself, Roberts was fortunate, she told LJ, because her contract was funded for an additional 40 hours of work past the shutdown date. She was able to telework, as NOAA facilities were closed, but she couldn't contact any of the agency's employees, and a number of its internal services were down.
As of January 6, however, Roberts was essentially laid off. She had banked a small amount of leave, which she quickly used up, and then applied for unemployment—a welcome resource, she said, but a bittersweet one. In order to qualify for unemployment benefits, she had to document her job search—"Which is such a weird thing to do in this position," she said, "because ideally, I wanted the job that I had, that still existed, but who knew when I could go back to it. At some point you have to wonder how long you can wait."
SUPPORT FROM ALL OVER
During their forced month off, Roberts and her fellow contractors got together for low-cost activities like potluck meals and board game nights, and visited Washington's National Building Museum and the Newseum, which both offered free admission with government staff ID.
Many libraries across the Washington, DC area, such as the Arlington Public Library (APL), VA, waived overdue fines for furloughed federal workers, provided links for local assistance and financial resource programs , and held a resource fair in mid-January. The APL Friends of the Library joined forces with the Arlington Food Assistance Center to organize small nonperishable food kits, available for pickup at the Central and Aurora Hills libraries, for those who needed some help to make ends meet. In a Washington Post article on possible ties between the shutdown and a boost in reading, APL stated that ebook and e-audio circulation rose drastically from January 2018 to January 2019—a jump of close to 12,000 titles, as opposed to its customary 1,000–3,000 title increase.
Further afield, libraries across the country assembled libguides around the shutdown, such as the Brandeis University Library, Waltham, MA, which created a guide to federal alternatives in the event of a shutdown, and Northwestern University Libraries, Evanston, IL, which offered a timeline and a wealth of information.
Perry Collins and Jason Rhody, former program officers at the National Endowment of the Humanities [NEH], saw an opportunity to step in and help federal grant applicants while grant-making agencies were shut down. Both are now in the public sector—Collins is scholarly communications librarian at the University of Florida, Gainesville; Rhody is program director at the Social Science Research Council, a nonprofit social science research organization based in Brooklyn, NY—but they still took satisfaction in their time providing in-depth guidance to grant applicants. "We could give them a lot of help in thinking about what peer reviewers, who would read [the applications] down the line, might say during those conversations, just because we were seeing so many of those firsthand," said Collins.
"Jason and I were both [at NEH] in the 2013 shutdown, which was half as long, we assumed that this would end within no more than a couple of weeks," Collins told LJ. As the shutdown dragged on, she said, "we felt really sympathetic toward our former colleagues, but also toward applicants who for one reason or another now would not really have anyone to turn to—maybe they would have someone [in their own organizations] to talk to about a grant proposal, but a lot of them might have questions and not have anyone to answer them."
She reached out to Rhody, and the two decided that they could fill a need by providing what they had always advised while at NEH: a network for grant applicants to help answer questions and anticipate peer to peer reviewer queries. A pool of "people who are informed but not necessarily disciplinary experts, who can read with a clear eye for detail and nuance, but not be so ingrained in the project that they already know what they don't know," Rhody said, "helps refine proposals in important ways."
In addition, the two thought, if they couldn't directly help their furloughed colleagues they could at least encourage a stronger pool of grant applicants once agency staff returned to work. This could also help make the case for future funding for those agencies—whose workers are not allowed to advocate on their own behalf when budget appropriations are being drawn up. "All grant making agencies are at their best when they can show that there's demand for the programs that they have, so that's something that we were thinking about," noted Collins.
Rhody and Collins put out a call on social media and were pleased with the response, with about ten offers from volunteers to help. Although they only received a few inquiries from grant applicants before the shutdown ended, they have considered offering feedback as a backup for agency workers who are faced with a backlog of grantee questions—"not as a replacement," said Rhody, "but as a supplement."
THE DUST SETTLES
Three hours before the end of the shutdown was announced, Berg accepted part-time employment doing social media and communications work for Pay It Furloughed, a DC-based crowdfunded collaborative partnership that allows anyone to buy furloughed federal employees or contractors a beer (or two). "I had to call them back and say thank you but no thank you, but they understood," he said.
He was still waiting for his first unemployment check when he returned to work, several paychecks poorer. "We've got a house with a roof issue and we were quoted an astronomical price. We just laughed it off," Berg said. "I guess we'll worry about this in a couple of months, and hopefully the house is still standing. So far so good."
He returned to a smaller backlog of work than a month away from the library might ordinarily warrant, because the majority of the people who would have been emailing him with questions had also been furloughed. But his first week back was one of the busiest he had seen in his three years at Low, he noted, with a spike in checkouts, renewals, and the returns of thousands of overdue books and DVDs.
Roberts returned to her position at NOAA as well, glad to be back, but with a slightly different outlook. "I love my job and I love what I do," she said, "but I used to really recommend contracting as a great way to break into the profession as a librarian—there was a lot of opportunity—but now I don't know that I'm going to keep doing this."
Her work backlog was minor too, as some NOAA employees had remained in place to staff essential offices such as the National Weather Service. However, the tech-heavy library infrastructure had been without software updates and security patches for a month, so the system took some time to get current, Roberts said. In addition, she missed a number of quarterly and annual reporting deadlines, and some research projects will need to be restarted from scratch.
Until the threat of a second shutdown passed, Berg reported that the library held off on any additional new spending after staff returned to work. Roberts has been advised to write up a telework plan in the event that the government should shut down again—in that event, she would be able to work another 40 hours before having to reapply for unemployment benefits.
"I feel very much that I'm working without a net," said Roberts, and that she is one of many federal library contractors newly aware of how precarious their positions can be. Still, she added, "We're librarians. We're inherently optimistic."