Global investment firm KKR on December 24 announced the signing of a definitive agreement to acquire ebook provider OverDrive from Japanese online retailer Rakuten.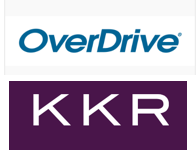 Global investment firm KKR on December 24 announced the signing of a definitive agreement to acquire ebook provider OverDrive from Japanese online retailer Rakuten. Terms of the sale were not disclosed. Rakuten purchased OverDrive for $410 million in 2015. According to an "Announcement of Agreement Regarding Transfer of All Shares of OverDrive Holdings," Rakuten "currently expects to record around a JPY 40 billion gain [$364,875,000 USD] in FY2020 Q1" from the sale.
"KKR is delighted to be investing in OverDrive, a premier digital content platform that serves libraries and library patrons around the world," Richard Sarnoff, member at KKR, said in the announcement. "It is a privilege to work with an industry leading team, including founder and CEO Steve Potash, on growing this special franchise in the decade to come."
Founded in 1976 by former Bear Stearns executives Jerome Kohlberg, Jr., Henry Kravis, and George Roberts, KKR has grown into a major global firm, with $208.4 billion assets under management, and investments in 109 portfolio companies, including a wide range of consumer brands such as guitar manufacturer Gibson, "Fortnite" creator Epic Games, lyft, WebMD, Nielsen, and mixed martial arts promotion company UFC (Ultimate Fighting Championship). Notably, in July 2018 KKR also acquired RBmedia, developer of the RBDigital platform for libraries, from Shamrock Capital.
"OverDrive is very excited to work with the world-class KKR team due to their track record of accelerating digital media and technology businesses in global markets," Potash said in the announcement. "This provides access to an extraordinary network of capabilities to empower our institutional partners for the benefit of the communities and readers they serve."
Several librarians expressed concern about the move on social media platforms such as Twitter and Facebook, with some suggesting that the timing of the announcement could be construed as an attempt to bury the news during a major holiday, and others noting that KKR was one of three firms with a stake in Toys "R" Us during that company's high-profile bankruptcy and liquidation in 2018.
KKR, Bain Capital, and Vornado Realty Trust acquired Toys "R" Us in 2005. Like many retailers of primarily discretionary products, the company was hit hard by the Great Recession, and later struggled to compete with Amazon. But, as coverage in The Atlantic explained, the company's buyout was financed through debt, which was then put on the books at Toys "R" Us, making it more difficult for the retailer to adapt to the market during challenging times. However, KKR has also facilitated successful turnarounds and relaunches, such as acquiring Dollar General in 2007, hiring a new management team, upgrading the retailer's product selection, and ultimately helping the company go public.
A statement by Ted Oberwager, managing director at KKR, indicated that the firm views OverDrive as a growth opportunity and plans on expansion.
"At a time of accelerating digital adoption throughout libraries and schools, OverDrive offers its growing user base a best-in-class technology platform and reading experience—something we're excited to be a part of," said Oberwager. "We look forward to working with the Company to further grow its portfolio and network, and continue to build on its status as a recognized leader in the digital content space."