Week ending August 10, 2018
Burgess, Doug. Fogland Point. Poisoned Pen. Aug. 2018. 288p. ISBN 9781464210228. $26.95. MYS
[DEBUT NOVEL] After receiving a disturbing call from his increasingly senile grandma, Maggie, David Hazard returns home to Little Compton, RI. Usually Maggie's best friend and next-door neighbor Emma cares for her, but David finds Emma dead, hit on the head with a frying pan. The Providence police think it's an accident, but local police chief Billy Dyer disagrees. Wealthy newcomer Marcus Rhinegold surprises the mourners by attending Emma's funeral and soon has the whole town looking for him when his yacht disappears on the foggy ocean. David and Billy, who dated when David was known as Rosalie, work together to solve the mystery of Emma's death. The yacht hunt turns into a murder investigation twice over, revealing a mob connection and local complexities fitting a town more than 350 years old.
VERDICT Nonfiction author Burgess's ( Engines of Empire: Steamships and the Victorian Imagination) debut novel is an entertaining kaleidoscope of a mystery, replete with New England maritime history, a love story, ghosts, and humor. Although some suspension of disbelief is required, readers of complicated mysteries and New England stories will appreciate it, as will readers who just enjoy a good yarn.—Nancy H. Fontaine, Norwich P.L., VT
Ford, Jack. Chariot on the Mountain. Kensington. Aug. 2018. 320p. ISBN 9781496713094. $26; ebk. ISBN 9781496713117. F
On a Virginia plantation, 20 years before the start of the Civil War, Samuel Maddox makes a death-bed request of his wife, Mary: emancipate Kitty, a slave on their plantation and his biological daughter. Mary, who has been unable to bear Samuel's children, resents Kitty and initially resists. Kitty fears that Mary will sell her and her three children off just as she did Kitty's mother, so she decides to flee. She doesn't get far and is dragged back. Mary realizes that bitterness has clouded her view of Kitty, and she must set her free. But Samuel's nephew, Samuel, who is deeply in debt, enters the scene and sees the death of his uncle as a means to extricate himself. Left out of the will, he seeks legal counsel to stop Mary from disposing of property. Mary sees that if Samuel gains control, he will sell off the plantation's most valuable assets, including Kitty and her offspring. Acting quickly Mary, Kitty, and the children make their way to the free state of Pennsylvania via the Underground Railroad. Thinking them safe, Mary returns home, but Samuel is relentless.
VERDICT Based upon real events, journalist Ford's latest (after The Walls of Jericho) takes readers on a heart-stopping physical, emotional, and legal journey.—Susan Santa, Shelter Rock P.L., Albertson, NY
Grant, Sofia. The Daisy Children. Morrow. Aug. 2018. 432p. ISBN 9780062693440. pap. $15.99; ebk. ISBN 9780062693457. F
Grant's second novel (after The Dress in the Window) sees Katie Garrett taking off for rural Texas after hearing that her grandmother has died and left her an inheritance. It's the perfect opportunity for Katie to flee a stifling marriage with a philandering husband. Once in Texas, she encounters a distant cousin, Scarlett, whom she initially can't relate to, and a handsome man who stirs long-dormant feelings in her. As they go through her grandmother's possessions, Katie and Scarlett uncover details of a 1937 explosion that changed their grandmother's life and now affects Katie's life as well. Grant's attempts at conveying a heartfelt story about finding oneself through family is commendable. However, Katie comes across as a simpleton who after rightly condemning her husband for his affairs turns around and engages in one herself. There's no real depth to either her character or her intentions. Scarlett is as lively as Katie is bland, but her spirit doesn't save a sadly underdeveloped narrative.
VERDICT This might appeal to readers looking for an uncomplicated, effortless story. Those seeking a profound literary journey of self-discovery should look elsewhere.—Adriana Delgado, West Palm Beach, FL
McCauley, Terrence. The Fairfax Incident. Polis. Jun. 2018. 336p. ISBN 9781947993051. pap. $16; ebk. ISBN 9781947993334. MYS
McCauley's (A Murder of Crows; A Conspiracy of Ravens) tenth book brings us to pre–World War II Manhattan, a city still influenced by the political machinations of Tammany Hall. Charlie Doherty has been kicked off the police force by the unscrupulous Chief Carmichael but has landed on his feet as a private investigator subsidized by the wealthy Mr. Van Dorn. In exchange for a place to live and connections to wealthy clients, Charlie shares information about those clients with Van Dorn. Charlie was never an angel and has no compunctions about his new setup. Charlie's newest client is sure that her husband did not commit suicide, despite all indications to the contrary, and wants to find his murderer. Charlie decides to humor her and discover why the man killed himself. Before he knows it, he is dodging bullets, unearthing murdered witnesses, and facing a mysterious countess. The corruption of the Manhattan police force and the growing concerns in Washington about the rise of Adolph Hitler combine for an explosive conclusion.
VERDICT Charlie is a likable antihero and the historical notes ring true. Well-developed characters, snappy dialog, and plenty of action make this hard-boiled thriller a perfect book for those who enjoy Raymond Chandler.—Terry Lucas, Shelter Island P.L., NY
Peebles, Frances de Pontes. The Air You Breathe. Riverhead. Aug. 2018. 464p. ISBN 9780735210998. $26; ebk. ISBN 9780735211018. F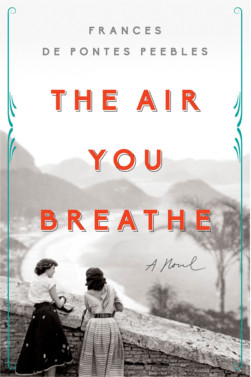 Dores is an orphaned servant girl raised in the kitchen of a sugar plantation in 1930s Brazil. A capricious beauty who craves attention, Graça is the spoiled only daughter of the plantation owners. As children, the two girls bonded over their mutual love of music. As teenagers, they engineer a daring escape, landing in the Lapa district of Rio. In the colorful, avant garde neighborhood each discovers her true calling—Dores as a songwriter and lyricist, Graça as a singer and performer. Peebles's second novel (after The Seamstress) tells the story of their journey to become two of the most influential samba musicians of their generation, and the lifelong friendship that fired their creativity and shaped their lives.
VERDICT A haunting, poetic novel about friendship, love, and longing, tinged with golden age glamour. A perfect fit for any general fiction collection. [See Prepub Alert, 2/26/18.]—Lindsay Morton, P.L. of Science, San Francisco
Ramsey, Willa. Everything but the Earl. City Owl. (Wayward & Willful, Bk. 1). Jul. 2018. 266p. ISBN 9781944728908. pap. $14.99; ebk. ISBN 9781944728892. HISTORICAL ROMANCE
[DEBUT] Though she was not born to the aristocracy, as the daughter of a fashionable architect Miss Caroline Crispin moves in the first circles of London society. When not assisting her parents at their firm, Caroline busies herself with charitable schemes and enjoys casual flirtations with men of the ton. Proudly nonconformist, Caroline is nevertheless mortified when she overhears two male acquaintances disparaging her reputation and making her the subject of a shocking wager. Determined to teach these so-called gentlemen a lesson, Caro calls on an old school friend and finds an unlikely accomplice in her friend's elder brother. Adam Wexley, Earl of Ryland, is a warmhearted nobleman with a love of landscaping and distaste for the pugilistic sports his father adored. While he finds Caroline's plan for revenge concerning, to say the least, he's willing to assist if it means spending more time with his sister's pretty friend. A light, bubbly story with an unusually explicit feminist perspective and a plot that turns on slut-shaming and gossip.
VERDICT Generally enjoyable, though the execution is a bit uneven, suffering from occasional odd turns of phrase, selective adherence to period norms and nomenclature, and humor that sometimes stumbles from silly to clumsy.—Lindsay Morton, P.L. of Science, San Francisco
Wohlsdorf, Gina. Blood Highway. Algonquin. Aug. 2018. 320p. ISBN 9781616205638. pap. $16.95; ebk. ISBN 9781616208813. THRILLER
Rainy Cain is a 17-year-old navigating life in Minnesota on her own. She lies to her friends about her family to avoid embarrassment and steals food and clothing to survive. Her relationship with her depressed mother, with whom she lives, has been nonexistent for years, and she's been told her father died before she was born. Rainy's world turns even more upside down when she finds her mother dead in their bathtub, an apparent suicide. Shaken but not surprised, she forms a lasting bond with Blaine, the first police officer on the scene, who can relate to her, but things go from bad to worse as she learns that her father, Sam, is actually alive, has escaped from prison, and is looking for her. Sam eventually catches up to Rainy with the intention of escorting her to California to find a missing fortune, all while taking her down their family's disturbing and sinister past, which she never knew existed.
VERDICT A story of discovery and accepting one's family at its core, Wohlsdorf's ( Security) dark thriller is sure to attract fans of both Gillian Flynn and Mary Kubica.—David Miller, Farmville P.L., NC