Week ending August 10, 2018
Dane, Lauren. Sugar. Carina: Harlequin. (Cake, Bk. 2). Sept. 2018. 110p. ebk. ISBN 9781459290433. $2.99. CONTEMPORARY ROMANCE
Sugar picks up the action from Dane's 2013 novella Cake. In this sequel, readers are treated to a happily-ever-after road trip for the soon-to-be newlywed graphic artist Wren Davis and artist Gregori Ivanov. Wren and Gregori fly off to New York City to elope and shop but soon find themselves stuck in Idaho. Wren, ever the optimist, turns the bad weather into an opportunity for a different kind of honeymoon. After a quick visit to city hall, the now married couple rent a car and proceed to travel back to Seattle, with stops at a haunted bed and breakfast, roadside attractions, and the best restaurants along the way. The novella starts and ends with the powerful sex scenes of attentive lovers that readers expect from the author. In between is a weird and wacky travelog across Montana, Idaho, and Washington. There's little plot, but readers get to follow two people deeply in love as they eat their way back home.
VERDICT A sweet journey for two people who know each other intimately and love good food. Readers might find its absence of drama a refreshing change for contemporary romance.—John Rodzvilla, Emerson Coll., Boston
Foster, Melissa. Anything for Love. Melissa Foster. (Bradens & Montgomerys, Bk. 2). Jun. 2018. 316p. ebk. ISBN 9781941480885. $4.99. CONTEMPORARY ROMANCE
Beau Braden is running from his past. Although he is close to his large family in Pleasant Hill, MD, being there this time of year only reminds him of how he caused the death of his first love. When he is given the opportunity to spend a month making repairs at Charlotte Sterling's Colorado Mountain inn on his way out to a new life in California, he gladly accepts. Little does he know that the quirky, reclusive innkeeper, a full-time erotic romance novelist, is both a beauty and, ultimately, his salvation. From day one, Charlotte intrigues him with the blow-up sex dolls she uses for inspiration while maintaining an innocence fueled by dreams of true love and romance. Although Beau is extremely attracted to her, will their love be enough to overcome his guilty past? Because this novel is part of a much larger series ("Love in Bloom"), many characters are mentioned in passing, leading to some difficulty in keeping track of interconnecting relationships.
VERDICT While some interactions between Beau and Charlotte are steamy, the pair spend a lot of time reminiscing about their families without action or conflict to make the story dynamic. This full-length novel would have made a more compelling novella.—Vicky Coffin, Salem Free P.L., CT
Grant, Donna. Dark Alpha's Hunger. Swerve: St. Martin's. (Reapers, Bk. 6). Aug. 2018. 158p. ebk. ISBN 9781250138132. $3.99. PARANORMAL ROMANCE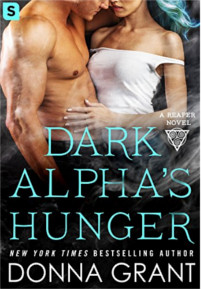 This sixth book in the series (after Dark Alpha's Night) sports the reappearance of the lost Reaper Eoghan, who has been trapped in a hellish netherworld for much of the other books. Eoghan is freed with the help of the ethereal music of Thea, a powerful half-Fae orphan who grew up playing the violin. Thea and Eoghan are immediately smitten with each other, but Eoghan resists the attraction because Reapers are not supposed to take lovers. When Eoghan visits Thea to thank her, she is suddenly caught up in a complex Fae power struggle involving Erith, who is Death personified; Usaeil, the Queen of the Light; and Bran, the rebellious Reaper who has mounted an insurgency against Erith. Thea is kidnapped, and Eoghan, now with his own troop of Reapers, is barely able to rescue her. Once Thea is free, she and Eoghan finally give in to their mutual attraction. Then Thea is placed in ultimate peril, and Eoghan is powerless to help her. Can Thea rely on her musical gift to save herself?
VERDICT The return of Eoghan and the formation of a second band of Reapers inject new life into the series; dynamic erotic interplay as well as character-driven suspense make this a summer sizzler; highly recommended.—Henry Bankhead, San Rafael P.L., CA
Seidel, Kathleen Gilles. The Fourth Summer. Lyrical Shine: Kensington. (Stand Tall, Bk. 1). Jul. 2018. 250p. ebk. ISBN 9781516107339. $3.99. CONTEMPORARY ROMANCE
As an army brat, Caitlin McGraw spent her childhood moving around. The one constant was summers with her grandma in North Carolina. Now a graphic artist in San Francisco with personae to match her varied clientele, she hasn't quite gotten around to updating her official address, so she is called back to North Carolina for jury duty. Seth Street is living the life in Oregon. His unexpected Olympic bronze medal for snowboarding means he and his teammates get to be on the slopes year-round, making YouTube videos, teaching, and having fun. Seth, too, has failed to update his permanent address, so back to North Carolina he heads for to fulfill his civic duty. When Seth and Caitlin see each other in the jury room, those summers come immediately to memory. Seth teaching Caitlin to skateboard, Seth and Caitlin together learning about first love.
VERDICT In this latest from Seidel (Don't Forget To Smile), the complexity of the characters and their struggles against the adage "you can never go home again" make for a rich story. Seth's living flashback to the first time he and Caitlin made love while they make love as adults feels a little misplaced/out of genre. Still, a solid add for larger romance and ebook collections.—Heather Lisa Maneiro, SILS, Univ. of North Carolina at Chapel Hill