Work has wrapped up at DC, Boston, and Brooklyn Public Library branches; construction proceeds on schedule at Spokane and Mid-Continent Public Libraries, and the Theodore Roosevelt Presidential Library has chosen Snøhetta as its design firm.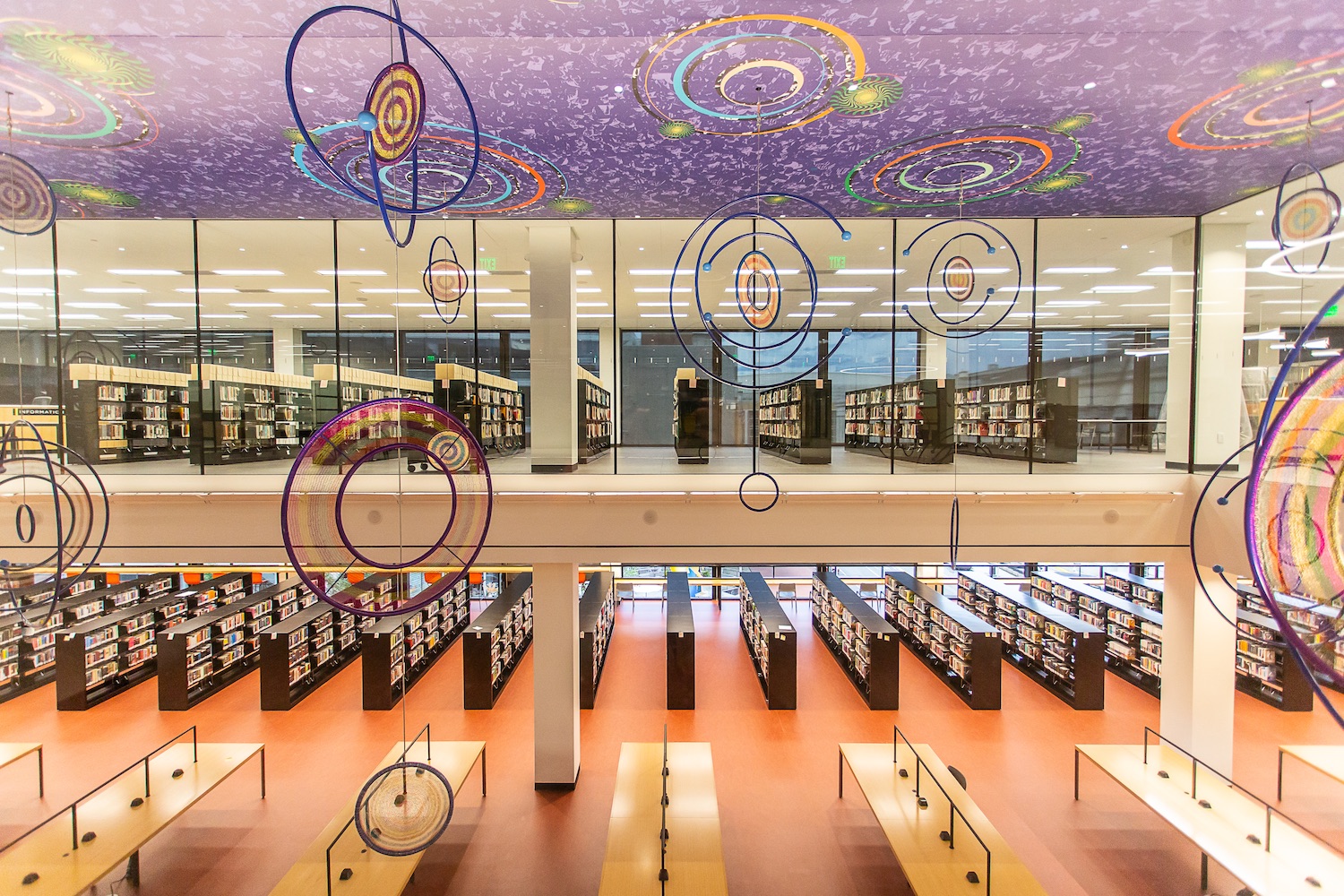 DC Public Library's Martin Luther King Jr. Memorial Library
After three and a half years, construction wrapped on DC Public Library's $211 million Martin Luther King Jr. Memorial Library renovation on September 24. The flagship library, designed by Netherlands-based architectural firm Mecanoo, features a spherical winding staircase connecting all six floors (plus a wooden slide for kids between the children's reading room and a landing). The top floor houses a 290-seat auditorium, rooftop gardens, and an event space; in the basement, a fabrication lab holds 3-D printers, laser cutters, and woodworking tools, with two recording studios that include green screens, mixing devices, and musical instruments. In between are quiet spaces, a teen space, an accessibility center with inclusive technology, conference rooms, and meeting spaces. The main reading room on the third floor is topped by a canopy of metal crochet mobiles designed by artist Xenobia Bailey. (Take a 360˚ tour of the new space here.)
The $17.2 million renovation of Boston Public Library's (BPL) Roxbury Branch (formerly the Dudley branch), begun in November 2017, was completed at the end of October. The branch is currently open for BPL To Go services: patrons can place holds, check out, and return materials. The 27,000 square foot renovation includes a new welcome area overlooking a redesigned plaza; dedicated spaces for all ages, including a new children's corner; an African American collection space; nutrition and learning labs; a community room with state-of-the-art technology; workspaces; two interior Percent for Art installations; and more. A new roof, windows, insulation, and modernized HVAC and lighting will reduce energy consumption and the building's carbon footprint. Design and construction were managed by the City of Boston's Public Facilities Department, with consultation from the Mayor's Office of Arts & Culture, and architecture firm Utile, Inc.; community residents also had input into design process.
Brooklyn Public Library's new Greenpoint Library and Environmental Education Center opened on October 20. Designed by Marble Fairbanks, with landscaping by SCAPE, it is twice the size of the previous branch, encompassing more than 15,000 square feet with significantly enlarged indoor and outdoor spaces. The Greenpoint Library, funded with $5 million provided by the Office of the New York State Attorney General and New York State Department of Environmental Conservation through the Greenpoint Community Environmental Fund, as well as $18 million in other sources, features flexible spaces that can be used for solo study, small group work or larger meetings; enough electrical outlets and laptop space for tech-enabled work; and a dedicated teen space. The facility—which is targeting LEED Platinum certification—also includes lab spaces for interactive projects, a large community event space, lounge seating, small meeting rooms, and outdoor spaces, including reading and demonstration gardens and a first floor plaza for programs and more.
Mid-Continent Public Library (MCPL), MO, has begun construction on a new project at its Woodneath Library Center, estimated to be complete by December 2021. Adjacent to the existing branch on its 32-acre campus, the new facility will feature an auditorium with separate entrance that can seat up to 400, as well as a smaller outdoor amphitheater. The work will also include a stepped outdoor plaza connecting the existing library to the auditorium, a cultural feature near the site of an old barn and silo telling the history of the property, additional walking trails with educational markers, outdoor meeting space adjacent to the trail, and expanded parking. The Woodneath Auditorium project is part of MCPL's ongoing Capital Improvement Plan, launched following the passage of Proposition L in 2016, which will include upgrading all branches and adding two more, to be completed by the end of 2022. The library is working with SAPP Design Architects, Helix Architecture + Design, and JE Dunn.
In spite of pandemic-related delays, the renovation of the downtown Spokane Public Library, WA, is on track, with completion scheduled for spring 2022. The branch closed weeks before the entire system shut down in the wake of the coronavirus in March, and since then demolition and construction have been able to proceed, allowing for safe practices, including social distancing and health checks for everyone entering the building. The first floor, previously largely dedicated to staff offices, will feature public areas including retail space, a café, computers, and meeting spaces. The collection will be housed on the second floor, which will also include the YA and teen section and the Children's Discovery space. A revamped Northwest Room, with a curated collection focusing on local history, will be moved to the third floor, along with a recording studio and video editing room. The project, includes the renovation or construction of seven branches, was funded by a $77 million property tax bond passed in 2018.
The Norwegian firm Snøhetta has been selected as design architect for the Theodore Roosevelt Presidential Library. The design, inspired by the terrain of its location in the North Dakota Badlands, emphasizes the expansive views, and the roof—which can be walked on—features natural local grasses. Hiking trails and boardwalks will lead to outdoor pavilions. Construction will use locally sourced and renewable materials; proposed energy systems will set a new standard for sustainable design in the region, mitigating the impact of wind and other climatic factors so that the library can be accessible in all seasons. The Theodore Roosevelt Presidential Library Foundation hopes to break ground by the end of 2021 and open the library in 2025.