Want to get the latest book news delivered to your inbox each day? Sign up for our daily Book Pulse newsletter.
Big Books of the Week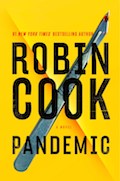 Pandemic by Robin Cook (G.P. Putnam's Sons: Penguin) leads holds this week.
Other titles in demand include:
The Enemy of My Enemy by W.E.B. Griffin, William E. Butterworth IV (G.P. Putnam's Sons: Penguin)
For Better and Worse by Margot Hunt (MIRA: Harper)
There are no books from the LibraryReads or Indie Next lists publishing this week.
These books and others publishing the week of December 10, 2018, are listed in a downloadable spreadsheet.
In The Media
People picks its "Top 10 Books" of the Year: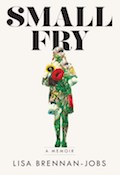 Small Fry by Lisa Brennan-Jobs (Grove Press)
Becoming by Michelle Obama (Crown: Random House)
You Think It, I'll Say It: Stories by Curtis Sittenfeld (Random House; LJ starred review)
A Place for Us by Fatima Farheen Mirza (SJP for Hogarth: Random House)
Good and Mad: The Revolutionary Power of Women's Anger by Rebecca Traister (S. & S.)
The Female Persuasion by Meg Wolitzer (Riverhead: Penguin)
Circe by Madeline Miller (Little, Brown: Hachette)
IWrote This Book Because I Love You: Essays by Tim Kreider (S. & S.)
Calypso by David Sedaris (Little, Brown: Hachette; LJ starred review)
An AmericanMarriage by Tayari Jones (Algonquin: Workman; LJ starred review)

People features Terry O'Neill: Rare and Unseen by Terry O'Neill (Acc Art Books) and Mary Queen ofScots. Authors Michelle Obama, Busy Philipps, Aly Raisman, and Chip & Joanna Gaines make People's list of the "25 Most Intriguing People." In the "Top 10 Movies" are the adaptations Can You Ever Forgive Me, Crazy Rich Asians, Black Panther, Paddingon 2 , and BlackKkKlansman. In the "Top 10 TV" shows are the adaptations The Haunting of Hill House, Killing Eve, Sharp Objects, Howards End, and You. In the recipe section are offerings from Now & Again: Go-To Recipes, Inspired Menus + Endless Ideas for Reinventing Leftovers by Julia Turshen (Chronicle Books) and an older collection from Nigella Lawson, Feast.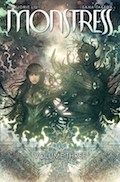 Entertainment Weekly features its "Best of the Year" in a number of categories. Their book list is already online as is their Best YA list. For comics, EW says that Monstress by Marjorie Liu, Sana Takeda (Image Comics) is the "Best Ongoing Series" andThe New World by Ales Kot, et. al (Image Comics) is the "Best New Series." Among the "10 Things That Rocked the Internet in 2018" is Avengers: Infinity War. A survey of the best and worst political memoirs leads with Becoming by Michelle Obama (Crown: Random House) and The Restless Wave: Good Times, Just Causes, Great Fights, and Other Appreciations by John McCain, Mark Salter (S. & S). A Higher Loyalty: Truth, Lies, and Leadership by James Comey (Flatiron: Macmillan) marks with midpoint with Unhinged: An Insider's Account of the Trump White House by Omarosa Manigault Newman (Gallery: S. & S.) and finally The Briefing: Politics, the Press, and the President by Sean Spicer (Regnery) "winning" worst of the year. An account of the best box office earners includes Black Panther, Avengers: Infinity War, Jurassic World, Deadpool 2, Ant-Man and the Wasp, Solo: A Star Wars Story, Venom, and Dr. Seuss' The Grinch. The book adaptations included on the "Year's Best Films" are Paddingon 2 at No. 5 and First Man at No. 8. In a separate accounting, Black Panther, Annihilation, and Burning also make the cut.
Reviews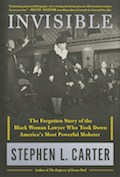 The NYT circles back to Invisible: The Forgotten Story of the Black Woman Lawyer Who Took Down America's Most Powerful Mobster by Stephen L. Carter (Henry Holt: Macmillan): "Above all, it proves that one can't shoehorn lives like Eunice's into bite-size stories of triumph. Struggle demands nuance. Truthful narratives demand complexity." Also, We Begin in Gladness: How Poets Progress by Craig Morgan Teicher (Graywolf Press: Macmillan): "perceptively identifies the philosophical undercurrents in much of 20th- and 21st-century poetry and highlights important patterns of poetic influence." Mad, Bad, Dangerous to Know: The Fathers of Wilde, Yeats and Joyce by Colm Tóibín (Scribner: S. & S.): "an evocative, engaging portrait not only of "three prodigal fathers," as he calls them, but of Dublin in the 19th and early 20th centuries." The children's book column looks at grandparents and the paper also writes about M by Antonio Scurati, a book gaining steam in Italy, not yet published in the US, about Mussolini.
The Washington Post circles back to Brief Answers to the Big Questions by Stephen Hawking (Bantam: Random House): "a splendid book. Enjoy it, learn from it, and regret that it is Hawking's last." Also, In the Hurricane's Eye: The Genius of George Washington and the Victory at Yorktown by Nathaniel Philbrick (Viking: Penguin): "a tension-filled and riveting account of the alliance that assured American independence." Keeping At It: The Quest for Sound Moneyand Good Government by Paul Volcker, Christine Harper (PublicAffairs:Hachette): "a measured, even-handed review of a career largely spent in public service." Finally, the paper also reviews Invisible: The Forgotten Story of the Black Woman Lawyer Who Took Down America's Most Powerful Mobster by Stephen L. Carter (Henry Holt: Macmillan): "riveting."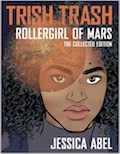 NPR reviews Trish Trash: Rollergirl of Mars Omnibus by Jessica Abel (Super Genius: Macmillan): "isn't just a sports story and a coming-of-age tale; it's also a masterful critique of capitalism." Also, Mary Queen of Scots by Stefan Zweig, translated by Eden Paul and Cedar Paul (Pushkin Press): "facts are presented or debated with a scholar's enthusiasm, but often they merely set the stage for discussion of the psychological and the narratively preordained."
Entertainment Weekly considers Fire & Blood: 300 Years Before A Game of Thrones(A Targaryen History) by George R. R. Martin (Bantam: Random House): giving it an A grade and a long review.
Best Books of 2018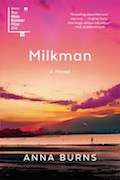 The Guardian posts another accounting of the best books of the year.
The NYTexplains how their best lists are made.
The Wall Street Journal also picks its best of 2018: Fiction and Nonfiction, Politics, Science Fiction, Mysteries, and Children's (subscription required).
Remezcla picks the "Best Books by Latino and Latin American Authors in 2018."
Autostraddle names "50 of the Best Feminist Books of 2018" and "50 of the Best LGBT Books of 2018."
LitHub lists the Best Reviewed Books of 2018: Fiction and Nonfiction, on a different note, "The Most Scathing Reviews of 2018." 
Briefly Noted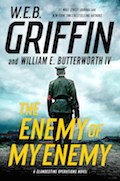 USA Today picks its books for the week.
John Leguizamo suggests books that "challenge one-sided narratives of the past."
Priestdaddy: A Memoir by Patricia Lockwood (Riverhead: Penguin) wins the Thurber Prize For American Humor.
The Grammy nominations are out, including for Best Spoken Word Album.
John le Carré will publish a new novel in 2019. The Guardian has details, including that it will address "the division and rage at the heart of our modern world."
LitHub begins its annual countdown of the 50 biggest literary stories of the year.
Tracy K. Smith writes about politics and poetry for the NYT. Also, Idra Novey writes an essay for the NYT about Chile, travel, and more.

The NYT reports on the publishing industry and staff changes at Crown.
LitHub offers an illustrated essay on "The Joys Of Designing A Debut Writer's Book."
The Guardianinterviews poet Robin Robertson, novelist David Szalay, and features Raynor Winn, The Salt Path: A Memoir (Penguin).
Author P. M. Forni has died. The NYT has an obituary.
Authors on Air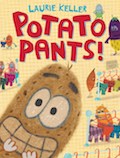 Jon Scieszka suggests books as gifts for NPR's ongoing series.
The NYT considers the stage adaptation of To Kill a Mockingbird.
Deadline Hollywood reports that Reese Witherspoon is going to produce Where the Crawdads Sing for the big screen. Also, the DC character Plastic Man might be headed to the movies. Ghost in the Shell is headed to Netflix. The Helicopter Heist: A Novel Based onTrue Events by Jonas Bonnier, translated by Alice Menzies (Other Press: Random House) is also set for Netflix.
Avengers Endgame gets a trailer. As do Stranger Things, season 3 and The Umbrella Academy.
Want to get the latest book news delivered to your inbox each day? Sign up for our daily Book Pulse newsletter.