Want to get the latest book news delivered to your inbox each day? Sign up for our daily Book Pulse newsletter.
Big Books of the Week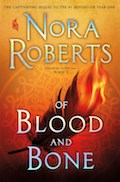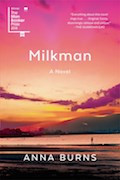 Of Bloodand Bone: Chronicles of The One, Book 2 by Nora Roberts (St. Martin's: Macmillan) and Milkman by Anna Burns (Graywolf: Macmillan) lead holds this week.
Other titles in demand include:
Queen of Air andDarkness by Cassandra Clare (Margaret K. McElderry: S. & S)
OnceUpon a River by Diane Setterfield (Atria/Emily Bestler: S. & S.; LJ starred review)
Danielle Walker'sEat What You Love: Everyday Comfort Food You Crave; Gluten-Free, Dairy-Free, and Paleo Recipes by Danielle Walker (Ten Speed: Random House)
Before We Were Strangersby Brenda Novak (MIRA: Harper)
Broken Groundby Val McDermid (Atlantic Monthly)
My Favorite Half-Night Stand by Christina Lauren (Gallery: S. & S.)
KitchenYarns: Notes on Life, Love, and Food by Ann Hood (W.W. Norton)
Librarians and Booksellers Suggest
Six Indie Next selections publish this week: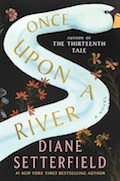 OnceUpon a River by Diane Setterfield (Atria/Emily Bestler: S. & S.; LJ starred review)
"Time to settle down for a story. It begins, as good stories should, with the rescue of a pair of strangers on a winter night. Though all is not as it seems in Diane Setterfield's latest, as Once Upon a River quickly delves into a mystery. The young girl was dead when she was pulled from the river, but hours later she begins to breathe. As the story of her revival spreads, more than one member of the village feels mysteriously drawn to her. Could she be their missing child, estranged granddaughter, long-lost sister? Setterfield's work is the closest an adult can come to settling down for story time, and Once Upon a River has the same magic, timeless, and cozy charm of a tale that has been told through the ages. Simply lovely." —Molly Gillespie, Joseph-Beth Booksellers, Cincinnati, OH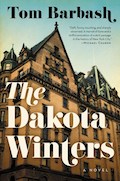 TheDakota Winters by Tom Barbash (Ecco: Harper)
"In The Dakota Winters, Barbash delivers a sweeping family saga that transports readers to the New York City of the late '70s and early '80s, to Central Park, The Village, the restaurant and club scenes, from The Beatles to The Flying Lizards to your average dysfunctional family living at the Dakota — the Winters. The story follows two conflicting arcs: that of fading father and late-night host Buddy Winter and that of his emerging 23-year-old son Anton. I loved Barbash's first novel, The Last Good Time, and The Dakota Winters does not disappoint. You'll want to savor every sentence of this powerful chronicle of the times!" —Bill Reilly, the river's end bookstore, Oswego, NY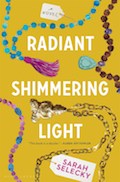 Radiant Shimmering Light by Sarah Selecky (Bloomsbury: Macmillan)
"Is it really possible to use all of our devices and social media to create truly grounded, peaceful, meaningful lives? In Selecky's latest, 40-year-old pet artist Lillian is the one to find out! Incorporating every self-help, holistic, new-age approach there is, she reconnects with her long-lost cousin (and women's lifestyle guru) to live a life that is truly Instagram-worthy!" —Andrea Jones, The Galaxy Bookshop, Hardwick, VT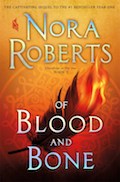 Of Bloodand Bone: Chronicles of The One, Book 2 by Nora Roberts (St. Martin's: Macmillan)
"The time has come for an awakening, and it will not come without pain. The world has been brought down by a virus and it awaits redemption, which only the One can deliver. Fallon Swift is nearly 13 and will soon enter into a time of challenge like none other. She must learn to fight, to gain wisdom, and to understand her future. Will she become the woman she is meant to be before the world outside her farm closes in around her? Of Blood and Bone is both entertaining and insightful, so make yourself cozy, grab a cup of tea, and brace yourself for a good ride." —Linda Bond, Auntie's Bookstore, Spokane, WA
Not of This Foldby Mette Ivie Harrison (Soho Crime: Random House)
"Following up on her debut novel in the Linda Wallheim mystery series, Mette Ivie Harrison's new novel again ventures into the world of Mormon women fighting for power and a voice. Wallheim is pulled by her friend and fellow doubter, Gwen Ferris, into the investigation of a murder of a Latina mother whose death threatens to reveal corruption at the very highest levels of church leadership. Harrison also deftly handles the side plot of Wallheim's son's struggles as an openly gay man on his first mission. Her intimate understanding of Mormonism and carefully drawn, complex characters will show readers a world and a faith in transition, mirroring the struggles of the larger culture." —Kelly Barth, Raven Bookstore, Lawrence, KS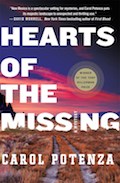 Hearts of the Missing by Carol Potenza (Minotaur: Macmillan; LJ starred review)
"After being forced to move and give up law school, Nicky Matthews is finally doing something she really loves. She is a police sergeant with the Pueblo, New Mexico, police force and the liaison with the Fire-Skye Indian reservation. Nicky has made many friends on the res and is respected by the natives, but she is not liked at all by her boss, who can't wait to catch her doing something wrong. When a suicide seems to be linked to other missing Fire-Skye people, Nicky defies her boss and investigates. Ancient beliefs and culture, greed, revenge, and modern-day genetics all mix together in this beautifully written police procedural." —Nancy McFarlane, Fiction Addiction, Greenville, SC
These books and others publishing the week of December 3, 2018, are listed in a downloadable spreadsheet.
In The Media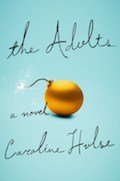 In its books section Entertainment Weekly leads with the comedy novels The Adults by Caroline Hulse (Random House), Comewith Me by Helen Schulman (Harper), and Radiant ShimmeringLightby Sarah Selecky (Bloomsbury: Macmillan). In a sidebar, EW checks the numbers on The Wonky Donkey by Craig Smith, illustrated by Katz Cowley (Scholastic). Cassandra Clare Queen of Air and Darkness (Margaret K. McElderry: S. & S) gets a feature. Milkman by Anna Burns (Graywolf: Macmillan) gets an A- review. On "The Must List" is the Dumplin' soundtrack. Also,OnceUpon a River by Diane Setterfield (Atria/Emily Bestler: S. & S.; LJ starred review), Never Grow Up by Jackie Chan (Gallery: S. & S.), the Supergirl, The Flash, and Arrow crossover TV show "Elseworlds," If Beale Street Could Talk, and Spider-Man: Into the Spider-Verse. The feature story is "Entertainers of the Year." Making the list are the women of Crazy Rich Asians and of Black Panther, Sandra Oh (Killing Eve), Nicole Kidman (Boy Erased, Aquaman), and Emily Blunt and John Krasinski (Mary Poppins Returns and Jack Ryan). EW also has an interview with Barry Jenkins, director of If Beale Street Could Talk. In movies, Bird Box gets a B review and Mary Queen of Scots gets an A-.  The Runaways TV show gets a first look at season 2.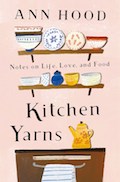 People's Book of the Week is Kitchen Yarns: Notes on Life, Love,and Food by Ann Hood (W.W. Norton). Also on the list of best new books are Radiant ShimmeringLight by Sarah Selecky (Bloomsbury: Macmillan) and TheDakota Winters by Tom Barbash (Ecco: Harper). In "Holiday Picture Books" are All-of-a-Kind Family Hanukkah by Emily Jenkins, illustrated by Paul O. Zelinsky (Schwartz & Wade: Random House), The Lost Christmas by B.B. Cronin (Viking Books for Young Readers: Penguin), and The Christmas That AlmostNever Was by Stanley Wiklinski, illustrated by Gary A. Lippincott (Jabberwocky). Making People's "Picks" list is Mowgli: Legend of the Jungle and My Brilliant Friend. In the food section are recipes from Alison Roman, Dining In: Highly CookableRecipes (Clarkson Potter: Random House; LJ starred review), Anne Byrn, American Cookie: The Snaps, Drops, Jumbles, Tea Cakes, Bars& Brownies That We Have Loved forGenerations (Rodale; LJ starred review), and Donna Hay, Modern Baking (4th Estate: Harper).
Reviews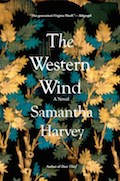 The NYT takes a deep dive into slightly older titles as it starts to clear the decks at the close of the year. The WesternWind by Samantha Harvey (Grove), calling it a "rich, beautifully rendered mystery." Also, Heresyby Melissa Lenhardt (Redhook: Hachette): "An all-out women-driven, queer, transgender, multiracial takeover of the Old West suits the prevailing winds, and that's exactly what Melissa Lenhardt delivers in her unapologetically badass western." Jeeves and the King of Clubs: A Novel in Homage to P.G.Wodehouse by Ben Schott (Little, Brown: Hachette): "he burnishes the gleam." In Byron's Wake: The Turbulent Lives of Lord Byron's Wife and Daughter: Annabella Milbanke and AdaLovelaceby Miranda Seymour (Pegasus Books: W.W. Norton): "a rich narrative, though one that can leave the reader stranded among headlong peregrinations and pinballing emotions." The Grandmaster: Magnus Carlsen and the Match That Made Chess GreatAgain by Brin-Jonathan Butler (S. & S.): "At the tournament's end, one man emerges triumphant, or at least relieved, the other dejected. The rest of us watch through one-way glass, unmoved." I Might Regret This: Essays, Drawings, Vulnerabilities, and OtherStuff by Abbi Jacobson (Grand Central: Hachette): "Jacobson writes about her performances with a propulsive, impish charm that is so contagious that even I end up liking improv, for absolutely no other reason than its ability to make the author this happy. Such is the appeal of this slim travelogue." City of Light: The Making of ModernParis by Rupert Christiansen (Basic: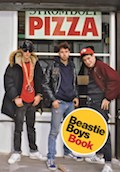 Hachette): "Witty, learned and informative at lightning speed ... offers the fascinating story of a metamorphosis." The End of the End of the Earth: Essays by Jonathan Franzen (FSG: Macmillan; LJ starred review): "if Franzen's travel writing is unexceptional, it's better than his political essays, which suffer from being under-thought and over-emoted, the chief feeling often being a kind of self-absorbed peevishness." There are music book reviews too: Beastie Boys Book by Michael Diamond, Adam Horovitz (Spiegel & Grau: Random House): "At nearly 600 pages, it is a Beastie bouillabaisse. Part liner notes, part playlist, part museum catalog, part coffee-table book, part magazine, it is the chronicle of a band. Inevitably, even reluctantly, it is also a memoir from the trio's surviving members." Thanks a Lot Mr Kibblewhite:My Story by Roger Daltrey (Henry Holt: Macmillan): "Cripes, as Daltrey might say. Cor blimey. How many rock memoirs actually have a meaning?" And wrapping up that section, a dual review of two more titles. The paper also considers art: Chalk: The Art and Erasure of Cy Twombly by Joshua Rivkin (Melville House): "the most substantive biography of the artist to date [which is] basically a memoir by Rivkin about researching and writing the book" and a dual review of two more.

The Washington Post Reviews Dear Zealots: Letters from a DividedLand by Amos Oz, translated by Jessica Cohen (HMH): "a collection of three short essays that examines the rise of zealotry in Israel — and around the world — not to mention the inflexible ideologies and opinions that can lead to hatred and violence."
Entertainment Weekly reviews Milkman by Anna Burns (Graywolf: Macmillan), giving it an A- and writing "it asks a lot, but gives something back, too: the electric jolt of a voice that feels utterly, sensationally new." The New Yorkerreviews as well.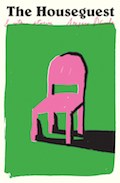 The L.A. Times reviews The Houseguest: And OtherStoriesby Amparo Dávila, translated by Matthew Gleeson, Audrey Harr (New Directions: W.W. Norton): "contain a playfulness that ... can be intense and deeply unsettling in the best ways." Also, Dear Los Angeles: The City in Diaries and Letters, 1542to 2018edited by David Kipen (Modern Library: Random House): "Though many of the entries offer riveting views of and perspectives on Los Angeles, the juxtapositions sometimes feel less meaningful, determined mostly by the impediments of the book's idiosyncratic formal conceit."
NPR reviews Tell Them of Battles, Kings, and Elephants by Mathias Enard, translated by Charlotte Mandell (New Directions: W.W. Norton): "Énard's prose is vivid and elliptical, and his novel, like the sculptor's intricate designs, is a true achievement in form."
Briefly Noted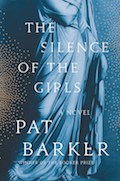 The Guardian picks its "best books of 2018: across fiction, politics, food and more." The paper also asks authors to pick the best books of 2018.

BookPage picks the "Best Books of 2018."
Sno-Isle Libraries posts librarian Nancy Pearl's picks for 2018.
Kirkus publishes its best of the year YA lists.

Goodreads will announce its best books of the year winners tomorrow.
Entertainment Weekly names its "9 new books to read in December."
Bustle picks the "8 Best Fiction Books" for December.
The Verge selects "10 new science fiction and fantasy books" for December.
USA Today picks "6 adorable picture books" for holiday gifting.
The NYT posts its newest Romance, Otherworldly, and Graphic Content columns.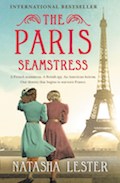 Pennie Clark Ianniciello selectsThe Paris Seamstress by Natasha Lester (Forever: Hachette) as her December Costco pick. It is just the kind of book she became famous for making into a hit so keep an eye on holds.
Reese Witherspoon's December book pick is One Day in December by Josie Silver (Broadway Books: Random House).
The Guardian reports that P Is for Pterodactyl: The Worst Alphabet BookEver by Raj Haldar and Chris Carpenter, illustrated by Maria Beddia (Sourcebooks Jabberwocky) is a surprise hit with the first print run of 10,000 copies selling out and a new order of 210,000 on the way (100,0000 already spoken for in unfulfilled orders).

The NYTfeaturesCongo Tales: Told by the People of Mbomo photographs by Pieter Henket, edited by Stefanie Plattner (Prestel: Penguin).
Bitch Mediainterviews Britteney Black Rose Kapri, Black QueerHoe (Haymarket Books).
The Guardianinterviews Aravind Adiga, SelectionDay (Scribner: S. & S.).
The NYTprofiles Volker Kutscher, Babylon Berlin.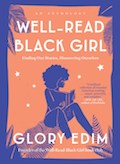 NPR interviews Glory Edim, Well-Read Black Girl: Finding Our Stories, DiscoveringOurselves (Ballantine: Random House; LJ starred review).
The Guardianinterviews Sally Rooney.
The NYT writes about the Last Poets.
The Atlanticappreciates Lucia Berlin.
Tor.comconsiders George R.R. Martin and Nightflyers.
The NYT reports that the comic Love is Lovehas raised $51,000 for the Trevor Project.
The New Yorker writes about "literary hoaxes and the ethics of authorship."
The Guardian reports the shortlist for the bad sex award.
Electric Lit asks why Americans don't "love" novellas.
Paste picks the best book covers of November.
Author Neil deGrasse Tyson is under investigation for sexual misconduct. He posted a denial on Facebook. The NYT has details.
Authors on Air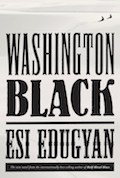 TheNYTbook podcast features the 10 Best Books of 2018.
STARZ has bought Dublin Murders, based on Tana French's first two novels in the Dublin Murder Squad series. Deadline Hollywood has details.
The New Yorker appreciates My Brilliant Friend on HBO.

NPR interviews Ben Schott, Jeeves and the King of Clubs: A Novel in Homage to P.G. Wodehouse by Ben Schott (Little, Brown: Hachette). The interview sent the book soaring on Amazon.
Tigersin Red Weatherby Liza Klaussmann (Little, Brown) is headed to TV, as isThe Spy Who Came In From the Co-op : Melita Norwood and the Ending of Cold WarEspionage by David Burke (Boydell Press). Both stories are reported by Deadline Hollywood.
RuPaul, GuRu (Dey Street: Harper) will be on with Jimmy Kimmel tonight. Martha Stewart, The Martha Manual(HMH), will be on Ellen today.
PBS posts the trailer for its upcoming version of Les Misérables.
Captain Marvel will get a new trailer tonight but already has a new poster. Deadline Hollywood has the image.
Want to get the latest book news delivered to your inbox each day? Sign up for our daily Book Pulse newsletter.