Want to get the latest book news delivered to your inbox each day? Sign up for our daily Book Pulse newsletter.
Page to Screen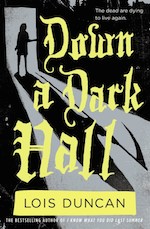 Ten adaptations open today or throughout the week. Getting some buzz are
Down a Dark Hall
(based on
the book by Lois Duncan
),
The Wife
(based on
the novel by Meg Wolitzer
),
We the Animals
(based on
the book by Justin Torres
), and
To All The Boys I've Loved Before
(based on
the book by Jenny Han
). Also of note,
Juliet, Naked
(based on
the book by Nick Hornby
). Other films include
The Little Mermaid
(inspired by the fairy tale),
A Memoir of War
(based on the work of Marguerite Duras),
Blaze
(based on the novel
Living in the Woods in a Tree: Remembering Blaze
by Sybil Rosen), and
The Night is Short, Walk On Girl
(based on
the book by Tomihiko Morimi
). In TV,
Mr. Mercedes, season 2
starts again (based on
the Stephen King novel
). For more, and a longer look out, consult
EarlyWord
's "
Books to Movies—Upcoming, in Production & Development
."
The Trump Bump
The Trump legal team has sent Simon & Schuster a letter trying to stop the Omarosa book and threatening legal action. S. & S.'s lawyer responded, in part: "The government has no legitimate interest in censoring such materials and no court would support the Presidential campaign of a sitting U.S. President in silencing a former government official like Ms. Manigault-Newman or her publisher. To do so would be a perversion of contract law, a prior restraint, and a plain violation of the First Amendment." The Hollywood Reporter has the story. Vanity Fair, and some news outlets, are reporting that the president wants "Attorney General Jeff Sessions to have Manigault Newman arrested."
The Trump team tried to stop publication of Fire and Fury too, which helped it on its way to massive sales. Currently, Unhinged: An Insider's Account of the Trump White House (Gallery: S. & S.) is the second best-selling book on Amazon. When it first published it was not so highly ranked and holds were not impressive. Now holds are topping 10:1 in some libraries we checked. All the PR, presidential and otherwise, is paying off.
Reviews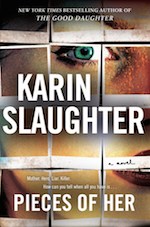 The Washington Post reviews Pieces of Her by Karin Slaughter (William Morrow: Harper): "big — and timely." Also, a dual review ofThe Immeasurable World: Journeys in Desert Places by William Atkins (Doubleday; LJ starred review) and The World in a Grain: The Story of Sand and How It Transformed Civilization by Vince Beiser (Riverhead).
The NYT reviews Never Anyone But You by Rupert Thomson (Other Press: Random) and is only somewhat pleased. Also, My Year of Dirt and Water: Journal of a Zen Monk's Wife in Japan by Tracy Franz (Stone Bridge): "Franz writes in elegantly understated journal entries, each with a satisfying heft, like a rustic wabi-sabi tea bowl." Additional reviews are out for books about the Amazon, education, and language. The paper appreciates author Karel Capek, peeks into author's sharing their rejections on Twitter, and reports on Keanu Reeves, who is starting his own publishing business, X Artists' Books. The Times also has "3 Books About Gun Violence in Chicago" and the newest crime column.
Briefly Noted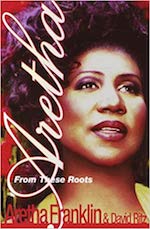 Add author to Aretha Franklin's legacy. She co-wrote Aretha: From These Roots with David Ritz (Villard, 1999).
Entertainment Weekly's print story about romance novels "rekindling the rom-com" is now online.
EarlyWord 's GalleyChat for August is up.
Emma Watson's book club, Our Shared Shelf, announces its September/October possibilities for readers to vote on. The pick will match the theme "Women Authors: The Horror!"
Time has "3 Essential Books for Women Who'd Rather Go It Alone." Also, "Two Timely Summer Novels."
Vulture suggests "7 Books to Read If You Love Sharp Objects."
BitchMedia gathers "Asian and Asian American beach reads [that] are accessible, complicated, quirky."
The Abraham Lincoln Presidential Library Foundation has so much debt it might have to auction some of its collection
.
The Washington Post
has the story.
Author Khaled Hosseini writes about the fate of refugees for The Guardian.
Authors on Air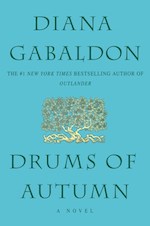 Outlander will start airing again on Nov. 4, according to The Hollywood Reporter. The site has a list of forthcoming TV series and several more are book-based. Deadline Hollywood has more on the upcoming fourth season of Outlander, as does Town&Country.
The Alienist gets a second season, reports Entertainment Weekly. It will be based on Carr's sequel, The Angel of Darkness.
Deadline Hollywood also reports that "USA Network has given a straight-to-series order to drama Treadstone, an offshoot from Universal's Bourne franchise," based on the book series by Robert Ludlum.
Want to get the latest book news delivered to your inbox each day? Sign up for our daily Book Pulse newsletter.