Reviews
The NYT reviews The Tangled Tree: A Radical New History of Life by David Quammen (S. & S.) under the headline "Turns Tough Science Into Page-Turning Pleasure." Also, Killing It: An Education by Camas Davis (Penguin): "Davis's approach seems to suggest that we not take her book too seriously. It is, after all, just one more part of the spectacle she disdains." Hits and Misses: Stories by Simon Rich (Little, Brown) gets a glowing review: "I'm saying Simon Rich is the Serena Williams of humor writing."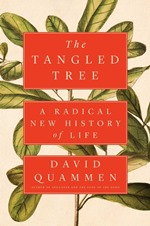 USA Today reviews The Masterpiece by Fiona Davis (Dutton; LJ starred review), giving it 3.5 stars and writing "This zippy read can be a little too pat with its dialogue and resolutions, but is a hard-to-resist and a timely reminder that for far too long the work done by women has been dismissed and disrespected."
NPR reviews Meet Me at the Museum by Anne Youngson (Flatiron), calling it "the charmer of the summer." Also, Everything Trump Touches Dies: A Republican Strategist Gets Real About the Worst President Ever by Rick Wilson (Free Pr.: S. & S.): "In 300-plus pages, he uses sarcasm and invective to let you know just how betrayed he feels... you can read every last page and not learn anything new."
Briefly Noted
The Incendiaries by R.O. Kwon (Riverhead: Penguin) is the Belletrist August book pick.
Entertainment Weekly picks the "summer's 11 hottest thrillers."
The Guardian announces the shortlist for the 2018 Not the Booker prize.
The National Endowment for the Humanities announces the grant winners of its Public Scholar program, which supports, as The Washington Post points out, "the publication of scholarly nonfiction books for a general audience." T.J. Stiles is one of the winners. The paper lists the other winners and their projects.
The Washington Post gathers three books about Korean history, offering "context for current events."
USA Today compares An Unwanted Guest by Shari Lapena (Pamela Dorman Bks.: Penguin) to Agatha Christie's And Then There Were None, seeing how both locked-room mysteries stack up. The paper decides "Lapena delivers a solid whodunit with an ending that would make Dame Christie proud."
Entertainment Weeklyinterviews Laurell K. Hamilton, Serpentine (Berkley: Penguin).
Elleinterviews Crystal Hana Kim, If You Leave Me (William Morrow: Harper).
RollingStonefeatures Bret Easton Ellis .
Bustlehighlights Kelly deVos, Fat Girl On a Plane (Harlequin Teen: Harper).
TimefeaturesThe Curated Home: A Fresh Take on Tradition by Grant Gibson (Gibbs Smith).
The Guardian 's Reading Group is considering Wilkie Collins's The Moonstone.
Vanity FairfeaturesTicker: The Quest to Create an Artificial Heart by Mimi Swartz (Crown).
The Guardianhighlights fanfiction. Bustlefeatures the movement, too.
Authors on Air
Bel Canto gets a trailer. It is based on the novel of the same name.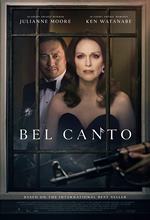 The film City of Lies, starring Johnny Depp, is pulled one month before it was to open. It was based on Labyrinth: The True Story of City of Lies, the Murders of Tupac Shakur and Notorious B.I.G. and the Implication of the Los Angeles Police Department by Randall Sullivan (Grove).
Deadline Hollywood reports that The Good Nurse: A True Story of Medicine, Madness, and Murder by Charles Graeber (Twelve: Hachette) is heading to the movies, with Jessica Chastain and Eddie Redmayne looking to star. Stephen King and Joe Hill's novella In The Tall Grass is getting adapted by Netflix. Apple plans to make a drama series out of Min Jin Lee's Pachinko. Killer Intent by Tony Kent (Elliott & Thompson) will become a TV series.
Deadline also reviews BlacKkKlansman, the new Spike Lee movie, which is based on the book by Ron Stallworth: "...his most urgent, entertaining and pertinent film since Inside Man hit theaters a dozen years ago." There is a tie-in: Black Klansman: Race, Hate, and the Undercover Investigation of a Lifetime (Flatiron). Most reviews are strongly positive. RollingStone calls it " a Hellraising Masterpiece."
NPR's Fresh Airfeatures David Kirkpatrick, Into the Hands of the Soldiers: Freedom and Chaos in Egypt and the Middle East (Viking).