On November 20, the National Book Foundation offered five book awards and two lifetime achievement awards in an evening that celebrated what books can accomplish.
On November 20, at Cipriani in lower Manhattan, host LeVar Burton opened the 70th National Book Awards by quoting Toni Morrison's observation, "If you can't find the book you want to read, you must write it." It was a fitting comment not only because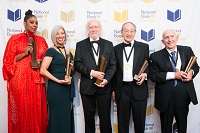 the awards took place on the eve of Morrison's memorial service, being held at the Cathedral of St. John the Divine many blocks north, and not only because, as Burton pointed out, it defines the works of Edmund White, winner of the 2019 Medal for Distinguished Contribution to American Letters. Crucially, as executive director Lisa Lucas observed, the past few decades have been transformational for the National Book Foundation (NBF); though it has always stood for excellence, "what was once insular is now unified, what was once exclusive is now inclusive."
White has published 28 books in every genre but children's (though as introducer John Waters allowed, "Who knows the wisdom he could share with kids"), and his oeuvre serves to clarify gay life in America and beyond. In his genial acceptance speech, he pointed out that when he began submitting manuscripts in the pre-Stonewall era, his characters weren't hustlers or drag queens but, more threateningly, middle-class, office-next-door types, which deeply unsettled editors who found his work moving but claimed they couldn't buy it for fear of being thought gay themselves. Times change, and with this award he has
moved from "the most maligned man in America," as he was once called, to being "a highly lauded author in a mere half century, [which ] is astonshing indeed."
Receiving the Literarian Award for Outstanding Service to the American Literary Community, Oren Teicher, soon to retire as CEO of the American Booksellers Association, said, "I accept [this award] on behalf of thousands of indie booksellers all across the country," adding that was the best part of his job was that he has "a good friend in every town and city in America, let alone around the world."
That sense of community pervaded the evening. Susan Choi, winner of the fiction award for Trust Exercise (Holt), a study of shifting perspectives, said her book was the result of greater collaboration than any of her previous works. Sarah M. Broom, whose nonfiction winner, The Yellow House (Grove), tells the story of her family through the family home in New Orleans, thanked a poet mother who "was always wolfing down words, insatiable," showing her that "words were a kind of sustenance, could be a beautiful relief or greatest assault." She also thanked her 11 siblings "for telling me the stories in the first place" and "the absent presences," relatives no longer here who revealed so much of her family history to her.
Martin W. Sandler, winner of the young people's literature award for 1919 The Year That Changed America (Bloomsbury Children's Books), praised his fellow finalists, observing that as "the eldest statesman of that group, I am so confident in the future of young people's literature." László Krasznahorkai, winner of the translated literature award for Baron Wenckheim's Homecoming (New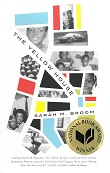 Directions, tr. from the Hungarian by Ottilie Mulzet), expressed gratitude to his American readers and American publisher and especially to the NBF for reopening the translated literature category so that books like his "can be at home in the United States." In a note read by New Directions president Barbara Epler, translator Mulzet further highlighted the value of this award when "it seems every day more barriers are being erected," echoing the evening's buoyant and affirmative sense of what books can accomplish during tumultuous times.
Announcing the poetry award winner, Arthur Sze's environmentally informed Sight Lines (Copper Canyon), poetry chair Mark Wunderlich said, "The greatest difficulty poets face is having to withstand the pointless public and private arguments about poetry's relevance to our culture. Poetry is an essential human activity like dancing or making music, and as long as the moon rises in the night sky, or people love each other or break each other's hearts, poetry will matter." As will all literature, called by Burton "the birthright of every single one of us," as the celebratory evening proved.