Hemon, Nussbaum, Porter, Robinson, Stevens: Barbara's Picks, May 2019, Pt. 4 | Prepub Alert
May fiction closes out with new works by rising star Max Porter and esteemed author Roxana Robinson. In nonfiction, MacArthur fellow Aleksandar Hemon addresses immigration, Pulitzer Prize-winning critic Emily Nussbaum talks TV, and former Supreme Court justice John Paul Stevens revisits a life of lawyering.
Hemon, Aleksandar. My Parents / This Does Not Belong to You: An Introduction. MCD: Farrar. May 2019. 336p. ISBN 9780374217433. $28; ebk. ISBN 9780374716257. MEMOIR
Two books in one—and back to back—this volume from MacArthur Fellow Hemon, a National Book Award finalist and multiple National Book Critics Circle finalist, effectively sums up the immigrant experience. In "My Parents," Hemon travels with his parents from Bosnia to Canada as they flee the Siege of Sarajevo, offering both intimate family details and broad perspective on a historical moment. "This Does Not Belong to You" looks back to family, friends, and the ravaged beauty of Sarajevo itself.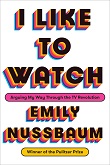 Nussbaum , Emily. I Like To Watch: Arguing My Name Through the TV Revolution. Random. May 2019. 352p. ISBN 9780525508960. $28; ebk. ISBN 9780525508977. Downloadable. PERFORMING ARTS/CRITICISM
A Pulitzer Prize–winning cultural critic for The New Yorker who focuses on television, Nussbaum clicks on the set to investigate how female protagonists have evolved, how sexual violence plays out on the small screen, and how the television antihero mirrors Trump. Her aim: to criticism that doesn't get caught up in high, low, and middle-brow, making us rethink TV—and art itself. Including three all-new essays.

Porter, Max. Lanny. Graywolf. May 2019. 160p. ISBN 9781555978402. $24; ebk. ISBN 9781555978877. LITERARY FICTION
Winner of the International Dylan Thomas Prize (among other honors), Porter's Grief Is the Thing with Feathers was one remarkable debut—astute, gorgeous, and original. In this worthy-sounding follow-up, also touched with the fantastical, the mythical figure of Dead Papa Toothwort awakens in a typical English village and looks about for a particularly promising lad named Lanny. Smart readers shouldn't miss.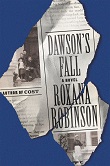 Robinson, Roxana. Dawson's Fall. Sarah Crichton: Farrar. May 20019. 352p. ISBN 9780374135218. $27; ebk. ISBN 9780374719753. LITERARY FICTION
Drawing on the story of her great-grandparents, with family letter and journals braided into the narrative, Robinson visits late 1800s Charleston, SC, where Englishman Frank Dawson settled after fighting for the Confederacy because he believed in states' rights. But he also believed in equal rights and rule of law, which made his work as editor of the Charleston News and Courier—and a private citizen surrounded by hotheads—a real challenge. As with novels like Sparta, and Cost, expect Robinson to get the pain and moral quandary right.

Stevens, John Paul. The Making of a Justice: Reflections on My First 94 Years. Little, Brown. May 2019. 560p. ISBN 9780316489645. $35; ebk. ISBN 9780316489676; lib. ebk. ISBN 9780316491938. Downloadable. MEMOIR/LAW
Appointed by President Gerald Ford, Stevens finally hung up his robes during President Barack Obama's first term, having written more opinions than any justice ever and offering an example of cogent, nonpartisan thinking. Here he reflects on his Chicago childhood, naval service during World War II, and early lawyering before offering an account of his life on the bench that should clarify ongoing issues today. With a 30,000-copy first printing.