Hage, Marlantes, Nesbø, and Rakim & Toure: Barbara's Picks, July 2019, Pt. 2 | Prepub Alert
IMPAC award winner Rawi Hage, Karl Marlantes with a long-awaited second novel, Jo Nesbø with another Harry Hole mystery, and hip-hop king Rakim joining with journalist Toure for a study of writing.
Hage, Rawi. Beirut Hellfire Society. Norton. Jul. 2019. 288p. ISBN 9781324002918. $26.95. ebk. ISBN 9781324002925. LITERARY FICTION
Winner of the International IMPAC Dublin Literary Award and finalist for the Scotiabank Giller Prize and the Governor General's Literary Award, Canadian Lebanese author Hage sets his latest work in 1970s Beirut, where the son of an undertaker serves as witness to a collapsing country. After his father's death, peaceable bookworm Pavlov is asked to take up his father's work and help the secretive, religion-resisting Hellfire Society put to rest those denied burial for their religious beliefs or sexual practices.


Marlantes, Karl. Deep River. Atlantic Monthly. Jul. 2019. 820p. ISBN 9780802125385. $28; ebk. ISBN 9780802146199; CD. LITERARY FICTION
Following the eye-catching debut novel Matterhorn and the nonfiction What It Is Like to Go to War, both New York Times best sellers, Marlantes shifts his attention from the Vietnam War to the early 1900s, when the three Koski siblings flee Finland to escape the heavy hand of imperial Russia. Brothers Ilmari and Matti get work as loggers along Washington's grand Columbia River, while their political-minded sister, Aino, helps organize the industry's first union. For this family, creating new lives while upholding tradition is a balancing act akin to rolling a hug log down the river. A welcome publication, with Matterhorn appearing nearly a decade ago.

Nesbø, Jo. Knife: A New Harry Hole Novel. Knopf. Jul. 2018. 400p. ISBN 9780525655398. $27.95; ebk. ISBN 9780525655404. lrg. prnt. Downloadable. MYSTERY
Winner of the Glass Key honors for best Nordic crime fiction, Norwegian author Nesbø has sold 30 million copies of his books worldwide and made multiple best sellers lists in this country. Here, Harry Hole returns somewhat the worse for wear. His beloved Rakel has said good-bye forever, and he is starting over with the Oslo Police but in the cold case office. He's more worried about Svein Finne, the serial rapist and murderer he put away, who will soon be out of prison. Then Harry awakens after a drunken spree to find his hands covered in blood.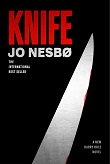 Rakim & Toure. Sweat the Technique: The Elements of Writing—Anything. Amistad. Jul. 2019. 208p. ISBN 9780062850232. $21.99; ebk. ISBN 9780062850256. LANGUAGE/WRITING
One of hip-hop's greats, Rakim here discusses growing up on Long Island in a music-loving community, rising to the top in the clubs of New York and the studios of Los Angeles, and imbibing the influence of John Coltrane and the spiritual sensibility of the streets. But he delivers more than a memoir. With the help of esteemed music journalist and cultural critic Toure, he examines the craft of writing—and not just music. His exploration of language, of how to use words and sink oneself in rhyme, is meant for anyone. With a 100,000-copy first printing.