Week ending January 11, 2019
Bauman, Robert H. & Dina Rasor. Shattered Minds: How the Pentagon Fails Our Troops with Faulty Helmets. Potomac. Mar. 2019. 336p. notes. index. ISBN 9781640120365. $34.95. HIST
Bauman and Rasor (coauthors, Betraying Our Troops), who have both written on privatization and excessive spending in the military, weave two stories about malfeasance in military procurement to demonstrate the problems involved in getting materiel of the right quality and timeliness to soldiers. Whistle-blowers at a company making Kevlar helmets were fired, then after much personal trauma, ended up winning a court judgment against the company. At about the same time, a retired U.S. Navy doctor was arguing with the U.S. Marines bureaucracy because he discovered that the webbing and padding inside Kevlar helmets was inadequate. He learned that the helmets were demonstrably better at preventing or lessening traumatic brain injury when the proper webbing and pads were used; Marine logistics bureaucracy was unresponsive, even though other services had adopted the newer technology. Overall, the authors provide a lengthy, involved, and depressing overview of the private companies that supply the vital, expensive, and complex equipment used throughout the U.S. military.
VERDICT Limited readership; likely to be valuable mainly in collections specializing in government, military management, and weapons development.—Edwin Burgess, Kansas City, KS
Finn, John E. Fracturing the Founding: How the Alt-Right Corrupts the Constitution. Rowman & Littlefield. Feb. 2019. 240p. ISBN 9781538123676. $34; ebk. ISBN 9781538123683. LAW
Finn (government, Wesleyan Univ.) critically dissects the constitutional doctrines of the alt-right. He begins with the major players and platforms of the movement, including Richard B. Spencer, Steve Bannon, and Breitbart.com, and then considers their views on the Constitution and federalism, showing the heavy influence of the Christian evangelical right. In Chapter 3, Finn posits that the alt-right view of the First Amendment permits discrimination against non-Christians. He then delves into the right to bear arms and how it is impossible to determine what the Founders had intended. The final chapters cover the idea of sovereign citizens and birthright citizenship. Finn does an excellent job of taking political theory and showing how it impacted the actions of various alt-right conservatives, including former chief justice of the Alabama Supreme Court Roy Moore; Jared Fogle, former spokesperson for Subway restaurants who was convicted of sexual offenses against minors; and members of constitutional militias. The book is well written, and the depth of Finn's research shines through. The work is chatty in tone but assumes some knowledge of constitutional law. Reminiscent of an extended, witty lecture by an erudite professor, this will leave readers impressed and distressed.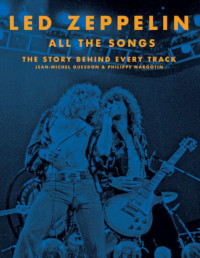 VERDICT For readers interested in the intersection of law, politics, and culture.—Harry Charles, St. Louis
Guesdon, Jean-Michel & Philippe Margotin.
Led Zeppelin All the Songs: The Story Behind Every Track.
Black Dog & Leventhal. 2018. 608p. tr. from French by Richard George Eliot & Jackie Smith. illus. bibliog. index. ISBN 9780316448673. $50; ebk. ISBN 9780316418034. MUSIC
For their latest contribution to the "All the Songs" series, Guesdon and Margotin (
Rolling Stones: All the Songs
) turn their attention to Led Zeppelin, chronicling the iconic band's output in copiously illustrated detail. Starting with the quartet's beginnings in 1968 as a partially reconstituted New Yardbirds and moving on to drummer John Bonham's untimely death in 1980 and the aptly titled
Coda
album of 1982, the authors cover each song's genesis and production. The albums receive attention regarding the compilation of tracks and the art. The "for Led Zep addicts" sidebars and short portraits of other artistic influences add interest; color images of celebrated guitars and other instruments are especially noteworthy. A useful glossary, bibliography, and index round out the volume. This selection continues the fine work exhibited in previous series entries, presenting insightful reflections on how songs were created, as well as rare photographic and textual glimpses into the behind-the-scenes and more public workings of the group.
VERDICT
A valuable offering for seasoned Zeppelin aficionados and newcomers alike.—Barry Zaslow, Miami Univ. Libs., Oxford, OH
McNamee, Roger. Zucked: Waking Up to the Facebook Catastrophe. Penguin. Feb. 2019. 352p. ISBN 9780525561354. $28. POL SCI
McNamee (The New Normal) was an early Facebook investor and advised founder Mark Zuckerberg on several key decisions. After the 2016 U.S. election, McNamee came to believe that Facebook is dangerous because of its influence over the outcome, and he has started to advocate for reform. Specifically, he points to siloing users into bubbles based on their content preferences, the lack of user data privacy, and the company's culture as major areas of concern. Although McNamee focuses his worries on Facebook, he is quick to point out that similar problems exist within most social media platforms and may stem from the libertarian and antiregulatory culture of Silicon Valley. The book chronicles Facebook's lackluster response to accusations of interference in the election as well as McNamee's attempt to hold Facebook accountable and raise public awareness. The author ends with recommendations for making social media more human-centered and offers tips for caregivers to help children navigate a world full of screens.
VERDICT A timely but somewhat repetitive look at the dangers of social media use. Recommended for readers interested in social media and current events.—Rebekah Kati, Univ. of North Carolina, Chapel Hill
Unwatchable. Rutgers Univ. Jan. 2019. 412p. ed. by Nicholas Baer & others. photos. filmog. notes. bibliog. index. ISBN 9780813599588. pap. $29.95; ebk. ISBN 9780813599595. FILM
With this compendium of more than 50 brief essays, editors Baer (humanities, Univ. of Chicago), Maggie Hennefeld (cultural studies & comparative literature, Univ. of Minnesota, Twin Cities), Laura Horak (film studies, Carleton Univ.), and Gunnar Iversen (film studies, Carleton Univ.) approach the concept of "unwatchability" from a variety of angles. Part 1 takes a political perspective, examining subjects such as the destructive but abstracted power of unmanned aerial drone footage and sensationalistic television coverage of weather disasters. Part 2 tackles unwatchability in cinema, exemplified by avant-garde auteurs including Andy Warhol and Lars Von Trier, whose works "place viewers in uncomfortable positions" (to say the least). Finally, Part 3 asks why we love to hate certain cultural phenomena, such as the "Transformers" franchise, the "precious cinema" of Wes Anderson and Michel Gondry, and Hollywood biopics in general. Whether the volume is sampled or read cover to cover, its short chapters, diversity of authors and styles, and fairly broad topic work in its favor. Readers' mileage will depend on their capacity for dense academic inquiry and difficult, sometimes obscure adults-only content.
VERDICT Far from unreadable, this is nevertheless best for daring readers ready to be challenged and for libraries with robust philosophy and cultural studies collections.—Chad Comello, Morton Grove P.L., IL
Young, Nicholas D. & others. From Cradle to Classroom: A Guide to Special Education for Young Children. Rowman & Littlefield. Jan. 2019. 168p. bibliog. ISBN 9781475842524. $30; ebk. ISBN 9781475842548. ED
Early intervention, or support for babies and young children with developmental delays or disabilities, can significantly improve children's chances of educational success. Young, a longtime educator who was named Massachusetts Superintendent of the Year in 2010; elementary school educator and administrator Elizabeth Jean (Endicott Coll.); and Anne E. Mead (administrator early childhood programs, Danbury Pub. Schs.), who have decades of experience among them, offer a brief examination of the benefits of special education for young children. Billed as being for "regular and special education teachers, school administrators, school psychologists, day care providers, parents, graduate students, and policy makers," this title attempts to straddle the line between textbook and general nonfiction. Trying to be everything for everyone, it doesn't quite hit the mark but is an extremely effective overview.
VERDICT Recommended for educators, parents, and graduate students of education.—Virginia Johnson, John Curtis P.L., Hanover, MA