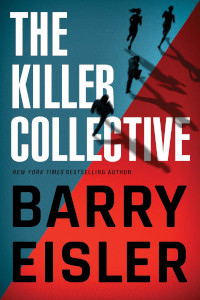 Week ending January 11, 2019
Eisler, Barry. The Killer Collective. Thomas & Mercer. Feb. 2019. 416p. ISBN 9781503904262. $24.95; pap. ISBN 9781503900950. $15.95; ebk. ISBN 9781503959286. THRILLER
Eisler (The Night Trade), author of the best-selling series featuring assassin John Rain, reunites detective Livia Lone and Dox in this latest thriller. Lone's investigation into an online child pornography site reveals coverups by government officials and the secret service. Dox, a former military sniper and Rain's protégé, flies to her side after a failed attack on her life and the death of her partner on the case. Rain and other loosely connected hit men, all with varying motivations, join Dox and Lone as the conspiracy goes global. There is no doubt they will catch the bad guys; the question is, when will this team of assassins turn on one another? While the nature of crimes investigated might be deeply unsettling for some readers, followers of the series will appreciate the many thrilling action sequences and backstory conversations among the crew.
VERDICT Eisler does a great job of creating individual personalities and tics to this group of uniquely trained professionals. A solid recommendation for fans of Robert Ludlum's Jason Bourne and Daniel Silva's Gabriel Allon.—Catherine Lantz, Univ. of Illinois at Chicago Lib.
Gentill, Sulari. A Murder Unmentioned. Poisoned Pen. (Rowland Sinclair, Bk. 6). Feb. 2019. 372p. ISBN 9781464206979. $26.95; ebk. ISBN 9781464207006. MYS
Rowland Sinclair is an eccentric young artist in the 1930s, living a bohemian lifestyle in his Sydney, Australia, mansion. Other artists and friends reside with him, including his most stalwart companions Clyde, Milton, and Edna. His respectable older brother Wil carries most of the responsibilities and wealth of the family, but Rowland is comfortable and exceedingly happy with the arrangement. Wil hires a landscaper to reimagine his estate grounds, and his escavations unearth the gun used to murder Henry Sinclair, their father, more than ten years earlier. The police decide to reopen the case and immediately start looking at Rowland, the devil-may-care black sheep of the family. Rowland has also made enemies of political figure Eric Campbell, who is determined to get the media involved in the Sinclair family's disgrace. Meanwhile, Clyde, Milton, Edna, and Rowland band together to the Yass estate, where the murder happened, in hopes of clearing Rowland's name—even if it means finding a killer.
VERDICT Gentill's sixth installment in the "Rowland Sinclair" series (after Gentlemen Formerly Dressed) is best categorized as a cozy or historical mystery, with a touch of detective fiction. Recommended for readers who enjoy similar authors such as Kerry Greenwood and Agatha Christie.—Jennifer Funk, McKendree Univ. Lib., Lebanon, IL
Kinsella, Sophie. I Owe You One. Dial. Feb. 2019. 432p. ISBN 9781524799014. $27; ebk. ISBN 9781524799021. F
Kinsella ("Shopaholic" series) tells the story of Fixie Farrs, a do-gooder who is always determined to fix other peoples' problems. She helps run her family's shop, which sells a hodgepodge of cookware and hardware, alongside her ambitious but irrational brother and yoga-obsessed sister. Everything changes for Fixie when her siblings' visions for the store go in wildly different directions at the same time that her high school crush (and previous one-night stand) Ryan returns to town. A chance meeting with Seb, an executive from an investment firm, results in an IOU that Fixie can use however she wishes. True to form, she doesn't cash it in for herself but uses it to fix someone else's issues. It all goes south, setting Fix and Seb on a path of IOU swapping.
VERDICT Predictable throughout, with characters that are ingratiatingly simplistic, this title disappoints. Fixie's inner monologs have the maturity of a young teenager, while the negative traits of other characters are all-pervasive. Mostly for Kinsella's fans, it's a passable beach read.—Chelsie Harris, San Diego Cty. Lib.
McDonald, Christina. The Night Olivia Fell. Gallery: S. & S. Feb. 2019. 368p. ISBN 9781501184000. pap. $16; ebk. ISBN 9781501184017. SUSPENSE
Olivia, the dearly beloved and overprotected daughter of single mother Abigail Knight, somehow goes off a bridge near Seattle and is found brain-dead—and pregnant—at 17. Stunned and grieving, Abi wants to know how this happened, as she learns that Olivia will be kept on life support until her fetus can be delivered. Bruises on Olivia's wrists indicate that she could have been pushed, but the police investigation soon bogs down. Flashbacks before the event detail Olivia meeting a girl who looks just like her, then doubting Abi's account that her father is dead. While she searches for the truth about her father, Olivia increasingly lies to her mother, her best friend, and her high school boyfriend. As Abi is sustained through her ordeal by her sister and a Seattle PD victim advocate, regrets loom large and trust is frayed before the truth is uncovered.
VERDICT Even though what will happen is known early on, this book is a tearjerker, so have tissues at hand. A well-structured story of how lying corrupts from the start that will keep pages turning.—Michele Leber, Arlington, VA
Rice, Christopher. Blood Echo. Thomas & Mercer. (Burning Girl, Bk. 2). Feb. 2019. 366p. ISBN 9781503904354. $24.95; pap. ISBN 9781503904330. $15.95. HORROR
In this sequel to Bone Music, Charlie, a young woman who had been kidnapped and raised by serial killers, is now a veritable laser-guided missile designed to take out serial killers. Charlie is managed by Cole, the billionaire CEO of the pharmaceutical company that created the pill that transforms her into a superpowered assassin. Only thing is, Charlie is the only person who has survived the drug testing, and it's possible Cole might be keeping secrets from her. Rice's series is fast-paced, featuring plenty of action, but it has a somewhat shallow, surface-level treatment of characters and themes, reminiscent of the kind of popular TV series produced by the CW network. Though many characters are clichéd and some of the dialog is stilted, the book is an undeniable page-turner and a lot of fun.
VERDICT An engaging read, ideal for those who enjoy comic book story lines and TV shows such as Scorpion and Jessica Jones.—Ryan Claringbole, Wisconsin Dept. of Pub. Instruction, Madison
Shallcross, Leife. The Beast's Heart. Ace: Berkley. Feb. 2019. 416p. ISBN 9780440001775. pap. $15; ebk. ISBN 9780440001782. FANTASY
[DEBUT] In her debut novel, an update of the classic "Beauty and the Beast," Shallcross pins the Beast's rage to his fear and hatred of a father who was an abusive drunk and perhaps mentally ill. Julien, his given name, believes he's fated to become the same. A fairy casts a spell, a tough-love version of his grandmother's plea to trust his own innate kindness: "Let all who look on you see the nature of the heart beating in your breast." Overwhelmed and cast out, Julien becomes the Beast, a depressed teen who won't clean his castle and obsesses in front of the mirror—he's all animal fur and paws and clumsy with his claws. Inside, the good man longs to come out, especially after Beauty, Isabeau, becomes his captive in a deal the Beast made with her father to save his own hide. Tough, resourceful, and, of course, beautiful, she's nonetheless as subordinate as the classic designed her to be. Refreshing yet familiar, this tale hues a little too true to tradition. The story, reportedly thousands of years old, was once used to prepare brides for arranged marriages; can't we expect today's authors to veer from this formula just a little?
VERDICT A fun fantasy remake of a classic that taps our sympathies for the Beast but misses an opportunity to update the stereotypical Beauty.—Georgia Christgau, Middle Coll. H.S., Long Island City, NY