Benfey, Christopher. If: The Untold Story of Kipling's American Years. Penguin Pr. Jul. 2019. 256p. ISBN 9780735221437. $28; ebk. ISBN 9780735221444. Downloadable. BIOGRAPHY
Born in Bombay of British parents and celebrated for his writing about colonial India, Rudyard Kipling may be considered the quintessential Anglo-Indian, but surprise! For a time, he settled in Vermont, where he penned both The Jungle Book and Captains Courageous, and he saw himself as an American author. Benfey, Mellon Professor of English at Mount Holyoke and a Christian Gauss Award winner for his recent A Summer of Hummingbirds, reveals how the Nobel Prize winner (now somewhat controversial) both influenced and was influenced by American literary life.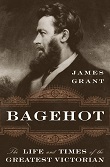 Grant, James. Bagehot: The Life and Times of the Greatest Victorian. Norton. Jul. 2019. 36p. ISBN 9780393609196. $28.95. ebk. ISBN 9780393609202. BIOGRAPHY
Founder of Grant's Interest Rate Observer and a Hayek Award winner for The Forgotten Depression, Grant looks back to esteemed Victorian banker and journalist/essayist Walter Bagehot, who invented the Treasury bill, served as editor of the Economist, offered principles used decades later to manage the world's worst financial crises, and held some socially contentious views. Proclaimed the first biography in decades.
Roll, David L. George Marshall: Defender of the Republic. Dutton Caliber. Jul. 2019. 704p. ISBN 9781101990971. $34; ebk. ISBN 9781101990995. Downloadable. BIOGRAPHY
Roll (The Hopkins Touch) revisits the man Winston Churchill called World War II's "organizer of victory," trekking through two world wars, the Korean conflict, and the Cold War genrally to show why George Marshall was considered a military genius even as a young officer and ended by helping to shape America's postwar emergence as a major power. Billed as the biography of a man who knew how to lead.