Blum, Andrew. The Weather Machine: A Journey Inside the Forecast. Ecco. Jun. 2019. 256p. ISBN 9780062368614. $25.99; ebk. ISBN 9780062368645. SCIENCE/METEOROLOGY
As he did with his big-hit Tubes: A Journey to the Center of the Internet, Blum investigates something crucial to our lives: the weather—and, more pointedly, how it is forecast. With climate change promising more extreme heat waves,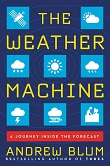 heavier rainfall, and more droughts, as the Intergovernmental Panel on Climate Change suspects, it's good at least to understand how weather reporting happens. With a 50,000-copy first printing.
Charleson, Susannah. Where the Lost Dogs Go: A Story of Love, Search, and the Power of Reunion. Houghton Harcourt. Jun. 2019. 320p. ISBN 9781328995056. $27; ebk. ISBN 9781328995100. PETS
Author of the New York Times best seller Scent of the Missing, about working with her search-and-rescue dog, Charleson here describes her new mission: rescuing missing dogs and reuniting them with their humans, whether neighbors or strangers to her. Even as she studies animal behavior, lost-pet search tactics, social media strategies, and the psychology of loss, she trains her own shelter rescue, Ace, who turns out to have a terrific nose for canines. With a 30,000-copy first printing.
Churchland, Patricia. Conscience: The Origins of Moral Intuition. Norton. Jun. 2019. 272p. ISBN 9781324000891. $27.95. PHILOSOPHY/ETHICS
Why is morality core to all cultures, why do different cultures have different moral codes, and how is morality passed from generation to generation? MacArthur fellow Churchland, considered the founder of neurophilosophy, blends science and philosophy to show how our brains are configured to facilitate cooperation and how children encode their parents' norms. Love it that I can do a philosophy book in Prepub.
Dostie, Ryan Leigh. Formation: A Woman's Memoir of Stepping Out of Line. Grand Central. Jun. 2019. 352p. ISBN 9781538731536. $27; ebk. ISBN 9781538731512. Downloadable. MEMOIR
Raised in an insulated Christian community, Dostie surprised herself by enlisting in the army after speaking with a recruiter in her high school cafeteria. She worked hard to prove herself in a man's world and felt she was succeeding until she was raped by a fellow soldier. With women making up 14.5 percent of active-duty military, 80 percent of whom have reported being sexually harassed and at least 25 percent reporting having been sexually assaulted, Dostie's memoir is relevant.
Hazen, Robert M. Symphony in C: Carbon and the Evolution of (Almost) Everything. Norton. Jun. 2019. 288p. ISBN 9780393609431. $26.95. SCIENCE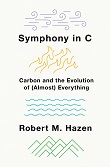 Carbon: it's hugely important to life on Earth, forming more compounds than all other elements combined. Executive director of the Deep Carbon Observatory at the Carnegie Institution's Geophysical Laboratory and Clarence Robinson Professor of Earth Sciences at George Mason University, the reader-friendly Hazen guides us through the origin and evolution of this most abundant of elements.
James, LeJuan. Definitely Hispanic: Growing up Latino and Celebrating What Unites Us. Atria. Jun. 2019. 224p. ISBN 9781501194207. $25; ebk. ISBN 9781501194214. MEMOIR
Having grown up in the United States with immigrant parents, James found his family life and traditions differing from those of his friends. That gave him plenty of material for the videos that led to his huge online success as a comedian and content influencer. Here he celebrates growing up Hispanic, moving between Puerto Rico and the United States (#Home), and finally being able to buy his parents the home he thought they deserved (#TheHouse). With a 50,000-copy first printing.
Lynskey, Dorian. The Ministry of Truth: The Biography of George Orwell's 1984. Doubleday. Jun. 2019. 256p. ISBN 9780385544054. $26.95; ebk. ISBN 9780385544061. Downloadable. LITERATURE
Music critic for the Guardian, Lynskey expands into cultural criticism as he considers George Orwell's 1984, moving from its origins in utopian and dystopian literature and Orwell's experiences in wartime Great Britain to its profound impact upon our culture. You can spot that impact in fiction (The Handmaid's Tale), films (Brazil), television shows (V for Vendetta), rock albums (Diamond Dogs), commercials (Apple), and reality TV (Big Brother), and, more significantly, in how we think, and its sales surged after Trump's election.
Norman, Alexander. The Dalai Lama: An Extraordinary Life. Houghton Harcourt. Jun. 2019. 320p. ISBN 9780544416581. $30; ebk. ISBN 9780544416888. BIOGRAPHY

With 2019 the 60th anniversary of the Dalai Lama's exile from Tibet, now's the time for what is billed as the definitive biography. Norman, who met the Dalai Lama 30 years ago and has since collaborated with him on several best-selling books, discusses new details on the Dalai Lama's life and beliefs, the recent role of Tibetan Buddhism in world politics, and the split between Shugden Buddhism and the Dalai Lama. With a 35,000-copy first printing.
Rose, Pete. Play Hungry: The Making of a Baseball Player. Penguin Pr. Jun. 2019. 304p. ISBN 9780525558675. $28; ebk. ISBN 9780525558682. CD/downloadable. MEMOIR/SPORTS
With his Rookie of the Year Award, three batting titles, the MVP Award, and three World Series Championships, Rose is one of baseball's greats. But he didn't start out a natural, having succeeded through sheer will, and may never make the Hall of Fame owing to his lifetime ban from the sport for betting. A life in baseball, both triumphant and tragic.