Bates, Callie. The Soul of Power. Del Rey: Ballantine. Jun. 2019. 480p. ISBN 9780399177446. $28; ebk. ISBN 9780399177453. Downloadable. FANTASY
In this wrap-up to a well-received trilogy begun with The Waking Land and The Memory of Fire, Sophy Dunbarron has benefited from Elanna Valtai's revolution and finally assumed the throne of her Old Britain–like kingdom. But a lot of people don't want her to keep it, and it doesn't help that refugees capable of magic are swarming across the border.

Crouch, Blake. Recursion. Crown. Jun. 2019. 336p. ISBN 9781524759780. $27; ebk. ISBN 9781524759803. CD/downloadable. SF
In this appropriately twisty follow-up to Dark Matter, which has sold more than 400,000 copies, Barry Sutton is astonished to encounter numerous instances of people finding their lives inexplicably altered; one woman declares "My son has been erased" before leaping to her death. Then Barry learns that neuroscientist Helena Smith's new technology for preserving our more acute and beloved moments can also be used to remake memories. Hot science; rights sold to Netflix in a multistudio auction.


Emmett, S.C. The Throne of the Five Winds. Orbit: Hachette. Jun. 2019. 480p. ISBN 9780316436946. pap. $15.99; ebk. ISBN 9780316558280. lib. ebk. ISBN 9780316436953. FANTASY
Capable lady-in-waiting Komor Yala and her princess, Mahara, who was forced into marrying the enemy to assure the cooperation of her vanquished people, find themselves virtual prisoners in the treacherous imperial palace. Then the emperor falls ill, and they're really in trouble—how to deal with the two queens, two concubines, and six conniving princes eager for power? First in the medieval Asia–inspired "Hostage of Empire" series from the best-selling Lilith Saintcrow, writing pseudonymously; with a 50,000-copy first printing.

Howe, Katherine. The Daughters of Temperance Hobbs. Holt. Jun. 2019. 352p. ISBN 9781250304865. $28; ebk. ISBN 9781250304872. CD. OCCULT
In a new work harking back to Howe's New York Times best-selling The Physick Book of Deliverance Dane, rising-star history professor Connie Goodwin studies the uses of magic in Colonial America (think herbal healing) and the dangers to practitioners. What folks don't know is that she's actually descended from a woman accused of witchcraft in Salem whose magic was realer than history allows—and that her partner's life is threatened by a centuries-old curse.

King, Reed. FKA USA. Flatiron: Macmillan. Jun. 2019. 480p. ISBN 9781250108890. $27.99; ebk. ISBN 9781250108906. DYSTOPIAN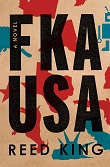 In 2085, a self-absorbed president forces the breakup of America into numerous countries, and a young man named Truckee Wallace is tasked with saving civilization by taking a talking goat cross-continent. Along the way, he's joined by a gentle-souled former convict who's had a lobotomy and an android who wishes he were human, and off they head along what really sounds like a futuristic dystopian yellow brick road. By a pseudonymous New York Times best-selling author and TV writer; great expectations and already buzzing.

Llywelyn, Morgan. Inch by Inch. Tor. Jun. 2019. 272p. ISBN 9780765388698. $26.99; ebk. ISBN 9780765388711. SF

The New York Times best-selling Llewelyn, an award winner for her historical fiction, goes sf near-futuristic with her "Step by Step" series. In this second volume, the Sycamore River residents who survived global war are glad the violence is over, but then a strange thing starts happening: anything metal starts rotting as if it were wood.

Murray, James S. & Darren Wearmouth. The Brink: An Awakened Novel. Harper Voyager. Jun. 2019. 288p. ISBN 9780062868961. $25.99; ebk. ISBN 9780062868985. SUPERNATURAL THRILLER

In Awakened, an international best seller, the first subway train connecting Manhattan to communities across the Hudson arrives empty, blood-soaked, and carrying menacing, hyper-intelligent creatures. In this sequel, the creatures have spread throughout the world. Actor/producer Murray (Impractical Jokers' Murr) again joins with novelist Wearmouth (Sixth Cycle); with a 100,000-copy first printing.


Singh, Nalini. Wolf Rain. Berkley. Jun. 2019. 416p. ISBN 1984803597. $27; ebk. ISBN 9781984803603. PARANORMAL ROMANCE
The end of Silence, imposed on the brainy Psy to control their emotions, will make for a better world, right? Not really, as the alliance among Psy, Changeling, and human is worn-silk fragile. The Psy know that they will meet a blistering end if they don't act fast, which is why one empath decides that it's time to cozy up to a wolf. Next in the "Psy-Changeling Trinity," part of the New York Times best-selling "Psy-Changeling" series.

Swanwick, Michael. The Iron Dragon's Mother. Tor. Jun. 2019. 368p. ISBN 9781250198259. $26.99; ebk. ISBN 9781250198266. FANTASY
Framed for the murder of her own brother, Caitlin of House Sans Merci, a young half-human pilot of a sentient mechanical dragon, slips into the realm of Industrialized Faerie to find someone who can clear her name. And that has big consequences. A stand-alone adventure fantasy from the multi-award-nominated Swanwick, set in a world he's referenced before.