Atkinson, Kate. Big Sky. Little, Brown. Jun. 2019. NAp. ISBN 9780316523097. $28. THRILLER
This just in: after nine years, Atkinson is giving Jackson Brodie of Started Early, Took My Dog more to do. No details yet on the next case taken on by Brodie, once of the military police, then the Cambridge Constabulary, and now a private investigator. But the setting is still Yorkshire, and rumor has it that we'll get more information on Brodie's tangled personal life.
Baker, Jo. The Body Lies. Knopf. Jun. 2019. 288p. ISBN 9780525656111. $25.95; ebk. ISBN 9780525656128. Downloadable. THRILLER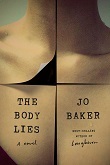 A young writer leaves London's rush and memories of a violent assault to teach at a university in the countryside. But she doesn't find peace. Not only are rivalries and debate about violence against women surging nastily in her creative-writing class, but one troubled student is turning in reality-breaching chapters in which the professor recognizes herself as victim. And her end isn't good. Literary suspense from the author who vivified Jane Austen's home and Samuel Beckett's Resistance days in Longbourn and A Country Road, a Tree, respectively.

Habila, Helon. Travelers. Norton. Jun. 2019. 288p. ISBN 9780393239591. $25.95. LITERARY FICTION
A winner of Commonwealth and Caine honors and recipient of the Windham Campbell Prize (big kudos there), Habila here explores the lives of those compelled to leave their home country. A Nigerian scholar, in Berlin with his wife on her arts fellowship, cannot separate himself from the pain suffered by other Africans he meets, from a transgender film student to a Libyan doctor who lost his family in flight. In a narrative that moves from a Berlin nightclub to a refugee deportation camp in Sicily to a Malawian poet's home in London, the scholar feels such connection with these travelers that he effectively undertakes a reverse migration to understand the meaning of home.

Horowitz, Anthony. The Sentence Is Death. Harper. Jun. 2019. 384p. ISBN 9780062676832. $27.99; ebk. ISBN 9780062676856. lrg. prnt. MYSTERY
Meta-mystery! In The Word Is Murder, a June 2018 LibraryReads pick, private investigator Daniel Hawthorne got help solving a strangling death from a novelist named Anthony Horowitz. Now they're back, tracking down a killer who clobbered big-time celebrity-divorce lawyer Richard Pryce with a bottle of 1982 Chateau Lafite worth £3,000—just as Pryce uttered "You shouldn't be here. It's too late," as heard over the phone. But our novelist narrator is also beginning to suspect that Hawthorne has secrets of his own. With a 100,000-copy first printing, not surprising given Horowitz's No. 1 New York Times best-selling, BAFTA-winning credentials.

Mosse, Kate. The Burning Chambers. Minotaur: St. Martin's. Jun. 2019. 608p. ISBN 9781250202161. $27.99; ebk. ISBN 9781250202178. CD. HISTORICAL
Since 2006's Labyrinth, Mosse, cofounder of the Women's Prize for Fiction and chair of its board, has been turning out historically rich books with a smartly questing, spiritual edge. Here, in 1562 France, 19-year-old Minou Joubert frets over an anonymous letter she receives at her father's bookshop stating simply, "SHE KNOWS THAT YOU LIVE," then quickly gets involved with a young Huguenot convert named Piet Reydon at a time when religious tensions are ratcheting up sharply. Meanwhile, the ominous mistress of Puivert Château is consolidating her power. The start of a new series; enjoy!

Okorafor, Nnedi. Broken Places & Outer Spaces: Finding Creativity in the Unexpected. S. & S./TED. Jun. 2019. 128p. ISBN 9781501195471. $16.99. MEMOIR
When she was a college track star interested in entomology, Okorafor suffered complications during surgery for scoliosis that led to paralysis from the waist down. But even as she imagined psychedelic bugs crowding her hospital walls, her mind took wing and she turned to writing, with superb results; her awards range from Hugo, Nebula, and World Fantasy honors to a Wole Soyinka Prize for Literature. Here she recalls the first shock of racism, visiting her parents' hometown in Nigeria, and the artists and writers who shaped her, finally arguing that pushing past limitations can give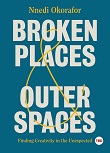 us our greatest boost. Based on her TED talk; with a 50,000-copy first printing.

Waters, John. Mr. Know-It-All: The Tarnished Wisdom of a Filth Elder. Farrar. Jun. 2019. 336p. ISBN 9780374214968. $27; ebk. ISBN 9780374715571. CD. ESSAYS
Pink Flamingos directorial genius, New York Times best-selling author, an artist whose recent exhibition was cheekily titled Indecent Exposure, and a budding novelist (stay tuned), Waters gives us advice on failing upward in Hollywood, nurturing extreme musical taste, building a house no one but you would dare live in, and saying "I love you" without emotional risk. His final word: "Whatever you might have heard, there is absolutely no downside to being famous." With an author tour to New York City, Baltimore, Washington (DC), Boston, Los Angeles (of course), and San Francisco.