Brook, Daniel. The Accident of Color: A Story of Race in Reconstruction. Norton. Jun. 2019. 336p. ISBN 9780393247442. $27.95. HISTORY
Before the Civil War, free biracial people (often called browns) held many rights of citizenship in New Orleans and Charleston. Afterward, the color divide became more rigid, and browns joined with the formerly enslaved to fight for rights that included the desegregation of streetcars and schools. The white backlash leading to Jim Crow soon wiped out those rights, and America had to wait decades for the next civil rights movement. An important reminder of the first civil rights struggle from journalist Brook (The Trap).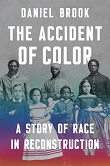 Cohen, Rich. The Last Pirate of New York: A Ghost Ship, a Killer, and the Birth of a Gangster Nation. Spiegel & Grau. Jun. 2019. 224p. ISBN 9780399589928. $28; ebk. ISBN 9780399589935. Downloadable. HISTORY
A fearsome and charismatic figure in the mid-1800s New York underworld, Albert Hicks used an alias to join the crew of an oyster ship in 1860 with plans to commit robbery. Things escalated, and by the time another vessel ran into the sloop in the fog, no one was aboard, and the decks were soaked in blood. Author of New York Times best sellers that include Tough Jews and The Avengers, Cohen sees Hicks as the last pirate of maritime New York—or maybe its first gangster.

Fishman, Charles. One Giant Leap: The Untold Story of How We Flew to the Moon. S. & S. Jun. 2019. 416p. ISBN 9781501106293. $28. HISTORY
When President John F. Kennedy announced on May 25, 1961, that America would land a man on the moon by 1970, NASA engineers went into shock. At the time, they'd achieved only 15 minutes of space time and had no idea how to build a computer small enough to load onto a rocket that they would make big enough to reach our glowy neighbor. Fishman, a three-time Gerald Loeb Award winner and the New York Times best-selling author of The Wal-Mart Effect, explains how it all happened. With a 75,000-copy first printing.

Guiet, Daniel C. & Timothy K. Smith. Scholars of Mayhem: My Father's Secret War in Nazi-Occupied France. Penguin Pr. Jun. 2019. 272p. ISBN 9780735225206. $28; ebk. ISBN 9780735225213. CD/downloadable. HISTORY
As a child, Guiet broke into an off-limits box and discovered a .45 automatic, different passports with his father's photo, and more. Though his father eventually owned up to his CIA service, only at the end of his life did he reveal that he had been the lone American (but a native French speaker) on a four-person commando team fielded by Britain's Special Operations Executive and dropped behind German lines in France to commit sabotage and aid the Resistance. Personal story, big history.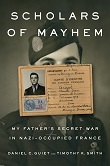 Hansen, Jonathan M. Young Castro: The Making of a Revolutionary. S. & S. Jun. 2019. 496p. ISBN 9781476732473. $35. BIOGRAPHY
Evidently the first American historian in a generation allowed access to the Castro archives in Havana, Harvard senior lecturer Hansen (Guantánamo: An American History) offers a new view for those who see Fidel Castro as strictly a cigar-smoking devil. Here is the young Fidel preferring the children of his plantation-owning father's laborers to his stuck-up boarding-school classmates, admiring FDR's New Deal while scorning both communism and American imperialism, writing love letters from jail, and conducting rash attacks on military barracks while smartly building his own army. With a 40,000-copy first printing.

Kuklick, Don. A Death in the Forest: How a Language and a Way of Life Came to an End in Papua New Guinea. Algonquin. Jun. 2019. 288p. ISBN 9781616209049. $26.95. ANTHROPOLOGY
Over 30 years ago, distinguished linguistic anthropologist Don Kulick traveled to a swamp-ringed village of 200 people in New Guinea's rain forest and settled in, learning their way of life so that he could study how their native language, Tayap—spoken only there—was dying. Even as he tells us about the culture, he examines the impact of white intrusion on similar cultures worldwide and explains why he decided that he had to leave. With a four-city tour to New York, Boston, San Francisco, and Washington, DC.

Nagorski, Andrew. The Year Germany Lost the War. S. & S. Jun. 2019. 400p. ISBN 9781501181115. $30; ebk. ISBN 9781501181122. HISTORY
Author of Hitlerland and The Nazi Hunters, award-winning journalist Nagorski here overviews the crucial year of 1941. That year started with Britain isolated and Hitler sure he would win the war, and it ended with Hitler making a series of military mistakes, from invading the Soviet Union to declaring war on America after the Pearl Harbor attacks, which left him with two powerful enemies. It also saw the start of the Holocaust. With a 50,000-copy first printing.

O'Neill, Tom with Dan Piepenbring. Chaos: Charles Manson, the CIA, and the Secret History of the Sixties. Little, Brown. Jun. 2019. 544p. ISBN 9780316477550. $29.95; ebk. ISBN 9780316477574. lib. ebk. ISBN 9780316529211. CD/downloadable. TRUE CRIME
In 1999, assigned a piece on the 30th anniversary of the Manson murders, journalist O'Neill figured there was nothing left to say. But he soon began questioning the official story and in the last two decades has spent considerable time pondering—and challenging––it. Why did many Hollywood types hide their friendship with Manson? How did a bunch of peacenik hippies become killers? And why didn't the police intervene sooner? Bound to stir interest; with a 100,000-copy first printing.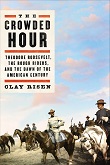 Risen, Clay. The Crowded Hour: Theodore Roosevelt, the Rough Riders, and the Dawn of the American Century. Scribner. Jun. 2019. 352p. ISBN 9781501143991. $28. HISTORY
Deputy op-ed editor at the New York Times, Risen here tells the story of the Rough Riders, a bunch of mostly not traditional soldiers (from Ivy Leaguers to cowboys) pulled from all over the country to assist in the effort when America declared war on Spain in 1898. At their head was Theodore Roosevelt, who led the charge up San Juan Hill—straight into the White House. With a 60,000-copy first printing.

Saxton, Martha. The Widow Washington: The Life of Mary Washington. Farrar. Jun. 2019. 384p. ISBN 9780809097012. $28; ebk. ISBN 9780374721336. BIOGRAPHY
Amherst professor of history and women's and gender studies, Saxton has ranged as a biographer from Louisa May Alcott to Jayne Mansfield. Now she tackles a subject we really don't know much about: Mary Ball Washington, George Washington's mother. Here we see Mary as a young wife in colonial Virginia, raising the future first president, and a slaveholding widow in a rapidly changing world.
Stone, Robert L. & Alan Andres. Chasing the Moon: The People, the Politics, and the Promise That Launched America into the Spaceage. Ballantine. Jun. 2019. 368p. ISBN 9781524798123. $32; ebk. ISBN 9781524798130. CD/downloadable. HISTORY
This tie-in to a six-hour PBS series premiering in July 2019 expands considerably on the series, offering in-depth portraits of the many characters involved in the race to the moon. They range from sf writer Arthur C. Clarke and astronaut Frank Borman to Poppy Northcutt, the first woman to work in Mission Control, and Ed Dwight, an African American astronaut candidate promoted by President Kennedy to boost America's image worldwide but shafted after Kennedy's assassination.