Armstrong, Kelley. Wherever She Goes. Minotaur: St. Martin's. Jun. 2019. 304p. ISBN 9781250181350. $27.99; ebk. ISBN 9781250181367. CD. MYSTERY
Once a stay-at-home mom, Aubrey abandoned her easy life and no longer has custody of her daughter, so she is used to being regarded skeptically. But when the police refuse to believe her when she claims a child was taken from the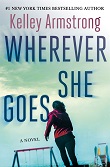 park against his will, Aubrey gets angry enough to start investigating herself. A stand-alone following This Fallen Prey.
Atherton, Nancy. Aunt Dimity and the Heart of Gold. Viking. Jun. 2019. 240p. ISBN 9780525522683. $26; ebk. ISBN 9780525522690. MYSTERY
In a tiny English village, merrymakers snowed in at Emma and Derek Harris's annual Christmas party are interrupted by a car careening off the driveway. Driver Matilda "Tilly" Trout joins the overnight festivities, then leads everyone to a treasure horde—and a shiny gold heart—in a room Emma has just discovered. It's up to Aunt Dimity to learn how Tilly knew what she knew. Following Aunt Dimity and the King's Ransom.
Brown, Rita Mae & Sneaky Pie Brown. Whiskers in the Dark: A Mrs. Murphy Mystery. Bantam. Jun. 2019. 208p. ISBN 9780425287187. $28; ebk. ISBN 9780425287194. MYSTERY
What are postmistress Mary Minor "Harry" Harristeen, her crime-cracking cats Mrs. Murphy and Pewter, and Tee Tucker the corgi up to now? They're trying to figure out who killed one of Harry's old friends, whose body is found by the hunt club's baying beagles, and whether ghosts really haunt the grounds of the National Beagle Club of America. Following Probable Claws.
Carlisle, Kate. The Book Supremacy. Berkley. Jun. 2019. 288p. ISBN 9780451491404. $25; ebk. ISBN 9780451491428. MYSTERY
Honeymooning in Paris, book restorer Brooklyn Wainwright finds the perfect gift for new husband Derek, once a spy: a first edition of the James Bond novel The Spy Who Loved Me. Back home in San Francisco, they agree to its display at a new spy shop, recommended by friend Ned, but a murder outside the shop and Ned's suspicious death make them wonder if someone from Derek's past is after him. Following Buried in Books.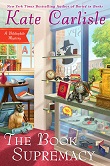 Connolly, Sheila. Killer in the Carriage House. Minotaur: St. Martin's. Jun. 2019. 336p. ISBN 9781250135889. $26.99; ebk. ISBN 9781250135896. MYSTERY
Kate Hamilton's plans to attract tourists by remaking Asheboro, MD, as a Victorian Village have hit a financial snag, but thankfully important documents found at the Barton mansion are ready to show at the spruced-up Barton factory. In addition, these documents suggest that some of Henry Barton's patents may have been filched by the local utility company, and maybe the company will avoid a lawsuit by funding them? Or maybe not. Second in the prolific author's "Victorian Village Mystery" series.
Dyer, Ashley. The Cutting Room. Morrow. Jun. 2019. 304p. ISBN 9780062797704. $26.99; ebk. ISBN 9780062797735. MYSTERY
Writing as Dyer, former CWA chair Margaret Murphy and forensic expert Helen Pepper bring back detectives Ruth Lake and Greg Carver from their first effort, LJ-starred Splinter in the Blood. Here, the detectives track a fiendish serial killer who treats the crime scene as an art installation, posing the victims and attracting crowds. Meanwhile, Greg's blurred vision from a head wound might have mystic implications. With a 60,000-copy first printing.
Goldberg, Leonard. The Disappearance of Alistair Ainsworth: A Daughter of Sherlock Holmes Mystery. Minotaur: St. Martin's. Jun. 2019. 320p. ISBN 9781250101082. $26.99; ebk. ISBN 9781250101099. CD. MYSTERY
Daughter of Sherlock Holmes and Irene Adler, Joanna Blalock again teams up with Dr. John Watson and his dashing son when the agitated Dr. Alexander Verner persuades them that a patient he's just seen is being held against his will. In fact, the patient is high-ranking English cryptographer Alistair Ainsworth, imprisoned by Germans wanting code that will help them win the Great War. Third in a People's Page-Turner-of-the-Week series.
Mina, Denise. Conviction. Mulholland: Little, Brown. Jun. 2019. 240p. ISBN 9780316528504. $27; ebk. ISBN 9780316528481. lib. ebk. ISBN 9780316422833. Downloadable. MYSTERY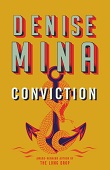 Upper-crust Edinburgh housewife Anna McLean loves true-crime podcasts—until her latest listen veers too close to a dark secret from her own past. Then her husband leaves her for her best friend and she's approached by the friend's former rock star husband, Fin, with their subsequent tête-à-tête getting a lot of visual play on social media. What can Anna do but grab the hapless Fin and run? A stand-alone from the multi-award-winning author whose The Long Drop received the 2017 McIlvanney Prize for best Scottish crime book of the year. With a 30,000-copy first printing.
Walker, Martin. The Body in the Castle Well: A Bruno, Chief of Police Novel. Knopf. Jun. 2019. 352p. ISBN. $25.95; ebk. ISBN 9780525519997.
When a young American's body is pulled from a castle's courtyard well, her death is shrugged off as opioid use gone sour. But Bruno, St. Denis chief of police in the Dordogne, is persuaded otherwise and begins an investigation that leads to the distinguished art historian with whom she was studying—a former Resistance fighter who profited mightily from the sale of a possibly misattributed painting. Fourteenth in a series boasting nearly 400,000 copies sold across platforms. 
Zepeda Patterson, Jorge. The Black Jersey. Random. Jun. 2019. 336p. tr. from Spanish by Achy Obejas. ISBN 9781984801067. $27; ebk. ISBN 9781984801074. Downloadable. MYSTERY
Every cyclist is a suspect when racers perish one by one during the prestigious Tour de France, knocked flat by improbably fatal accidents. So the police turn for help to Marc, a French-Colombian cyclist with a military background, who's competing on a team led by his best friend, American superstar Steve. Mexican journalist Zepeda Patterson won both a Dashiell Hammett Prize and a Planeta Prize, so he'll do mystery with literary finesse.