Acampora, Lauren. The Paper Wasp. Grove. Jun. 2019. 304p. ISBN 9780802129413. $26; ebk ISBN 9780802147080. LITERARY
Having abandoned her artistic promise except for fantastical storyboards she makes on the sly, Abby Graven works sullenly as a supermarket cashier, envying former best friend and rising Hollywood star Elise while scrapbooking Elise's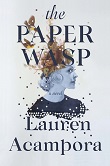 every move. But at their high school reunion, a friendly Elise proclaims Abby to be the true artist, and a trip to L.A. proves to Abby that Elise is a lonely soul in need of help. A debut novel after the story collection The Wonder Garden, a GLCA New Writers Award winner and Barnes & Noble Discover Pick.
Bob-Waksberg, Raphael. Someone Who Will Love You in All Your Damaged Glory: Stories. Knopf. Jun. 2019. 256p. ISBN 9781524732011. $25.95; ebk. ISBN 9781524732028. Downloadable. SHORT STORIES
Creator and executive producer of BoJack Horseman, recently called the best Netflix original series ever by the online magazine Thrillist, Bob-Waksberg offers a debut collection with a darkly humorous slant on love. Two lonely commuters repeatedly fail to connect, relatives disrupt a wedding by quarreling over how many goats should be sacrificed, and members of a rock band find that they have superpowers, but only when drunk. With a five-city tour to New York, Chicago, Austin, Los Angeles, and San Francisco.
Butler, Season. Cygnet. Harper. Jun. 2019. 272p. ISBN 9780062870919. $26.99; ebk. ISBN 9780062870933. LITERARY
Butler starts promisingly with a debut that in an earlier version placed second in the 2014 SI Leeds Prize for unpublished fiction by black and Asian women. Here, 17-year-old Kid has been dumped with her grandmother on Swan Island, a snatch of land off the New Hampshire coast, amid elderly inhabitants forming a separatist community that has left behind the wild, youth-oriented ways of the mainland. Now that her grandmother has died, Kid is stuck. Originally scheduled for January 2019.
Chung, Catherine. The Tenth Muse. Ecco. Jun. 2019. 304p. ISBN 9780062574060. $26.99; ebk. ISBN 9780062574091. LITERARY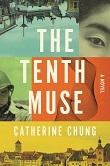 Hoping to conquer the Riemann hypothesis, one of the great unsolved mathematical problems, brilliant mathematician Katherine turns to a theorem that might also solve the issue of her identity and starts digging up secrets buried in World War II in Germany that could tell her something about her family. Chung, a Granta New Voice, won PEN/Hemingway Honorable Mention for her novel Forgotten Country.
Ciment, Jill. The Body in Question. Pantheon. Jun. 2019. 192p. ISBN 9781524747985. $24.95; ebk. ISBN 9781524747992. Downloadable. LITERARY
A wealthy, white teenage girl with a twin sister has been accused of murdering her toddler brother, and two of the sequestered jurors—fortyish anatomy professor Graham and fiftyish former celebrity photographer Hannah—launch an affair. During deliberations, they take opposing views; after conviction, the judge receives an anonymous challenge to the verdict owing to their affair, even as the public rages that the wrong twin has been convicted. Following Act of God; from Janet Heidinger Kafka Prize winner Ciment, whose Heroic Measures was an Oprah Book Club summer read.
Horrocks, Caitlin. The Vexations. Little, Brown. Jun. 2019. 320p. ISBN 9780316316910. $27; ebk. ISBN 9780316316934. lib. ebk. ISBN 9780316528863. Downloadable. LITERARY/HISTORICAL
In this debut, Plimpton Prize winner Horrocks takes on a fresh subject: Erik Satie, the French composer whose elusive music helped usher in a new era. Satie lost his parents young, his mother to death and his father to breakdown, but younger siblings Louise and Conrad remained supportive as he battled for recognition and enraged friends and lovers with his prickly comments. Finally, even Louise must admit that he's not the ideal brother. With a 50,000-copy first printing.
Jones, Sadie. The Snakes. Harper. Jun. 2019. 448p. ISBN 9780062897022. $26.99; ebk. ISBN 9780062897046. lrg. prnt. LITERARY
Leaving London for a long escape to France, white psychologist Bea and new husband Dan, a mixed-race artist, stop at a hotel run by Bea's brother Alex. They find the hotel guestless, Alex a wreck, and snakes in the attic. Next to arrive are Bea and Alex's wealthy, amiable parents, whom Dan has never met, and sudden tragedy reveals dark secrets at the core of this family. From the author of The Outcast, a Costa First Novel Award winner, and the best-selling The Uninvited Guests. With a 75,000-copy first printing.
Kamali, Marjan. The Stationery Shop. Gallery: S. & S. Jun. 2019. 320p. ISBN 9781982107482. $26. LITERARY
In 1953 Tehran, bright-eyed Roya finds solace in the book and stationery shop owned by Mr. Fakhri, who introduces her to another beloved customer, the handsome, idealistic Bahman. Soon Roya and Bahman are in love, but when he fails to meet her at the town square, on the night before their wedding and just as a coup d'état explodes, she loses him forever. Or so she thinks until six decades later. From the author of the award-winning debut novel Together Tea; with a 100,000-copy first printing.
Keane, Mary Beth. Ask Again, Yes. Scribner. Jun. 2019. 400p. ISBN 9781982106980. $27. LITERARY
Assigned to the same Bronx precinct in 1973, NYPD rookies Francis Gleeson and Brian Stanhope are next-door neighbors outside the city if not particularly close friends. But Francis's youngest daughter, Kate, and Brian's son, Peter, are already crushing on each other as tweens. Then a violent event divides the families, the Stanhopes move away, and the children are forbidden contact. Will that stop them? From a Book Foundation's 5 Under 35 author; buzzing already and with a 100,000-copy first printing.
Lombardo, Claire. The Most Fun We Ever Had. Doubleday. Jun. 2019. 544p. ISBN 9780385544252. $27.95; ebk. ISBN 9780385544269. Downloadable. LITERARY
Marilyn Connolly and David Sorenson fall madly in love in the 1970s and stay in love through several tumultuous decades of raising four daughters: acidulous Wendy, widowed young; straight-arrow lawyer-turned-mom Violet; overlooked Liza, a tenured professor fretting about her pregnancy and depressed boyfriend; and Grace, who has yet to pull her life together. Meanwhile, a family secret is shatteringly unearthed. A debut won in an eight-way auction.
Menasse, Robert. The Capital. Liveright: Norton. Jun. 2019. 416p. tr. from German by Jamie Bulloch. ISBN 9781631495717. $27.95. LITERARY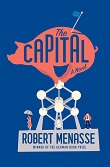 Winner of the 2017 German Prize, proclaimed "the first great EU novel" by Politico, and set to be translated into more than 20 languages, this work has authority; Austrian author Menasse moved to EU headquarters in Brussels to get a firsthand look at the organization Britain seems intent on deserting. At the heart of the character-rich narrative is Greek Cypriot Fenia Xenapoulou, new to the Department of Culture, whose plans for reframing the image of the European Commission include proclaiming Auschwitz (shockingly)as its birthplace with a "Big Jubilee Project."
Ohlin, Alix. Dual Citizens. Knopf. Jun. 2019. 288p. ISBN 9780525521891. $25.95; ebk. ISBN 9780525654629. Downloadable. LITERARY
Rising-star Ohlin, whose recent Inside was a finalist for the Scotiabank Giller Prize, limns two half-sisters, good-student Lark and artistic wild-child Robin. They leave Montreal and their indifferent single mother for America, where Lark gets involved with documentary films—and a filmmaker—and Robin rebels against the rigors of Juilliard. Their bond ruptures, their paths diverge, and then an emotionally stuttering Lark realizes that sisterhood is what counts.
Orringer, Julie. The Flight Portfolio. Knopf. May 2019. 576p. ISBN 9780307959409. $27.95; ebk. ISBN 9780307959416. LITERARY/HISTORICAL
After 2003's How To Breathe Underwater, a New York Times Notable Book, and 2010's Orange Prize long-listed The Invisible Bridge, Orringer delights readers everywhere by finally returning with a new book. Her novel draws on the true story of American journalist Varian Fry, who helped Jewish artists flee occupied Europe during the Holocaust. Among his rescues: Hannah Arendt, Max Ernst, Marcel Duchamp, and Marc Chagall. With a 75,000-copy first printing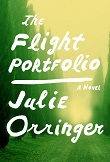 and a four-city tour to Los Angeles, New York, San Francisco, and Washington, DC.
Phillips, Julia. Disappearing Earth. Knopf. May 2019. 304p. ISBN 9780525520412. $26.95; ebk. ISBN 9780525520429. Lrg. prnt. Downloadable. LITERARY
There's big in-house excitement for this debut about the abduction of two young sisters as they wander the shoreline of the Kamchatka Peninsula in Russia's Far East. The narrative travels month by month over a full year to investigate the consequences for the tightknit if ethnically tense community. Authentic prose: Phillips spent a Fulbright year on Kamchatka, herding reindeer and undertaking a 583-mile dog sled race. With a 125,000-copy first printing and a six-city tour to Boston, Nashville, New York, San Francisco, Seattle, and Washington, DC.
Smith, Dominic. The Electric Hotel. Sarah Crichton: Farrar. Jun. 2019. 352p. ISBN 9780374146856. $27; ebk. ISBN 9780374719692. CD. LITERARY
Having investigated art in the New York Times best-selling The Last Painting of Sara de Vos, Smith turns to another art form in a novel imagining silent-film pioneer Claude Ballard, who began his career as a concession agent for the Lumière brothers. Eventually, Ballard was bankrupted by his chef oeuvre, The Electric Hotel, which also sank the career of his muse, Sabine Montrose. The past is reawakened when a film student comes to interview Claude in his shabby suite at the Hollywood Knickerbocker Hotel.
Spera, Deb. Call Your Daughter Home. Park Row: Harlequin. Jun. 2019. 384p. ISBN 9780778307747. $26.99. LITERARY
Three women in 1924 South Carolina confront injustice in their small town. There's Gertrude, fearing death at the hand of an abusive husband and her daughters' death from starvation—a boll weevil infestation has upended the economy. Retta, a first-generation freed slave, still works for the family who once owned her family. And Annie is matriarch of that family. A debut compared to Ayana Mathis's The Twelve Tribes of Hattie; with a 100,000-copy first printing.
Uriarte, Maximilian. Battle Born. Little, Brown. Jun. 2019. 256p. ISBN 9780316448963. $25; ebk. ISBN 9780316448970. LITERARY/GRAPHIC NOVEL
Creator of the military's most popular comic, Terminal Lance, Uriarte debuted in 2016 with the New York Times best-selling graphic novel The White Donkey—the first graphic novel about the war in Iraq from a veteran. Here he offers the story of a U.S. Marine platoon, led by the outwardly cool, inwardly roiled Sergeant King, sent to Saresang Mountains of Afghanistan's Badakhshan province to take back the lapis lazuli trade from the Taliban. What emerges is a study
of enduring prejudice and the last vestiges of colonialism. With a 35,000-copy first printing.
White, Susan Rebecca. We Are All Good People Here. Atria. Jun. 2019. 288p. ISBN 9781451608915. $26.99. LITERARY
Raised by a Jewish father and a Methodist mother, Daniella finally sheds that in-between feeling when she becomes college roommates and then fast friends with Eve, from old money in Atlanta. But as they face the South's rigid class and race system—it's the early Sixties—Eve's turn toward radicalism unsettles their relationship, with consequences years later involving their daughters. From the author of A Place at the Table; with a 75,000-copy first printing.
Wolff, Jake. The History of Living Forever. Farrar. Jun. 2019. 384p. ISBN 9780374170660. $27; ebk. ISBN 9780374717513. LITERARY
High school chemistry genius Conrad Aybinder falls in love with Sammy Tampari, the teacher with whom he is doing an independent study during the summer. But by the time school starts, Mr. Tampari is dead, and he's left Conrad journals mapping out his quest for something called The Elixir of Life. Maybe it could cure the terminal illness of Conrad's father? Looks as if there's some in-house enthusiasm coalescing around this debut; keep your eyes open.