Award winners from Elizabeth Bear and Melissa Cuso to Guy Gavriel Kay and Adrian Tchaikovsky keep built worlds building, and hot new debuts land, too. Don't miss Bryan Camp's second trip to an unexpected New Orleans and Ted Chiang's hotly anticipated second collection.
Akers, W.M. Westside. Harper Voyager. May 2019. 304p. ISBN 9780062853998. $22.99; ebk. ISBN 9780062854032. FANTASY
In 1921, Manhattan is split vertically by a 13-mile fence, with the wealthy claiming the East Side and criminals and the techno-averse claiming a West Side that looks like old New-York. Here, diminutive Gilda Carr works as a private eye dealing with small mysteries, since she can't solve her father's death. But seeking a missing white glove leads her to murder and more. An award-winning playwright's debut; with a 40,000-copy first printing.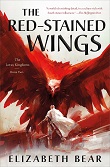 Bear, Elizabeth. The Red-Stained Wings. (Lotus Kingdoms, Bk. 2) Tor. May 2019. 384p. ISBN 9780765380159. $27.99; ebk. ISBN 9781466872080. FANTASY
Winner of the 2005 John W. Campbell Award for Best New Writer, plus two Hugos for her short fiction, Bear launched her "Lotus Kingdoms" series with The Stone in the Skull. Here, brass automaton Gage is in the desert picking apart a riddle sent from a great wizard to the ruling queen of Sarathai, and now the Lotus Kingdoms are at war.
Camp, Bryan. Gather the Fortunes. John Joseph Adams: Houghton Harcourt. May 2019. 416p. ISBN 9781328876713. $24; ebk. ISBN 9781328876744. FANTASY
Having launched the "Crescent City" series with the imaginative The City of Lost Fortunes, a gods-vs.-mortals standoff set in New Orleans, Camp returns with Renaissance Raines as one of the guides leading the newly dead through the Seven Gates of the Underworld. When young Ramses St. Cyr manages to evade his foretold end, Renai must find out who helped him—it's a power grab.
Chiang, Ted. Exhalation: Stories. Knopf. May 2019. 368p. ISBN 9781101947883. $25.95; ebk. ISBN 9781101947906. Downloadable. SHORT STORIES/SFF
Buzz already for this second collection from the visionary Chiang, whose "The Story of Your Life" was the basis for the Academy Award–nominated Arrival. Including two new pieces, "Omphalos" and "Anxiety Is the Dizziness of Freedom," among the previously published gems, this work has literary crossover appeal: note that with big SFF sites, advertising will include Granta.
Cuso, Melissa. The Unbound Empire. Orbit: Hachette. May 2019. 560p. ISBN 9780316466936. pap. $15.99; ebk. ISBN 9780316466943. lib. ebk. ISBN 9780316466929. FANTASY
Launched with the Gemmell Morningstar Award–short-listed The Tethered Mage, the "Swords and Fire" trilogy wraps up with Lady Amalia Cornaro and the fire warlock Zaira attempting to loosen the Raverran Empire's strict hold on magic. Then Lord Ruven's invading armies make it through the snow. With a 50,000-copy first printing.
Fink, Joseph & Jeffrey Cranor. The Buying of Lot 37: Welcome to Night Vale Episodes, Vol. 3. Harper Perennial. May 2019. 384p. ISBN 9780062798091. pap. $17.99; ebk. ISBN 9780062798107.
Fink, Joseph & Jeffrey Cranor. Who's a Good Boy?: Welcome to Night Vale Episodes, Vol. 4. Harper Perennial. May 2019. 368p. ISBN 9780062798114. pap. $17.99; ebk. ISBN 9780062798121.
Cocreators of the Night Vale podcast, Fink and Cranor return with the simultaneous publication of the third and fourth volumes in the series, reflecting the third and fourth series of the podcast. The first two titles taking readers to creepy Nightvale were New York Times best sellers, and FX and Sony Pictures plan to bring the podcast to the small screen. With a 30,000-copy first printing apiece.
Garber, Stephanie. Finale: A Caraval Novel. Flatiron: Macmillan. May 2019. 416p. ISBN 9781250157669. $19.99; ebk. ISBN 9781250157676. CD. FANTASY
Bate your breath no more, Caraval fans; the New York Times best-selling series reaches its finale. The Caraval spectacle is over, and Tella has work to do: keeping Legend from ascending the throne that belongs to her deep-in-sleep mother. Meanwhile, sister Tella's sister, Scarlett, has initiated a game of her own, which could bring trouble. This YA fantasy had big crossover appeal.
Kay, Guy Gavriel. A Brightness Long Ago. Berkley. May 2019. 560p. ISBN 9780451472984. $27; ebk. ISBN 9780698183285. FANTASY
World Fantasy Award winner Kay sets his new work in a locale recalling Children of Earth and Sky, a No. 1 Locus best seller, but it's a stand-alone starring Danio Cerra, the son of a tailor whose wits have won him a place at the court of a cruel count. Tensions soar when he recognizes Adria Ripoli as the ambitious killer she is. A Renaissance Italy feel, grounded in research.
Kotler, Steven. Last Tango in Cyberspace. St. Martin's. May 2019. 336p. ISBN 9781250202079. $27.99; ebk. ISBN 9781250202086. SF
A New York Times best-selling author and the Flow Genome Project's cofounder and research director, Kotler imagines a world where new forms of humanity have evolved, as typified by Lion Zorn, empathetically able to spot trends before they happen. He's thus led to an ugly murder and a world of eco-assassins, soul hackers, and consciousness terrorists. Neuroscience, technology that might be happening soon, and animal rights (loved Kotler's A Small Furry Prayer).
Mills, Simeon. The Obsoletes. Atria. May 2019. 320p. ISBN 9781501198335. $26. SF
Fraternal twin brothers Darryl and Kanga lie low in their Michigan town, where small-minded folks would disassemble they instantly if they knew the brothers were robots. It gets tougher when Kanga becomes the star of the basketball team. A debut with a 50,000-copy first printing.
Tchaikovsky, Adrian. Children of Ruin. Orbit: Hachette. May 2019. 496p. ISBN 9780316452533. pap. $15.99; ebk. ISBN 9780316452540. lib. ebk. ISBN 9780316452526. Downloadable. SF
In this sequel to Children of Time, an Arthur C. Clarke Award winner, terraforming humans and their new spider allies detect a fluttering radio signal and set out to see if they have earthly cousins somewhere in space. Not smart: when Nod was settled millennia ago by humans, its alien life was suppressed, and now something nasty is busting out. With a 50,000-copy first printing.
Walton, Jo. Lent. Tor. May 2019. 336p. ISBN 9780765379061. $26.99; ebk. ISBN 9781466865723. ALTERNATIVE HISTORY
In this magically enhanced version of events in 15th-century Florence, young Girolamo can cast out demons (and even see them), fire up thousands with his preaching, and persuade Charles VIII of France not to invade the city. Now Girolamo Savanarola is on the run from an angry pope, and he's about to discover who he really is. From a Hugo, Nebula, and World Fantasy Award winner.