Big biographies about big-name people important in history, law, and sports; then there's William and Harry for the royalty watchers!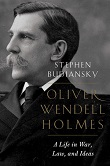 Budiansky, Stephen. Oliver Wendell Holmes: A Life in War, Laws, and Ideas. Norton. May 2019. 560p. ISBN 9780393634723. $29.95; ebk. ISBN 9780393634730. BIOGRAPHY
Busy author/journalist Budiansky (Code Warriors) draws on previously unpublished material to tackle the life and work of Oliver Wendell Holmes, a legal scholar of monumental proportions who changed America's understanding of law by showing that it responds to the changing needs of society. Named to the Supreme Court by Theodore Roosevelt at age 61, he served for three instructive decades. With an author tour to Boston, New York, and Washington, DC.
Danziger, Danny. William & Harry: The Windsor Brothers. Celadon: Macmillan. May 2019. 256p. ISBN 9781250307705. $26.99; ebk. ISBN 9781250307712. CD. BIOGRAPHY
Danziger is an award-winning journalist and columnist for the Sunday Times, where he originated an ongoing feature on sibling relationships. Here he limns one of the best-known sibling pairs today, their Royal Highnesses William and Harry, asking how the past has influenced their relationship and what the future may bring.
Kranish, Michael. The World's Fastest Man: The Extraordinary Life of Major Taylor, America's First Black Sports Hero. Scribner. May 2019. 384p. ISBN 9781501192593. $28. BIOGRAPHY/AFRICAN AMERICAN
In the 1890s, the world's fastest man was on a bicycle—and, in defiance of the Jim Crow mentality gripping the nation, he was African American. Here's how Major Taylor became a sensation in what was then America's most popular sport and broke the color barrier before boxer Jack Johnson and baseball player Jackie Robinson took their turns. With a 100,000-copy first printing.
O'Brien, Phillips Payson. The Second Most Powerful Man in the World: The Life of Admiral William D. Leahy, Roosevelt's Chief of Staff. Dutton. May 2019. 544p. ISBN 9780399584800. $30; ebk. ISBN 9780399584817. Downloadable. BIOGRAPHY
Boston-born O'Brien, who currently teaches strategic studies at the University of St. Andrews in Fife, Scotland, here argues that Franklin Delano Roosevelt's most important adviser during World War II—who had more impact on the course of the war than anyone except Roosevelt himself—was Admiral William D. Leahy, his chief of staff. Drawing on personal diaries and two collections of official documents from Leahy's offices to give us a refreshed view of the war.
Schilling, Dan & Lori Longfritz. Alone at Dawn: Medal of Honor Recipient John Chapman and the Untold Story of the World's Deadliest Special Operations Force. Grand Central. Apr. 2019. 400p. ISBN 9781538729656. $28; ebk. ISBN 9781538729670. lib. ebk. ISBN 9781538732311. CD/downloadable. BIOGRAPHY/MILITARY
In predawn fighting on March 4, 2002, Air Force Combat Controller John Chapman was badly wounded while searching for a missing soldier and presumed dead by his team, who left him behind. Yet he regained consciousness long enough to hold off a band of Al Qaeda combatants and save the lives of an incoming rescue squad. He thus became the first airman in nearly 50 years to earn the Medal of Honor, awarded in summer 2018 after years of investigation. With a 100,000-copy first printing.
Windhorst, Brian. LeBron, Inc.: The Making of a Billion-Dollar Athlete. Grand Central. Apr. 2019. 288p. ISBN 9781538730874. $28; ebk. ISBN 9781538730867. lib. ebk. ISBN 9781538748688. Downloadable. BIOGRAPHY/SPORTS
Having covered the National Basketball Association for ESPN since 2010, Windhorst is well situated to explain how the player who's made eight straight trips to the NBA finals got where he is today. He's also the author of the New York Times best-selling Return of the King, about LeBron James's coming home to the Cleveland Cavaliers. With a 75,000-copy first printing.