Collins, Sara. The Confessions of Frannie Langton. Harper. May 2019. 384p. ISBN 9780062851895. $26.99; ebk. ISBN 9780062851819. LITERARY
Accused of murdering her employers in Georgian London, Frannie Langton recalls nothing about the event but everything about her childhood on a Jamaican plantation and apprenticeship with an ethics-breaching scientist. A debut from the winner of Cambridge University's Michael Holroyd Prize for Creative Writing; with a 50,000-copy first printing.
Lee, Jing-Jing. How We Disappeared. Hanover Square: Harlequin. May 2019. 352p. ISBN 9781335953759. $26.99. LITERARY
In 1942 Singapore, 17-year-old Wang Di is forced to become a comfort woman in a Japanese military brothel, an experience she has kept from family until her grandson overhears her muttered comments 60 years later and starts investigating. A debut fueled by events in Lee's paternal grandmother's family; with a 50,000-copy first printing.
Lin, Chia-Chia. The Unpassing. Farrar. May 2019. 288p. ISBN 9780374279363. $26; ebk. ISBN 9780374719456. LITERARY
Tragedy strikes a Taiwanese immigrant family in Alaska when 11-year-old Gavin and younger sister Ruby contract meningitis. Only Gavin survives, and his grieving father makes mistakes on his plumbing job that lead to further tragedy. A debut from Iowa Writers' Workshop graduate Lin.
Ramos, Joanne. The Farm. Random. May 2019. 336p. ISBN 9781984853752. $27; ebk. ISBN 9781984853769. lrg. prnt. Downloadable. LITERARY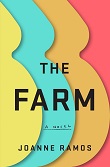 The surrogate mothers at Golden Oaks live luxuriously but cannot leave the premises or contact outsiders, and Jane, a Filipino immigrant who desperately needed the surrogacy fee for her family, is beginning to resist. A much-bruited debut from a former Economist staffer now on the board of The Moth.
Reeves, Virginia. The Behavior of Love. Scribner. May 2019. 304p. ISBN 9781501183508. $26. LITERARY
Behavioral psychiatrist Ed Malinowski has successfully rebuilt a failing mental institution, but trouble enters on many levels—he's also happily married—as he tries to help a beautiful young epileptic wrongly placed there. Following Reeves's debut, Work Like Any Other/, long-listed for the Man Booker Prize and the Center for Fiction's First Novel Prize.
Ruta, Domenica. Last Day. Spiegel & Grau. May 2019. 272p. ISBN 9780525510819. $27; ebk. ISBN 9780525510826. Downloadable. LITERARY
Nerdy Sarah, crushing on troubled tattoo artist Kurt; maladjusted Karen, looking for her adoptive brother; and spiritual seeker Rosette, Karen's friend—these and more join in another Last Day celebration, marking the annually anticipated end of the world. A debut novel following Ruta's New York Times best-selling memoir, With or Without You.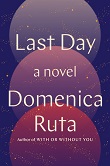 Sachs, Adam Ehrlich. The Organs of Sense. Farrar. May 2019. 240p. ISBN 9780374227371. $26; ebk. ISBN 9780374719968. LITERARY
A Thurber Prize semifinalist and Sami Rohr Prize finalist, Sachs catches the eye with this push-the-envelope tale about a blind astronomer's predicting a solar eclipse and budding philosopher Gottfried Wilhelm Leibniz's interest in the backstory, which embraces royal intrigue, the meaning of art, and coruscating war.
Scott, Brandy. Not Bad People. Morrow Paperbacks. May 2019. 384p. ISBN 9780062854124. pap. $16.99; ebk. ISBN 9780062854131. LITERARY
In small-town Australia, thirtyish friends Aimee, Melinda, and Lou celebrate New Year's by sending flaming Chinese lanterns into the sky—and perhaps cause a small plane's fatal crash. Only Aimee feels guilt-ridden. A debut from an Australian journalist heard on the UAE's only talk radio station; with a 40,000-copy first printing.
Swyler, Erika. Light from Other Stars. Bloomsbury. May 2019. 320p. ISBN 9781635573169. $27. LITERARY
In 1986 Florida, young Nedda dreams of sailing the heavens but must contend with a grief-stricken father and his offbeat experiments, meant to extend her childhood. All of which matters when she really does make it as an astronaut. Following the debut novel The Book of Speculation, the recipient of BuzzFeed and Discover honors.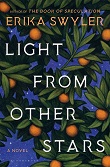 Valente, Anne. The Desert Sky Before Us. Morrow Paperbacks. May 2019. 448p. ISBN 9780062749871. pap. $15.99; ebk. ISBN 9780062749888. LITERARY
After Rhiannon picks up sister Billie upon her release from prison, they head cross-country on a scavenger hunt their paleontologist mother designed for them shortly before dying and finally confront the enmity between them while discovering their mother's secret life. A new novel from the winner of the Dzanc Books Short Story Prize.
Wheelan, Charles. The Rationing. Norton. May 2019. 464p. ISBN 9781324001485. $26.95. LITERARY
The best-selling Naked Economics author enters the fiction arena with a political satire concerning the sometimes honorable, sometimes politically motivated response of U.S. government leaders to the emergence of an unidentified pathogen just as supplies of the cure-all pharmaceutical Dormigen dry up. Check out the op-eds upon publication.