Abrams, Dan & David Fisher. Theodore Roosevelt for the Defense: The Courtroom Battles To Save His Legacy. Hanover Square: Harlequin. May 2019. 320p. ISBN 9781335016447. $26.99. HISTORY
Accused of corruption by former president Theodore Roosevelt, Republican Party leader William Barnes sued, with the resulting trial really concerning the reputation of the two ongoingly ambitious men. From the authors of the New York Times best-selling Lincoln's Last Trial; with a whopping 300,000-copy first printing.
Borneman, Walter R. Brothers Down: Pearl Harbor and the Fate of the Many Brothers Aboard the USS Arizona. Little, Brown. May 2019. 416p. ISBN 9780316438889. $30; ebk. ISBN 9780316438872. lib. ebk. ISBN 9780316438865. CD/downloadable. HISTORY
The best-selling author of The Admirals and Polk takes a distinctive look at Pearl Harbor, explaining that as the naval fleet was destroyed, altogether 63 brothers serving on the ships were killed. Family as well as national heartbreak; with a 75,000-copy first printing.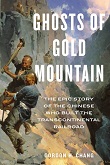 Chang, Gordon H. Ghosts of Gold Mountain: The Epic Story of the Chinese Who Built the Transcontinental Railroad. Houghton Harcourt. May 2019. 304p. ISBN 9781328618573. $28; ebk. ISBN 9781328618610. HISTORY
Award-winning Stanford historian Chang, also director of the university's Center for East Asian Studies and codirector of the Chinese Railroad Workers in North America Project, chronicles the fate of the thousands of Chinese workers who built America's railroads with their suffering and were then tossed aside.
Cotton, Tom. Sacred Duty: A Soldier's Tour at Arlington National Cemetery. Morrow. May 2019. 352p. ISBN 9780062863157. $28.99; ebk. ISBN 9780062863171. lrg. prnt. HISTORY
U.S. Senator Cotton (R-AR) chronicles Arlington National Cemetery's Old Guard, the U.S. Army's official ceremonial unit, dating from 1784 and performing duties such as standing guard at soldiers' funerals. Interspersed: a memoir of Cotton's service as the unit's platoon leader between tours of duty in Iraq and Afghanistan, together offering a meditation on patriotism.
Geroux, William. The Ghost Ships of Archangel: The Arctic Voyage That Defied the Nazis. Viking. May 2019. 352p. ISBN 9780525557463. $28; ebk. ISBN 9780525557470. Downloadable. HISTORY
In July 1942, four Allied ships broke from their convoy and braved the packed ice floes of the Arctic Ocean, hoping to dodge German bombers and U-boats so that they could deliver war supplies to the Soviet port of Archangel. Following former journalist Geroux's well-received The Mathews.
Hamilton, Nigel. War and Peace: FDR's Final Odyssey; D-Day to Yalta, 1943–1945. May 2019. 592p. ISBN 9780544876804. $30. HISTORY
Following Mantle of Command and Commander in Chief, this work concludes award-winning biographer Hamilton's account of Franklin Delano Roosevelt at war, detailing his management of D-Day (a contrast with Churchill's account) and battle with mortal disease while planning war's end and what lay beyond. With a 40,000-copy first printing; the publisher will collect all three volumes under a single title, FDR at War (ISBN 978-0358067764. $78).
Jacobsen, Annie. Surprise, Kill, Vanish: The Secret History of CIA Paramilitary Armies, Operators, and Assassins. Little, Brown. May 2019. 560p. ISBN 9780316441438. $30; ebk. ISBN 9780316441407. lib. ebk. ISBN 9780316452885. lrg. prnt. CD/downloadable. HISTORY
Do you know what the CIA's under-the radar Special Activities Division does? It's responsible for hostage rescues, sabotage, and assassinations, and its history is here detailed by Pulitzer Prize finalist Jacobsen, author of the New York Times best sellers Area 51 and Operation Paperclip. With a 75,000-copy first printing.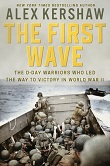 Kershaw, Alex. The First Wave: The D-Day Warriors Who Led the Way to Victory in World War II. Dutton Caliber. May 2019. 464p. ISBN 9780451490056. $30; ebk. ISBN 9780451490063. lrg prnt. CD/downloadable. HISTORY
Kershaw, a New York Times best-selling expert on World War II, profiles ten men at the forefront on D-day, from hard-charging Canadian brothers and a French commando to a Victoria's Cross–winning British soldier and the first American paratrooper to reach Normandy soil. Kershaw's first D-day coverage since his 2004 classic, The Bedford Boys.
Moller, Violet. The Map of Knowledge: A Thousand-Year History of How Classical Ideas Were Lost and Found. Doubleday. May 2019. 320p. ISBN 9780385541763. $30; ebk. ISBN 9780385541770. Downloadable. HISTORY
Euclid's Elements, Ptolemy's The Almagest, and Galen's medical studies: three essential Greek texts thankfully not lost when Rome fell but passed like torches of knowledge through seven cities (e.g., Baghdad, Cordoba, and Salerno) finally to ignite the Renaissance. Intellectual historian Moller's first, intriguing book.
Moore, Peter. Endeavour: The Ship That Changed the World. Farrar. May 2019. 432p. ISBN 9780374148416. $28; ebk. ISBN 9780374715519. HISTORY
Author of The Weather Experiment, a New York Times Notable book, Moore writes the biography of a ship—the HMS Endeavor—which began by carrying coal and then carried Lt. James Cook on his first epic voyage and British troops during the Revolutionary War. Enlightenment symbol? Imperialist frigate? This ship has a rich history and complicated rep.
Packer, George. Our Man: Richard Holbrooke and the End of the American Century. Knopf. May 2019. 608p. ISBN 9780307958020. $30; ebk. ISBN 9780307958037. lrg. prnt. Downloadable. HISTORY
Diplomat Holbrooke served as an adviser in Vietnam, U.S. ambassador to Germany and the UN, and assistant secretary of state (twice) while facilitating the Dayton Accords and trying to end war in Afghanistan. New Yorker staffer Packer, a National Book Award winner and Pulitzer finalist, plus the author of fiction and award-winning drama, charts the idealism and ambition thus entailed. Great subject-writer match-up.
Phillips, Tom. Humans: A Brief History of How We F*cked It All Up. Hanover Square: Harlequin. May 2019. 272p. ISBN 9781335936639. $26.99. HISTORY
A former editorial director of BuzzFeed UK, Phillips is also a humorist, so expect this sweep through 70,000 years of human history to have its laugh-out-loud (and likely fiercely blushing) moments. With a 250,000-copy first printing.
Siler, Julia Flynn. The White Devil's Daughters: The Fight Against Slavery in San Francisco's Chinatown. Knopf. May 2019. 448p. ISBN 9781101875261. $27.95; ebk. ISBN 9781101875278. Downloadable. HISTORY
Siler follows her Gerald Loeb Award–winning The House of Mondavi and New York Times best-selling Lost Kingdom by detailing the trafficking of young Chinese women and girls in 1840s–1940s San Francisco and the female abolitionists who helped them by running a safe house—and sometimes kidnapping them from brothels and smugglers' ships.
Stelzer, Cita. Working with Winston: The Unsung Women Behind Britain's Greatest Statesman. Pegasus. May 2019. 304p. ISBN 9781643130194. $27.95. HISTORY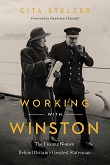 We know all about the men who worked with Winston Churchill, but what about the women who filled the crucial secretarial and support staff positions? Author of Dinner with Churchill and a researcher at Churchill College, Cambridge, who serves on the board of the Churchill Centre, Stelzer knows her Churchill stuff.
Wolman, David & Julian Smith. Aloha Rodeo. Morrow. May 2019. 368p. ISBN 9780062836007. $27.99; ebk. ISBN 9780062836021. HISTORY
In 1908, three Hawaiian cowboys traveled to Wyoming for the Cheyenne Roundup, considered the grandest of rodeo competitions, and, though scoffed at, outshone the competition and set a new record in steer roping. Wired contributing editor Wolman and award-winning journalist Smith tell the story; with a 150,000-copy first printing.