Baldacci, David. Untitled. Grand Central. May 2019. 432p. ISBN 9781538761410. $29; ebk. ISBN 9781538761434. lib. ebk. ISBN 9781538761403. CD/downloadable. THRILLER
While visiting his hometown, Amos Tucker is accosted by the first person he ever arrested, trembling with illness after years in prison and still maintaining his innocence. Believing him, Amos soon realizes that he could prevent another crime. The next "Memory Man" thriller; with a million-copy first printing.
Brown, Dale. The Kremlin Strike. Morrow. May 2019. 464p. ISBN 9780062843012. $28.99; ebk. ISBN 9780062843043. lrg. prnt. CD. MILITARY THRILLER
In Brown's latest techno fling, tough, new U.S. president John Dalton Farrell sends Brad McLanahan and the Iron Wolf Squadron into outer space to challenge the growling-bear Russkies, up there to secure world dominance. With a 125,000-copy first printing.
Cussler, Clive & Robin Burcell. Untitled. Putnam. May 2019. 400p. ISBN 9780525539612. $29; ebk. ISBN 9780525539629. ACTION/ADVENTURE
Eager to chase down scrolls stolen in sixth-century North Africa from a priest who retaliated by cursing the Vandal kingdom, treasure hunters Sam and Remi Fargo deliver supplies to a school in Nigeria, with the subsequent kidnapping of Remi and several students seemingly related to the scrolls. Eleventh in a popular series.
Deaver, Jeffery. The Never Game. Putnam. May 2019. 400p. ISBN 9780525535942. $28; ebk. ISBN 9780525535966. CD/downloadable. THRILLER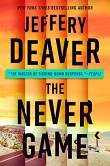 Like a wandering minstrel, Colter Shaw sojourns nationwide to help solve crimes, here agreeing to find a missing college student in Silicon Valley. It appears that someone is dangerously bringing the eponymous video game to life. Igniting a new series.
Friis, Agnete. The Summer of Ellen. Soho Crime. May 2019. 304p. ISBN 9781616959951. $26.95; ebk. ISBN 9781616959968. PSYCHOLOGICAL SUSPENSE
Following up her triumphant solo debut, What My Body Remembers, the coauthor of the big-hit Nina Borg series takes embittered architect Jacob to his great-uncle Anton's remote Jutland farm so that he can determine what happened in summer 1978 to beautiful commune dweller Ellen and the vanished sister of a classmate.
Harris, Thomas. Untitled. Grand Central. May 2019. 384p. ISBN 9781538750148. $29; ebk. ISBN 9781538750131. CD/downloadable. THRILLER
The man who gave us Hannibal Lecter returns with his first stand-alone since debuting with 1975's Black Sunday. No plot details, but expect hoopla; 30 million copies of Harris's books are out there somewhere, and all his books have been made into films. With a 600,000-copy first printing.
Koontz, Dean. The Night Window: A Jane Hawk Novel. Bantam. May 2019. 432p. ISBN 9780525484707. $28; ekb. ISBN 9780525484714. THRILLER
Top-of-the-heap New York Times best-selling Koontz wraps up a series begun in The Silent Corner with former FBI agent Jane Hawk's discovery of a massive conspiracy to brainwash the populace, some of whom are now getting out of control. Look for Jane in a new series soon.
Koryta, Michael. If She Wakes. Little, Brown. May 2019. 416p. ISBN 9780316294003. $27; ebk. ISBN 9780316293952. lib. ebk. ISBN 9780316269766. lrg. prnt. CD/downloadable. THRILLER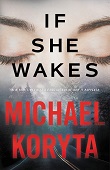 A terrible car crash kills the engineer Tara Beckley is escorting on campus and leaves Tara herself unable even to twitch but aware that someone wants her dead. Meanwhile, insurance investigator Abby Kaplan, a former stunt driver, gets into deep trouble for realizing that this was no accident. With a 100,000-copy first printing.
Laukkanen, Owen. Deception Cove. Mulholland: Little, Brown. May 2019. 384p. ISBN 9780316448703. $27; ekb. ISBN 9780316448697. lib. ebk. ISBN 9780316448710. Downloadable. ACTION/ADVENTURE
Widowed former marine Jess Winslow can cope with PTSD only because of beloved pit bull Lucy, who's now been kidnapped by an evil sheriff. Though initially crusty, former convict Mason Burke trained Lucy and is determined to help Jess get her back. The multi-award-nominated Laukkanen based Lucy on his own rescue pup.
Lee, Patrick. Dark Site: A Sam Dryden Novel. Minotaur: St. Martin's. May 2019. 400p. ISBN 9781250030795. $27.99; ebk. ISBN 9781250030818. CD. THRILLER
Former Special Forces operative Sam Dryden (Runner, Signal) foils his own abduction, then that of Danica Ellis, who clarifies their connection by producing a heavily redacted document concerning witnesses to a secret military site in their hometown. They don't recall each other, and chemically smudged out memories figure in the plot.
Meyer, Deon. The Woman in the Blue Cloak: A Benny Griessel Mystery. Atlantic Monthly. May 2019. 160p. ISBN 9780802147233. $22. DETECTIVE
In this latest from multi-award-winning South African author Meyer, Capt. Benny Griessel and snarky partner Vaughn Cupido wonder why Alicia Lewis, an expert in Dutch Masters paintings, is found naked and drenched in bleach 35 miles from Capetown. They do know that it involves a painting last seen in 1654.
Patterson, James & Maxine Paetro. The 18th Abduction. Little, Brown. Apr. 2019. 368p. ISBN 9780316420266. $29; ebk. ISBN 9780316528443. lib. ebk. ISBN 9780316423120. CD/downloadable. DETECTIVE
Even as Det. Lindsay Boxer hunts for three vanished schoolteachers, husband Joe meets a woman who claims to have spotted a heinous war criminal from her Eastern European homeland blithely walking San Francisco's streets.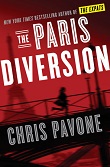 Then the accuser herself vanishes. With a 400,000-copy first printing; pubbing late April.
Pavone, Chris. The Paris Diversion. Crown. May 2019. 384p. ISBN 9781524761509. $27; ebk. ISBN 9781524761523. lrg. prnt. CD/downloadable. THRILLER
Back from The Expats, Pavone's Edgar and Anthony Award winner for Best First Novel, Kate Moore is enjoying life in Paris with husband Dexter when a suicide bomber materializes outside the Louvre. Lacking orders from Langley, Kate jumps into the fray with a French agent. C'mon, Paris! Pavone!
Walker, Wendy. The Night Before. St. Martin's. May 2019. 320p. ISBN 9781250198679. $26.99; ebk. ISBN 9781250198693. CD. THRILLER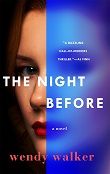 Responsible Rosie leaps into action when wild-hare sister Laura melts into thin air after a date with a stranger she met online, but soon Rosie starts wondering whether he's the one in danger. Following Emma in the Night; with a 150,000-copy distribution across formats and lots of buzz.