Bashir, Yousef. The Words of My Father: A Son of the Intifada Remembers. Harper. May 2019. 240p. ISBN 9780062917324. $25.99; ebk. ISBN 9780062917348. MEMOIR
Raised by a pacifist schoolteacher father, Palestinian Bashir was 11 when the Second Intifada began and Israeli soldiers seized the top two floors of his family home. Over the next several years of intensifying conflict, as family members were virtually held prisoner, he began to question his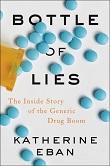 gracious father's stance. Then he was shot in the back by an Israeli soldier. The beginning of the story of how Bashir became a peace activist, complementing his Letters to My Palestinian Neighbor; with a 50,000-copy first printing.

Eban, Katherine. Bottle of Lies: The Inside Story of the Generic Drug Boom. Ecco. May 2019. 320p. ISBN 9780062338785. $28.99; ebk. ISBN 9780062338808. MEDICAL
Continuing a story she has been pursuing for nearly two decades (see, e.g., Dangerous Doses), award-winning investigative reporter Eban looks at the generic drug boom and sees fraud, falsified data, and dangerous cost-cutting measures that result in adulterated medications. And with generics comprising almost 90 percent of our pharmaceutical market, that affects us all. Drawing on internal FDA documents and exclusive accounts from whistleblowers, inspectors, and regulators; with a 150,000-copy first printing.

Lockman, Darcy. All the Rage: Mothers, Fathers, and the Myth of Equal Partnership. Harper. May 2019. 320p. ISBN 9780062861443. $26.99; ebk. ISBN 9780062861467. PARENTING
Journalist-turned-psychologist Lockman (Brooklyn Zoo) chats with parents, new mothers' groups, and co-parenting experts to discover why, despite high-profile feminist activism regarding the need for sharing parental and household duties equally, women in two-job households still get stuck with most of the work. With a 40,000-copy first printing.

Mehta, Suketu. This Land Is Our Land: An Immigrant's Manifesto. Farrar. May 2019. 208p. ISBN 9780374276027. $25; ebk. ISBN 9780374719357. CD. SOCIAL SCIENCE
To explain today's burgeoning flow of immigrants, Pulitzer Prize finalist Mehta (Maximum City) considers his own story as an Indian-born, New York–raised teenager; the consequences of climate change and state and regional violence worldwide; and the long-term damage done by colonialism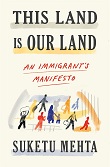 ("We are here because you were there"). He also shows what immigrants contribute to any country where they settle. Big promotion.

Mezrich, Ben. Bitcoin Billionaires. Flatiron: Macmillan. May 2019. 384p. ISBN 9781250217745. $27.99; ebk. ISBN 9781250217752. CD. BUSINESS
Featured in the New York Times best-selling Facebook saga The Accidental Billionaires, basis of the film The Social Network, Harvard twins Tyler and Cameron Winklevoss had a life-changing fall-out with Mark Zuckerberg. Mezrich shows how they overcame the shock by vacationing in Ibiza, where they learned about cryptocurrency and, considering it either a fraud or the next big thing, risked entering the fray. Now they're the first bitcoin billionaires.

Pelley, Scott. Truth Worth Telling: A Reporter's Search for Meaning in the Stories of Our Times. Hanover Square: Harlequin. May 2019. 352p. ISBN 9781335999146. $26.99; ebk. ISBN 9781488053627. MEMOIR/JOURNALISM
A former CBS Evening News anchor and enduring 60 Minutes correspondent, Pelley doesn't simply recounts three decades' worth of experience on the news front. As he recalls interviewing presidents or running toward the burning World Trade Center towers to provide coverage, the multi-award-winning journalist considers what values allow people to make a crucial difference, what faults can bring down even the best, and how we can therefore bring meaning to our lives. With a 250,000-copy first printing.

Sciutto Jim. The Shadow War: Inside Russia and China's Secret Operations to Undermine America. Harper. May 2019. 256p. ISBN 9780062853646. $26.99; ebk. ISBN 9780062853653. POLITICAL SCIENCE
CNN's Chief National Security Correspondent shows us how insecure we really are, and it's not because of bombs bursting in air. While our adversaries might be the usual suspects—Russia and China, as the subtitle says, as well as North Korea and Iran—today's warfare is conducted via hacking, disinformation campaigns, and advanced satellite weaponry, with businessmen and lawyers, space engineers and computer scientists the combatants. With a 75,000-copy first printing; look for a one-hour CNN special airing in conjunction with publication.


Wehle, Kimberly. How to Read the Constitution—and Why. Harper Perennial. May 2019. 352p. ISBN 9780062914361. $26.99; pap. ISBN 978006291436. $17.99; ebk. ISBN 9780062896315. POLITICS
What does the U.S. Constitution really say, how does it really work, and what forces are corroding the protections it affords us? Ask longtime practicing lawyer Wehle, associate independent counsel in the Whitewater Investigation under Kenneth Starr and an assistant U.S. attorney in Washington, DC, under former Attorney General Eric Holder. With a 20,00-copy hardcover and a 40,000-copy paperback first printing.