Constantine, Diamond, Grames, McCullough: Barbara's Picks, May 2019, Pt. 1 | Prepub Alert
Fresh fiction from first-timer Juliet Grames, associate publisher of Soho Press, and second-timer Lynn Constantine, following the LibraryReads hit The Last Mrs. Parrish. Plus major history from Jared Diamond and David McCullough.
Constantine, Liv. The Last Time I Saw You. Harper. May 2019. 320p. ISBN 9780062868817. $26.99; ebk. ISBN 9780062868831. lrg. prnt. SUSPENSE
At the funeral of her mother, murdered in her upscale Baltimore home, Kate English reunites with once close friend Blaire Barrington, from whom she's been estranged since her marriage to the stuck-up Simon. Best-selling mystery author Blaire supports Kate through her trauma but becomes increasingly aggressive as she grills friends and family about the murder. Will the author, actually sisters Lynne Constantine and Valerie Constantine, pull off a surprise twist worthy of their eye-popping LibraryReads pick, The Last Mrs. Parrish? With a 150,000-copy first printing.

Diamond, Jared. Upheaval: Turning Points for Nations in Crisis. Little, Brown. May 2019. 512p. ISBN 9780316409131. $35; ebk. ISBN 9780316409155. lib. ebk. ISBN 9780316453769. HISTORY
Closing out a trilogy begun with the two-million-copy selling Guns, Germs and Steel and continued with 830,000-copy-selling Collapse, Pulitzer Prize-winning Diamond seeks answers to contemporary U.S. and world upheaval by asking how some nations have effectively survived identity-defining crisis. The seven nations studied include Japan, broken open by U.S. Commodore Perry's arrival; Finland facing the Soviet invasion; and Chile during and after Pinochet's regime. With a 150,000-copy first printing.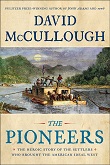 Grames, Juliet. The Seven or Eight Deaths of Stella Fortuna. Ecco. May 2019. 464p. ISBN 9780062862822. $27.99; ebk. ISBN 9780062862846. lrg. prnt. LITERARY
Soho Press associate publisher Grames offers a richly imagined debut novel drawing on her grandmother's history. Beautiful, smart, and unyielding, Stella Fortuna grows up in a mountain village in early 20th-century Italy, suspected of being cursed and castigated by her father for not bending to patriarchal expectations. The family immigrates to America before World War II, and Stella continues protecting not-as-sharp little sister Tina, with their estrangement in old age framing the narrative. With a 200,000-copy first printing and a seven-city tour.

McCullough, David. The Pioneers: The Heroic Story of the Settlers Who Brought the American Ideal West. S. & S. May 2019. 320p. ISBN 9781501168680. $30. CD. HISTORY
Two-time winner of the Pulitzer Prize and the National Book Award, McCullough is set to give us another terrific book on U.S. history. He chronicles how the Northwest Territory, comprising the future states of Ohio, Indiana, Illinois, Michigan, and Wisconsin, was settled largely through the efforts of Massachusetts minister Manasseh Cutler to open the territory to veterans of the Revolutionary war. Events unfold through the founding of what is now Marietta, OH, and the stories of five key individuals, including Cutler. With a 500,000-copy first printing.