Brooks, David. The Second Mountain: The Joy of Giving Yourself Away. Random. Apr. 2019. 320p. ISBN 9780812993264. $28; ebk. ISBN 9780679645047. lrg. prnt. CD/downloadable. SOCIAL THEORY
New York Times op-ed columnist Brooks (e.g., the New York Times best-selling The Road to Character) argues that over our lives most of us commit to a vocation, a set of beliefs, a spouse and family, and a community. Blending them makes for a life well lived, and here he uses life stories (a Holocaust survivor, an African educator) to show how to make the best of each.

Cruise, Jorge. The Cruise Control Diet: Automate Your Diet and Conquer Weight Loss Forever. Ballantine. Apr. 2019. 256p. ISBN 9780525618690. $28; ebk. ISBN 9780525618706. HEALTH/DIET
Fitness trainer to the stars and mega-best-selling author often seen on television, Cruise addresses the growing interest in losing weight through intermittent fasting, making it easier by dividing every day into a 16-hour evening and overnight "burn zone" (semi-fasting) followed by an eight-hour "boost zone" when you eat. Recipes, menus, and exercises, too; good luck!

Gottlieb, Lori. Maybe You Should Talk to Someone: A Therapist, HER Therapist, and Our Lives Revealed. Houghton Harcourt. Apr. 2019. 464p. ISBN 9781328662057. $28; ebk. ISBN 9781328663047. MEMOIR/PSYCHOLOGY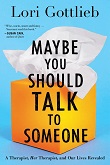 A New York Times best-selling author (Marry Him) and Atlantic "Dear Therapist" columnist, psychotherapist Gottlieb here reveals what happened when a crisis put her in the patient's chair. As she considers the concerns of her patients—a self-absorbed Hollywood producer, a young woman who can't stop dating bad boys—she sees that their deepest concerns are also hers. With a 100,000-copy first printing and a national tour including New York, Boston, Washington (DC), San Francisco, Los Angeles, Seattle, and Portland.

Grazer, Brian. Eye Contact: The Power of Human Connection .S. & S. Apr. 2019. 224p. ISBN 9781501147722. $24; ebk. ISBN 9781501147746. CD. DECISION-MAKING
Grazer argues that eye contact shows support and generosity, finally fostering human connection, and it has clearly worked for him; along with his New York Times best-selling titles (A Curious Mind), he's a producer whose shows have been nominated for 43 Academy Awards and 187 Emmys. Little chats here with Bill Gates, Kate Moss, George W. Bush, and Chance the Rapper, among others; a 100,000-copy first printing.

Hibbs, B. Janet & Anthony Rostain. The Stressed Years of Their Lives: Helping Your Kid Survive and Thrive During Their College Years. St. Martin's. Apr. 2019. 336p. ISBN 9781250113139. $28.99; ebk. ISBN 9781250113160. CD. PARENTING
The teenage years are famously stressful, and lately we have come to see the college years as particularly so, with reports of depression and suicide on campuses a real cause for concern. Psychologist and family therapist Hibbs experienced the same worries as any parent when her own son came home from college in a dangerously depressive state. That's when she turned to Rostain, a nationally regarded expert in child and adolescent psychiatry. The questions they crack: what's within the bounds of normal behavior and what's not, when to hold back and when to intervene.