Bayard, Louis. Courting Mr. Lincoln. Algonquin. Apr. 2019. 352p. ISBN 9781616208479. $27.95. HISTORICAL
Short-listed for both Edgar and CWA Dagger honors for his historical thrillers (e.g., The Pale Blue Eyes), Bayard visits 1840s Springfield, IL, with Mary Todd, who has come to live there with her matchmaking sister. Mary falls for an ungainly young lawyer with a golden tongue, and their interest in politics cements the deal. In the background is Joshua Speed, Abraham Lincoln's friend, roommate, and possible lover, and he shares narration responsibilities with Mary. Big talking points here; with a 16-city tour to Washington (DC), Boston, New York City, Raleigh/Durham, Atlanta, Dallas, Chicago, Minneapolis, St. Louis, Kansas City, Wichita, Los Angeles, San Francisco, Portland, Seattle, and Denver.
Carr, Robyn. The View from Alameda Island. Mira: Harlequin. Apr. 2019. 384p. ISBN 9780778368953. $26.99; pap. ISBN 9780778369790. $16.99. ebk. ISBN 9781488098727. ROMANCE
In this latest from Carr, who's hit the top spot on the New York Times best sellers list 11 times, two unhappily married people meet, become friends, and support each other through marital breakup. Then they fall in love. Maybe their family and friends disapprove, but having spent too many years living for others, they are eager to live for themselves. With a 350,000-copy trade paperback and 10,000-copy hardcover first printing.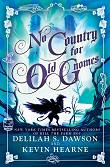 Dawson, Delilah S. & Kevin Hearne. No Country for Old Gnomes: The Tales of Pell. Del Rey: Ballantine. Apr. 2019. 384p. ISBN 9781524797775. $28; ebk. ISBN 9781524797782. Downloadable. FANTASY
Neatly dressed in cardigans, the jovial gnomes don't have a mean bone in their bodies. Meanwhile, the halflings ride around on war alpacas, carrying grenades and spoiling for a fight. When it comes to war, it's not looking good for the gnomes, but goth-clad gnomish outsider Offi Numminen collects together other misfits (e.g., a bearded teenage witch and a dwarf herbalist who commands bees) to save the day. Second in the New York Times best-selling authors' extravagantly goofy "Tales of Pell" series (after Kill the Farm Boy).
Dickey, Eric Jerome. Before We Were Wicked. Dutton. Apr. 2019. 352p. ISBN 9781524744038. $27; ebk. ISBN 9781524744045. Downloadable. POP FICTION
Readers initially encountered enforcer Ken Swift in Bad Men and Wicked Women, where conflict with his daughter boils over on the same day as a big job. Here's a prequel explaining how basically decent Ken is paying his way through college with violence when he falls hard for Harvard-bound Jimi Lee, the beginning of an outsize passion that will bring their worlds clashing together. The November 2018 eshort Harlem will include a teaser.
Donaldson, Stephen R. The War Within. Berkley. Apr. 2019. 576p. ISBN 9780399586163. $28; ebk. ISBN 9780399586170. Downloadable. FANTASY
In 2017, the blockbuster author of "The Chronicles of Thomas Covenant" launched a new epic fantasy trilogy. "The Great God's War," featuring a prince who discovered the Last Repository, which contained all the world's knowledge of sorcery. That discovery brought peace between his realm, Belleger, and the realm Amika (and the marriage of the prince, named Bifalt, to Estie, Amika's crown princess). But now, in this second volume, dark and rimy forces have discovered the repository's location and are ready to claim it violently.
Epstein, Jennifer Cody. Wunderland. Crown. Apr. 2019. 448p. ISBN 9780525576907. $27; ebk. ISBN 9780525576921. Downloadable. HISTORICAL
New York, 1989: Broke, distraught, and struggling with her teenage daughter, Ava Fischer receives her estranged mother's ashes, sent from Germany with a bunch of never-mailed letters from Ilse's childhood best friend, Renate, that clarify some of the mysteries of Ilse's life. Initially inseparable, she and Renate were forced apart by the Nuremberg Laws in 1930s Berlin, with one friend finally betraying the other to long-term, catastrophic effect. From the author of the internationally best-selling The Painter from Shanghai and The Gods of Heavenly Punishment, which won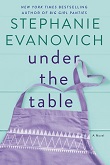 2013–2014 Asian Pacific American Association of Librarians honors
Evanovich, Stephanie. Under the Table. Morrow. Apr. 2019. 272p. ISBN 9780062415929. $26.99; ebk. ISBN 9780062415936. lrg. prnt. ROMANCE
Having sprung the trap that was her Midwestern marriage, Zoey Sullivan lives in New York with her gadabout-town little sister and enjoys the cooking and catering she couldn't do when she was married. She's thrilled by new client Tristan Malloy's state-of-the-art kitchen and by Tristan himself, a rich, handsome, but painfully shy computer genius. Zoey's carefully tailored tips turn him into something of a social lion, and she starts falling. But what does he think about her? Following Total Package; with a 50,000-copy first printing and much anticipated.

Gray, Shelley Shepard. The Patient One. Gallery: S. & S. Apr. 2019. 304p. ISBN 9781982115920. $24; ebk. ISBN 9781982100889. AMISH & MENNONITE
When Andy Warner commits suicide, shocking everyone in Walnut Creek, OH, seven friends are particularly shaken. Male and female, Amish, Mennonite, and English, they had been close, then suffered the inevitable drift, and now swear to pull together again to honor Andy. Something a little different from the New York Times and USA TODAY best-selling author.

Hillman, Robert. The Bookshop of the Broken Hearted. Putnam. Apr. 2019. 304p. ISBN 9780525535928. $26; ebk. ISBN 9780525535935. Downloadable. HISTORICAL/RELATIONSHIPS
Winner of Australia's National Biography Award in 2005 for his memoir, The Boy in the Green Suit, and coauthor of 2013's folkloric The Honey Thief, Hillman offers a book-about-books novel featuring lonely Australian farmer Tom Hope, abandoned by a cheating wife, who starts to sparkle again when ebullient Hannah Babel arrives from Hungary in 1968 with plans to open little Hometown's first bookshop. But Hannah carries a burden from the past; she was an inmate at Auschwitz. Interest is building.

Kelly, Martha Hall. Lost Roses. Ballantine. Apr. 2019. 448p. ISBN 9781524796372. $28; ebk. ISBN 9781524796389. lrg. prnt. CD/downloadable. HISTORICAL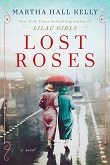 After debuting with Lilac Girls, which has sold 1.2 million copies across formats in this country alone, Kelly returns with a novel featuring the mother of Lilac's real-life Caroline Ferriday. In 1914, Eliza Ferriday travels to St. Petersburg with a Romanov cousin, Sofya Streshnayva, whom she had met two years previously in Paris. While she's there, World War I explodes, the Romanov dynasty begins its tumble, and Eliza escapes, determined to help Sofya's family and others like them.

Martin, Alexa. Fumbled. Berkley. Apr. 2019. 320p. ISBN 9780451491978. pap. $15; ebk. ISBN 9780451491985. Downloadable. ROMANCE
In this follow-up to Martin's NFL-spiced debut, Intercepted, Poppy Patterson moved far from home when she was 16 and pregnant and now has a steady job while tending to her young son alone. Then she encounters her old flame, TK Moore, the starting wide receiver for the Denver Mustangs, and has a second chance at love. It's just that they have some secrets to share. From the wife of two-time Super Bowl champion Derrick Martin; an own-voices romance starring an interracial couple.

Sands, Lynsay. The Trouble with Vampires: An Argeneau Novel. Avon. Apr. 2019. 384p. ISBN 9780062855206. $26.99; pap. ISBN 9780062855176. $7.99; ebk. ISBN 9780062855183. lrg. prnt. PARANORMAL ROMANCE
In the next Argeneau novel, tough-guy Santo Notte (stunning even if he has been around for three millennia) is hunting down a rogue immortal in peaceful upstate New York when he encounters history professor Petronella Stone and determines that she's the love of his (endless) life. But she's got secrets of her own, and soon he realizes that for her he's a significant danger. With more than five and a half million Sands books around the world, this will find an audience. With a 400,000-copy mass market and 10,000-copy hardcover first printing.

Sutcliffe, William. Otherhood. Bloomsbury. Apr. 2019. 304p. ISBN 9781635573855. pap. $17. FAMILY LIFE
Originally published in 2008, Whatever Makes You Happy was the story of suburban mothers and longtime friends Gillian, Helen, and Carol, who are wrestling with disappointingly lackluster grown sons. The novel serves as the basis of Netflix's Otherhood, set for release in 2019, and is getting new packaging in anticipation of eager readers.

Vale, Maria. Forever Wolf. Sourcebooks Casablanca. Mar. 2019. 352p. ISBN 9781492661931. pap. $7.99. PARANORMAL ROMANCE
In the third title from the talented Vale featuring the Great North Pack, whose members shift from wolf to human form (but they're not werewolves), Pack wolf Varya Timursdottir comes across a dying wolf named Leif throw out of his own pack as a pup because his eyes are two different colors—a sign, according to wolf legend, that the world is about to end. She nurses him in secret, against Pack law, and they find comfort with each other. But soon the Pack needs protecting.

Yellin, Jessica. Savage News. Mira: Harlequin. Apr. 2019. 384p. ISBN 9780778308423. $26.99. HUMOROUS
After hard work, sexual harassment, challenges to her integrity, insane news injunctions (she can't say climate or yesterday on air), and years spent missing out on romance and key family events, journalist Natalie Savage finally gets assigned to cover the White House for her network, ATN. The bad news: it's just a test run to see if Natalie can cut it, and her competition, a callow young windbag famed for eating a pig's scrotum on reality TV, looks to be the favorite. A debut novel from the former chief White House correspondent for CNN, so she knows her stuff.