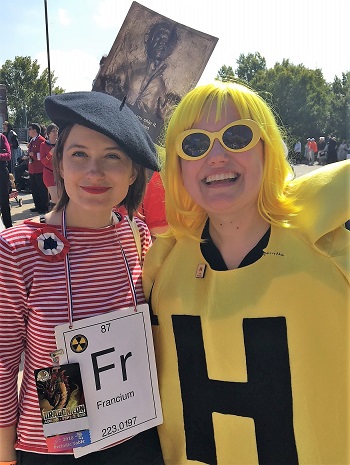 Librarians Fran Weaver of DeKalb
County Public Library and Jennie Law of
Georgia State University Library
as Francium and Hydrogen
in the Dragon Con parade.
Dragon Con, one of the largest science fiction, gaming, and pop culture conventions in the world, took place in Atlanta over an extended five-day Labor Day weekend. This was the 32nd year of the convention, which hosted 80,000 attendees, filling the streets, restaurants, bars, and nearby parks with fans costumed as heroes and villains from movies, TV, games, and comics.
Over 35 separate programming tracks presented panel discussions, authors, and celebrities. Evergreen media properties like Star Trek and Star Wars have their own tracks, alongside topics like alternate history, fantasy literature, military sf, space, skeptics, and electronic frontiers forums (covering politics, technology, and activism). This year saw the debut of the new diversity in speculative fiction & literature track, for discussions of representation and identity in pop culture.
Atlanta libraries and librarians are no strangers to Dragon Con. This year, Atlanta-Fulton Public Library System (AFPLS) put on a Dragon Con pre-party to welcome con goers downtown. The library featured virtual reality gaming, drone racing, a photo booth, button making, drawing with 3-D pens, and a DJing demo. "Dragon Con is one of the largest events in the city, so Atlanta-Fulton Public Library wanted to welcome participants to our city and also introduce the downtown community to some of the festivities that they might miss on the weekend," said Oscar Gittemeier, AFPLS's adult outreach librarian. "Dragon Con opens on Thursday, so we hosted the welcome party on Thursday afternoon as an option for participants that are just getting into town and also to provide an opportunity for downtown workers to join in the fun on their lunch break." Other Atlanta area libraries (Clayton, DeKalb, and Gwinnett County Public Libraries) all participated in the event, bringing a pop-up library and library card sign-ups. The event attracted nearly 200 attendees, and AFPLS plans to make it an annual tradition; Gittemeier is optimistic that future events will continue to grow.
Georgia State University reference and instruction librarian Jennie Law has been co-organizing a group that marches in the Dragon Con parade group for ten years now. The group, composed of scientists and science enthusiasts, dresses in costume as the periodic table of the elements, interpreted with liberal creativity. (This year Mercury was represented by a Freddie Mercury cosplayer, and Iron by a participant in Iron Man leggings and an Iron Maiden t-shirt.) "In the midst of all the stormtroopers, pirates, and zombies, we stick out a bit," said Law. "All the easier to get people's attention and cheer for science! A lot of our costumes are science puns so we always hope people will look twice." Last year the group mustered a full periodic table; this year they came up a bit short but came close.

FOR YOUR COLLECTIONS
Jim Henson studio announced at Dragon Con 2018 that it will be developing author Susan Dennard's Witchland fantasy novels into a television series. The first two books, Truthwitch and Windwitch, and the spin-off novella Sightwitch, have already been published, and the forthcoming Bloodwitch and its sequels may see a spike in popularity due to the forthcoming series. Librarians may also want to keep an eye on Dennard's Something Strange and Deadly series or similar fantasy like Leigh Bardugo's Grisha books.
The addition of a diversity track to Dragon Con's programming this year reflects new recognition for authors of color in fantasy fiction. At Worldcon, author N. K. Jemisin accepted her third Hugo award for The Stone Sky (Orbit), the final book in her Broken Earth trilogy; Nigerian-American author Tomi Adeyemi took the Dragon Con 2018 award for Best Young Adult/Middle Grade novel for Children of Blood and Bone (Henry Holt), the first book of the "Legacy of Orisha:" trilogy. A film adaptation of Blood and Bone is in the works and the second "Orisha" book, Children of Virtue and Vengeance, is due in 2019. Librarians, be prepared to meet your readers' demand for the works of prominent SF and fantasy authors of color such as Nalo Hopkinson, Nnedi Okorafor, and Ted Chiang.
The annual Dragon Con fan awards also voted two wins for author Brandon Sanderson, for his novel Oathbringer (Tor Books) and graphic novel White Sand vol. 1 (Dynamite). Traditional epic fantasy like Sanderson's shows no signs of declining, as evidenced by the continuing popularity of Game of Thrones (whose final season will air on HBO in spring 2019). Libraries may get requests for read-alikes to these popular series; Jacqueline Carey's new epic Starless (Tor Books), Martin's Ice and Fire spinoff Fire & Blood (Bantam), or Nicholas Eames's "The Band" series (Orbit) may fill the bill.
Dragon Con 2019 will take place next September and is expected to continue to grow even further.