Boyle, T.C. Outside Looking In. Ecco. Apr. 2019. 400p. ISBN 9780062882981. $27.99; ebk. ISBN 9780062883001. LITERARY FICTION
In the early 1960s, Harvard psychologist Timothy Leary gathers followers eager to join him in discovering the joy of LSD, among them psychology doctoral student Fitzhugh Loney and wife Joanie. As the couple's focus shifts from academia to tripping and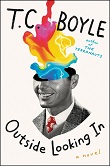 communal living, they are tossed out of Harvard and end up with 30 like-minded, mind-blown Leary fanatics in a 64-room mansion. Can this marriage survive? And is LSD a source of spiritual illumination or chaos? Ever looking at the big picture, Boyle—winner of the Robert Kirsch Award for Lifetime Achievement from the Los Angeles Times—could have the answers.
Demirtas, Selahattin. Dawn: Stories. SJP: Hogarth. Apr. 2019. 176p. ISBN 9780525576938. $22; ebk. ISBN 9780525576952. Downloadable. SHORT STORIES
A Turkish human rights lawyer, cochair of the People's Democratic Party, and pro-Kurdish member of parliament, Demirtas has been imprisoned since November 2016. His first work of fiction is a collection of 12 stories dedicated to "all murdered women and victims of violence," whose voices are embodied here. The title story, for instance, explores an honor killing; elsewhere, we see a teenager and her mother trying desperately to escape Hamas in Syria. Chosen by Sarah Jessica Parker for her SJP imprint at Hogarth, this book sold 200,000 copies in Turkey upon its release, and rights have been preempted in 11 territories.
Marx, Patricia (text) & Roz Chast (illus.). Why Don't You Write My Eulogy Now So I Can Correct It?: A Mother's Suggestions. Celadon: Macmillan. Apr. 2019. 112p. ISBN 9781250301963. $20; ebk. ISBN 9781250301970. HUMOR
Here, New Yorker writer Marx collects her mother's sparkling witticisms, as exemplified by the title (other personal favorites: "If you feel guilty about throwing away leftovers, put them in the back of your refrigerator for five days and then throw them out," and, at a funeral, a voice from the coffin admonishing "Lose the hat") New Yorker staff cartoonist Chast, National Book Critics Circle Award winner for her immortally funny and insightful Can't We Talk About Something More Pleasant?, contributes her genius as illustrator. Already buzzing; among the first releases from Celadon, a new Macmillan imprint.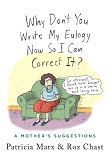 Rooney, Sally. Normal People. Hogarth: Crown. Apr. 2019. 272p. ISBN 9781984822178. $26; ebk. ISBN 9781984822192. Downloadable. LITERARY FICTION
Irish author Rooney, who charmed us with her accomplished debut, Conversations with Friends, which won her the Sunday Times Young Writer of the Year Award, returns with the story of two young people drawn to each other despite obvious impediments. Center-of-everyone's-attention Connell, star of the school football team, seems miles away from proud, inward Marianne. But they connect when Connell picks up his mother from work at Marianne's house, and their attraction continues at Trinity College in Dublin, even as each ping pongs between other people and other paths. But Marianne's self-destructive tendencies could end it all.
Sacks, Oliver. Everything in Its Place: First Loves and Last Tales. Knopf. Apr. 2019. 288p. ISBN 9780451492890. $26.95; ebk. ISBN 9780451492906. Downloadable. NEUROSCIENCE
Perhaps best known for The Man Who Mistook His Wife for a Hat, Sacks entertained readers everywhere with books sharing what he learned working as a neurologist for over 50 years. This final volume of essays ranges widely, moving from his love of ferns, swimming, and horsetails to his final case histories investigating schizophrenia, dementia, and Alzheimer's. Among the essays: a piece on Spalding Gray that appeared in The New Yorker and memories of Robin Williams.