Cheek, Chip. Cape May. Celadon: Macmillan. Apr. 2019. 256p. ISBN 9781250297150. $26.99; ebk. ISBN 9781250297167. CD. LITERARY
One of the first releases from Celadon, Macmillan's adventuresome new imprint, Georgia newlyweds Henry and Effie decide to honeymoon in Cape May, NJ, in late September 1957 and find the celebrated beach town mostly deserted. But they do meet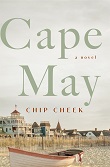 socialist Clara; her rich playboy lover, Max; and Max's remote half-sister, to whom Henry is attracted, and things shift from naughty innocence (strolling naked under the stars) to betrayal. Big promotion.
Collins, Bridget. The Binding. Morrow. Apr. 2019. 448p. ISBN 9780062838094. $26.99; ebk. ISBN 9780062838117. LITERARY
The author of YA fiction and a playwright whose work has been performed at the Edinburgh Festival Fringe, Collins dreams up a first adult novel about a world where books are forcibly forbidden and young Emmett Farmer is secretly invited to become a Bookbinder. The beautiful leather-encased volumes he creates contain not fiction or history but memories that, once bound, are forgotten and stored away. And one day Emmett finds a volume with his name on it. With a 100,000-copy first printing.

Dektar, Molly. The Ash Family. S. & S. Apr. 2019. 352p. ISBN 9781501144868. $26; ebk. ISBN 9781501144882. LITERARY
Already a multi-award winner (e.g., the Louis Begley Fiction Prize, the David McCord Prize for the Arts), Dektar crafts the story of 19-year-old Berie, who is persuaded by a charismatic man she meets at a bus station near her North Carolina home to abandon her old life and join a community he has established called the Ash Family farm. Self-sufficient, off-the-grid, and sustained by high ideals and strong relationships, the farm seems like the perfect place—until the new friends made by Berie (renamed Harmony) start vanishing. With a 60,000-copy first printing.
Fitzpatrick, Lydia. Lights All Night Long. Penguin Pr. Apr. 2019. 352p. ISBN 9780525558736. $27; ebk. ISBN 9780525558743. Downloadable. LITERARY
Former Wallace Stegner Fellow Fitzpatrick takes us to Louisiana with 15-year-old Ilya, there on exchange from Russia, amazed by America's supermarkets and huge televisions, and charmed by beautiful Sadie, daughter of his host parents. But he's also worried about his rebellious older brother Vladimir, who also wanted to escape to America but was instead sucked into their town's drug-laced underworld and is now accused of murdering three young women. With Sadie's help, Ilya determines to prove Vladimir innocent. An Indies Introduce title.
Kim, Angie. Miracle Creek. Sarah Crichton: Farrar. Apr. 2019. 368p. ISBN 9780374156022. $27; ebk. ISBN 9780374717988. CD. LITERARY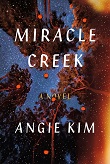 Picture it: somewhere in rural Virginia, there's an experimental medical device called the Miracle Submarine, a pressurized oxygen chamber in which hopefuls take therapeutic "dives" that could cure them of issues like autism or infertility. Then the device explodes, killing two people, and owners Young and Pak Yoo must face a murder trial. Kim, a former lawyer and winner of the Wabash Prize in Fiction, is also the mother of an actual "submarine" patient, lending authenticity to the story. A Farrar Reading Group Selection.
Rivero, Melissa. The Affairs of the Falcóns. Ecco. Apr. 2019. 288p. ISBN 9780062872357. $26.99; ebk. ISBN 9780062872371. LITERARY
Having fled chaotic Peru for New York in the 1990s, Ana Falcón and her family are barely surviving, with Ana managing several factory shifts, indebted to loan shark Mama, and fending off Mama's husband. Meanwhile, husband Lucho's cousin wants the family out of her spare room, and Lucho himself dreams of returning to Peru. How far will Ana go to save her family and remain in America? An Emerging Writers Fellow at the Center for Fiction in 2015, Peru-born Rivero was undocumented for most of her childhood here and received citizenship in her early twenties.
Savas, Aysegül. Walking on the Ceiling. Riverhead. Apr. 2019. 224p. ISBN 9780525537410. $26; ebk. ISBN 9780525537434. Downloadable. LITERARY
When Nunu moves from Istanbul to Paris after her mother's death, she meets older British writer M., whose fiction about Istanbul has always enthralled her. A charming friendship based on walks around the city soon forms, and as Nunu shares memories of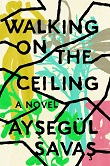 her family and her city, dreaming of helping M. jumpstart his next novel, she must face her father's death and guilt regarding her mother. But is she saying too much? What a story; Savas has been short-listed for the Glimmer Train Fiction Prize and the Graywolf Emerging Writers Award.
Somers, Erin. Stay Up with Hugo Best. Scribner. Apr. 2019. 272p. ISBN 9781982102357. $26; ebk. ISBN 9781982102371. LITERARY
Broke and burned out at age 29, June Bloom works as a writers' assistant on the late-night comedy show Stay Up with Hugo Best, whose iconic comedian host suddenly pulls the plug on his show. An out-of-work June meets him after performing at an open-mic night and gets an invitation to his Greenwich estate for the Memorial Day weekend. She doesn't believe his promise of "no funny business," but the weekend turns out to be different and more illuminating than she expected. From a 2016 Center for Fiction Emerging Writer Fellow; with a 75,000-copy first printing.