Week ending October 12, 2018
Aeschylus. The Oresteia: Agamemnon, Women at the Graveside, Orestes at Athens. Liveright: Norton. Sept. 2018. 224p. tr. from Greek by Oliver Taplin. notes. ISBN 9781631494666. $26.95; ebk. ISBN 9781631494673. LIT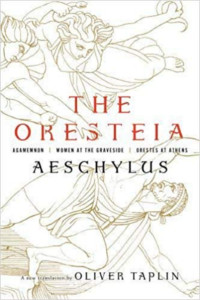 The only extant Greek trilogy, the Oresteia is among the oldest plays in Western literature yet remains among the most modern, a searing drama exploring questions of gender, family, community, power, vengeance, and justice. Taplin (emeritus, classics, Oxford Univ.; The Stagecraft of Aeschylus; Pots & Plays) seeks to produce a verse translation that preserves the "accessible complexity" of Aeschylus and to find a position between those editions that anachronize names and syntax or overly domesticate it. With this in mind, for instance, he titles the Choephoroi (The Libation Bearers) asWomen at the Graveside and the Eumenides ( Kindly Ones) as Orestes at Athens. Aeschylus's language is notoriously challenging, and Taplin aims to maintain the work's rich verbal texture with its elaborate diction, imagery, and metaphors, coupled with metrical variety and musicality, while offering a text that is eminently readable. His translation joins those of Peter Meineck, Laura Burian, and Robert Fagles, as well as the highly experimental version by Anne Carson.
VERDICT Along with that of Meineck's, Taplin's translation is a fine combination of theatricality, accessibility, and accuracy. The best available.—Thomas L. Cooksey, formerly with Armstrong Atlantic State Univ., Savannah
Bader, John. Sending Your Millennial to College: A Parent's Guide to Supporting College Success. Johns Hopkins. Jul. 2018. 136p. index. ISBN 9781421425825. pap. $17.95; ebk. ISBN 9781421425832. ED
Bader (executive director, Fulbright Assn.) parlays his tenure as dean of academic advising and undergraduate affairs at Johns Hopkins into a slim volume, a companion guide to his Dean's List: Ten Strategies for College Success, intended to help parents foster success in their college-aged children. While millennial isn't the right term for students who will matriculate this fall (millennials were born between 1981 and 1996), Bader effectively addresses his audience. Unlike guides aimed at a wide range of readers, such as Lindy West and Dan Savage's How To Be a Person, this volume speaks to parents, not students, with tips on letting their children go forth, along with specific language to encourage constructive conversations about grades, goals, and personal responsibility. At times, Bader's tone rings hollow, as if the worst thing that could possibly happen on a college campus is a failing grade, but he also offers useful delineations of the modern university's structure and purpose.
VERDICT Recommended for middle- to upper-class first-time parents of college students.—Jewell Anderson, Savannah Country Day Sch. Lib.
Cooper, Mark Garrett & John Marx. Media U: How the Need To Win Audiences Has Shaped Higher Education. Columbia Univ. Aug. 2018. 320p. notes. index. ISBN 9780231186360. $90; pap. ISBN 9780231186377. $30; ebk. ISBN 9780231546607. ED
Cooper (film & media studies, Univ. of South Carolina; Universal Women: Filmmaking and Institutional Change in Early Hollywood ) and Marx (English, Univ. of. California, Davis; Geopolitics and the Anglophone Novel, 1890–2011) contend that the university is at its heart a media institution that creates audiences for its product using new technologies. They explore ways in which universities from the 1920s to the present have demonstrated their value to the public, such as college football, massive open online courses (MOOCs), and the Great Books movement, started in the 1920s to teach college students about the Western canon and later marketed as a series published by Encyclopedia Britannica to general readers. The authors consider how the university has created, co-opted, and managed its audiences as well as how its audiences have in turn shaped aspects of the university and its labor force.
VERDICT Academic audiences, especially students in educational administration, organizational psychology, and communication studies, will find this work insightful and well researched.—Jane Scott, Clark Lib., Univ. of Portland, OR
Hertzberg, Jeff & Zoë François. Holiday and Celebration Bread in Five Minutes a Day: Sweet and Decadent Baking for Every Occasion. St. Martin's. (Artisan Bread). Nov. 2018. 400p. photos. index. ISBN 9781250077561. $35; ebk. ISBN 9781466889774. COOKING
Pastry chef François and author Hertzberg continue their "Artisan Bread" series with this volume that focuses on sweet yeast breads for celebrations and holidays. The series, first introduced in 2007 with Artisan Bread in Five Minutes a Day, introduced the concept of preparing a no-knead wet dough that can be stored in the refrigerator for later use. All of the recipes here derive from a basic white bread master recipe with several simple variations. Recipes include flatbreads, challah and babkas, sticky buns, and doughnuts. Christmas and Easter breads from all over the world, such as stollen and hot cross buns, are a highlight. Each recipe features a photograph of the finished product. Introductory chapters on ingredients, equipment, and techniques are a bonus.
VERDICT Fans of the series, as well as those just discovering the technique that avoids the traditional time-consuming and painstaking methods, will welcome this edition.—Phillip Oliver, formerly with Univ. of North Alabama, Florence
Schmidt, Ken. Make Some Noise: The Unconventional Road to Dominance. S. & S. Nov. 2018. 368p. index. ISBN 9781501155611. $28; ebk. ISBN 9781501155635. BUS
Schmidt believes companies should be more like Harley-Davidsons: loud, aggressive, and able to stand out from the crowd. His debut uses biker culture as a blueprint for modern marketing. Throughout the book, Schmidt employs road analogies for how he believes companies should think about their image. His main premise comes down to two solid points: what matters is how the customer sees the people within an organization, and markets don't change, companies just fail to. Readers looking for some of Schmidt's guidance on how to move a corporate culture in the right direction will need to wade through six chapters of road stories to get to the heart of the process, but once there Schmidt's exercises push past the standard SWOT analysis to get companies to evaluate honestly their relationship with their customers. After all, it's not where you are but where you're looking to go that is most important when riding a motorcycle.
VERDICT The book reflects the maverick style of talking about business strategy that has made Schmidt a provocative speaker, but sometimes the narrative feels unbalanced with lengthy case studies.—John Rodzvilla, Emerson Coll., Boston
Shaw, Randy. Generation Priced Out: Who Gets To Live in the New Urban America. Univ. of California. Nov. 2018. 304p. notes. index. ISBN 9780520299122. $29.95. SOC SCI
What has worked to keep cities affordable and racially diverse? And, most important, what hasn't? Shaw, director of the Tenderloin Housing Clinic in San Francisco and author of The Activist's Handbook: Winning Social Change in the 21st Century , collects the viewpoints of tenants, developers, politicians, homeowner groups, and housing activists. Included are examples from San Francisco, Los Angeles, Seattle, Denver, New York, and Austin, TX, among other cities, to demonstrate how population growth is outpacing the creation of affordable housing and how urban gentrification is pricing low-income residents out of formerly affordable neighborhoods. Shaw describes how numerous policies in American cities have led to the present affordability crisis and the generational divide between millennials and baby boomers in relation to housing. He makes the point that millennials are victimized by zoning that restricts construction of new housing, while baby boomers try to restrict new housing in order to keep their high property values.
VERDICT An insightful work; recommended for academic libraries focusing on social justice and public policy.—Karen Venturella Malnati, Union Cty. Coll. Libs., Cranford, NJ