Brown, Kate. Manual for Survival: A Chernobyl Guide to the Future. Norton. Mar. 2018. 384p. ISBN 9780393652512. $27.95. HISTORY
Chernobyl: its impact was both localized and minimal and is now past, right? Wrong, argues Brown, who draws on a decade of archival research and interviews in Ukraine, Russia, and Belarus to argue that there were likely hundreds of thousands of casualties, including birth defects, child mortality, cancers, and other diseases. She argues further that not just the Soviets but anxious diplomats and scientists in the West made every effort to downplay Chernobyl's dangers lest citizens of the world question the consequences of nuclear weapons testing throughout the Cold War. Trust her: Brown's 2013 Plutopia: Nuclear Families in Atomic Cities and the Great Soviet and American Plutonium Disasters received no fewer than even scholarly awards.

Crease, Robert P. The Workshop and the World: What Ten Thinkers Can Teach Us About Science and Authority. Norton. Mar. 2019. 272p. ISBN 9780393292435. $26.95. SCIENCE/HISTORY
At a time when science is ignored, dismissed, or actively defied by numerous politicians and ordinary citizens, we can all benefit from this study by Crease, chair of Stony Brook's philosophy department. Moving from the challenge tossed at the all-powerful Church by Bacon, Galileo, and Descartes to Atatürk's and Arendt's connection of science to the public at large, Crease shows us what key thinkers have shaped our understanding of science and when and how scientific discoveries become accepted—ultimately exploring the role of authority in our lives. Don't leave home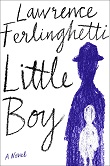 without it.

Ferlinghetti, Lawrence. Little Boy. Doubleday. Mar. 2019. 208p. ISBN 9780385544788. $23; ebk. ISBN 9780385544795. Downloadable. LITERARY FICTION
It's called fiction, but this interweave of autobiography and history, lightning-flash language and wisdom of the ages by Ferlinghetti—Beat poet extraordinaire, author of the million-copy-selling collection A Coney Island of the Mind, and owner of the bookstore City Lights, whose publication of Allen Ginsberg's Howl caused First Amendment upheaval—is beyond easy definition. Published in time for Ferlinghetti's 100th birthday and sold by Ferlinghetti's longtime agent, 97-year-old Sterling Lord, so you could definitely call this a publishing event.

Leon, Donna. Unto Us a Son Is Given. Atlantic Monthly. Mar. 2019. 320p. ISBN 9780802129116. $26. MYSTERY
The elderly Gonzalo Rodríguez de Tejada wants to adopt a young man as his son (and heir), and de Tejada's best friend, Count Orazio Falier, wants his son-in-law, Commissario Guido Brunetti, to intervene. Brunetti sees no reason for alarm, but then de Tejada unexpectedly drops dead in the street and a friend attending the memorial service is strangled at her hotel. More mystery from sharp-eyed Leon, one of the 50 Greatest Crime Writers ever according to both Time and the Times of London.

Oyeyemi, Helen. Gingerbread. Riverhead. Mar. 2019. 272p. ISBN 9781594634659. $27; ebk. ISBN 9780525539087. lrg. prnt. Downloadable. LITERARY FICTION
Granta Best of Young British Novelists Oyeyemi has a splendid way with fairytales, from Bluebeard (Mr. Fox) to Snow White (Boy, Snow, Bird), so it's not surprising that she takes gingerbread as a theme (remember "Hansel and Gretel," and the fleet-footed gingerbread man?). Perdita Lee lives with her mother, Harriet, in a gold-painted seventh-floor walk-up apartment in London and make gingerbread famed in Harriet's homeland, Druhástrana. Finally, Perdita travels there to her mother's gingerbread-loving friend, Gretel, a power influence on Harriet's life—for better or for worse.

Reid, Taylor Jenkins. Daisy Jones & The Six. Ballantine. Mar. 2019. 368p. ISBN 9781524798628. $27; ebk. ISBN 9781524798635. lrg. prnt. CD/downloadable. WOMEN'S
L.A. Sixties girl Daisy Jones is a rock groupie aspiring to sing at the Whisky a Go-Go, and she's already getting noticed when she meets Billy Dunne, who heads up the breakout band The Six. Producers see that they make musical magic together, and soon they're on their way to becoming an iconic band of the Seventies. Written as oral history; look for a 13-part Amazon Voice series even as you read this Penguin Random House Title Wave Pick.

Shapton, Leanne. Guestbook: Ghost Stories. Riverhead. Mar. 2019. 320p. ISBN 9780399158186. $30; ebk. ISBN 9780525539070. Downloadable. STORIES
Author/artist Shapton, whose Swimming Studies won the 2012 National Book Critics Circle Award for Autobiography and who coauthored the New York Times-bestselling Women in Clothes, here remakes that enduring classic, the ghost story. Here, ghosts visit their old beds to see who's sleeping there now, a tennis prodigy blames his collapse after every win on troublesome spirits, and a woman who's unsettled after visiting Alcatraz is told that a prisoner's spirit remains with her, captivated by her empathy for those who suffered there. Not just written but also designed and illustrated by Shapton, who has a devoted following.

Thomas, Evan. First: Sandra Day O'Connor, An American Life. Random. Mar. 2019. 512p. ISBN 9780399589287. $30; ebk. ISBN 9780399589294. lrg. prnt. Downloadable. BIOGRAPHY
An award-winning journalist and author of numerous books whose New York Times best sellers include Being Nixon (also a Time Top 10 Nonfiction Book of the Year), Thomas draws on exclusive interviews and access to the Supreme Court archives to craft this biography of Sandra Day O'Connor. No firm would interview her even as she graduated at the top of her law school class, but she eventually became the first-ever female majority leader of a state senate and, eventually, America's first female Justice.