Aramburu, Fernando. Homeland. Pantheon. Mar. 2019. 592p.tr. from Spanish by Alfred Macadam. ISBN 9781524747121. $29.95; ebk. ISBN 9781524747138. Downloadable. LITERARY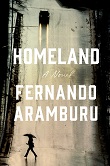 Basque-born Aramburu, who now lives in Germany, made his name as a multi-award-winning Spanish novelist with "Antibula Trilogy," about an imaginary country recalling his homeland. In this novel, a huge international hit, once close families find themselves bitterly at odds when the patriarch of one is killed by ETA militants who include the son of the other. Comparisons to biggies from Dickens to Ferrante.

Balasubramanyam, Rajeev. Professor Chandra Follows His Bliss. Dial. Mar. 2019. 368p. ISBN 9780525511380. $27; ebk. ISBN 9780525511397. Downloadable. LITERARY
In this latest from Betty Trask Prize winner and Guardian Fiction Prize long-lister by Balasubramanyam, Professor Chandra is an internationally celebrated economist and divorced father of three who's told after a bicycle hit-and-run that he's got to relax and enjoy life. "Follow your bliss" might sound loopy, but Balasubramanyam knows his stuff; he's been writer in residence at Crestone Zen Mountain Center and the Zen Center of New York City.

Bourdeaut, Olivier. Waiting for Bojangles. S. & S. Mar. 2019. 176p. tr. from French by Regan Kramer. ISBN 9781501145919. $25; ebk. ISBN 9781501145919. LITERARY
An international best seller published in 36 countries and a multi-award winner in the author's native France, this debut features a young lad living in Paris with unconventional parents Louise and George, who dance endlessly to Nina Simone's enduring "Mister Bojangles"; there's also a crafty exotic bird. But George knows that Louise is falling into mental illness and with his son rushes her to a country house in Spain to protect her.

Griffin, Anne. When All Is Said. Thomas Dunne: St. Martin's. Mar. 2019. 336p. ISBN 9781250200587. $26.99; ebk. ISBN 9781250200594. CD. LITERARY
Winner of the John McGahern Award for Literature, Irish author Griffin offers a debut whose protagonist unfolds his life story from an unusual perspective. He orders five different drinks at the Rainford House Hotel and toasts five people who have significantly shaped his life: his tragic older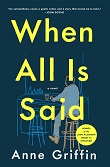 brother, his sorrowful sister-in-law, his daughter of 15 minutes, his son in America, and the wife he misses dearly.

James, Evan. Cheer Up, Mr. Widdicombe. Atria. Mar. 2019. 288p. ISBN 9781501199615. $26; ebk. ISBN 9781501199639. LITERARY
Because Frank Widdicombe is sunk deep in depression, his wife insists they make the most of their new island home in the Puget Sound. Relatives and friends new and old swirl through, from freshly heartbroken son Christopher to freshly in-love personal assistant Michelle to a local named Marvelous Matthews, hired to create a garden and thrilled to meet visiting high-profile self-help author Gracie Sloane. Debut author James has had fellowships at six different institutions, from Yaddo to the Lambda Literary Writers' Retreat, which bodes well for this debut.

Kuznetsova, Maria. Oksana, Behave! Spiegel & Grau. Mar. 2019. 272p. ISBN 9780525511878. $26; ebk. ISBN 9780525511885. Downloadable. LITERARY
Even as her physicist father delivers pizza and her depressed mother stays home knitting scarves, fresh-from-Ukraine Oksana keeps getting in trouble as she tries to adjust to life in America. (She even manages to harm the school bus bully.) She has grand fantasies about life back home, but visiting the grandmother who's moved back after a sojourn in America shows her something about her people's difficult history and a way to move ahead without harming others. A debut from recent Iowa Writers' Workshop grad.

Langsdorf, Julie. White Elephant. Ecco. Mar. 2019. 320p. ISBN 9780062857750. $26.99; ebk. ISBN 9780062857774. lrg. prnt. LITERARY
There's nothing small about the small-town war depicted in this debut novel, as Nick Cox—owner of the eponymous monstrosity, which overshadows other houses in the neighborhood—cuts down the red maple Allison and Ted Miller love to make his house more attractive to prospective buyers. Other crises abound, not least being Allison's attraction to the man wrecking their lives. A finalist for a Heekin Foundation James grant for a novel in progress; with a whopping 150,000-copy first printing.

Leithauser, Brad. The Promise of Elsewhere. Knopf. Mar. 2019. 352p. ISBN 9780525655039. $26.95; ebk. ISBN 9780525655046. Downloadable. LITERARY
A professor at a modest college in Michigan who's nearing both a second divorce and a possibly disastrous medical diagnosis, middle-aged Louie Hake decides to get relief by touring the world's most stunning architectural sites. From Rome to London to the Arctic (icebergs are the big draw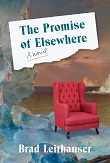 there), Louie has unexpected encounters that show him where he's gone wrong in love. From MacArthur fellow Leithauser (A Few Corrections), currently a professor at the Johns Hopkins Writing Seminars.

Lemire, Jeff. Frogcatchers. Gallery: S. & S. Mar. 2019. 96p. ISBN 9781982107376. $19.99; ebk. ISBN 9781982107390. LITERARY
A master cartoonist with a huge stack of awards and nominations to his name and the New York Times best-selling author of over a half-dozen graphic novels, Lemire visits a haunted hotel, where a man wakes up with no recall of how he got there. The only other inhabitant is a boy who insists that they can't attempt to break open the padlocked door, as something awful awaits beyond. Lemire does break out, though, offering chills instead of small-town Canada. With a 35,000-copy first printing.

Means, David. Instructions for a Funeral: Stories. Farrar. Mar. 2019. 208p. ISBN 9780374279813. $25; ebk. ISBN 9780374714857. LITERARY
Means's Assorted Fire Events: Stories won the Los Angeles Times Book Prize, while The Secret Goldfish was short-listed for the Frank O'Connor International Short Story Prize: proof that Means is master of the short story form. These 14 stories range through sharp-edged moments, from learning that a loved one's death was murder to the portrait of an FBI raid about to implode.

Murphy, Devin. Tiny Americans. Harper Perennial. Mar. 2019. 256p. ISBN 9780062886248. $26.99; pap. 256p. ISBN 9780062856074. pap. $16.99; ebk. ISBN 9780062856081. LITERARY
Deserted by their alcoholic if warm-hearted father and raised by their increasingly beleaguered artist mother, the Thurber children battle resentment and finally leave home: Jamie for college and her brothers Lewis and Connor for the navy and the workplace, respectively. Each is spinning downward for different reasons when their father, gone sober, reaches out. A change of pace from the historically charged The Boat Runner, a national best seller; with a 50,000-copy paperback and 20,000-copy hardcover first printing.

Newman, Sandra. The Heavens. Grove. Mar. 2019. 272p. ISBN 9780802129024. $26. LITERARY
Ben and Kate fall in love after meeting at a young activists' party in 2000 Manhattan, and for awhile all's well. But Kate has long had a recurring dream that she's the mistress of an Elizabethan nobleman, and for her those dreams are becoming more and more dangerously real. Following The Country of Ice Cream Star, named an NPR Best Book and long-listed for the Baileys Women's Prize and the Folio Prize.

Owuor, Yvonne Adhiambo. The Dragonfly Sea. Knopf. Mar. 2019. 512p. ISBN 9780451494047. $28.95; ebk. ISBN 9780451494054. LITERARY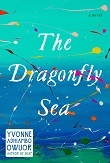 Raised by her mother on the island of Pate off Kenya's coast, Ayaana is pleased when a sailor named Muhidin enters their lives and becomes a father figure to her. Religious extremists and dragonflies, a tsunami, and a journey to the Far East are among the many variables that make for a tumultuous coming-of-age. From Caine Prize winner Owuor, whose Dust was short-listed for the Folio Prize

Roosevelt, Maura. Baby of the Family. Dutton. Mar. 2019. 464p. ISBN 9781524743178. $28; ebk. ISBN 9781524743185. Downloadable. LITERARY
After the patriarch of the once-newsworthy, now much diminished Whitby family dies, his children from four separate marriages learn that he has left everything to 21-year-old son Nick, a Whitby in name only whose whereabouts is unknown. Half-sisters Shelley and Brooke live in houses destined for their brother and hope to persuade him to cede his claim, but when they finally meet Nick, a political activist running from the law, they must all consider whether they can let go of the past. A debut from the great-granddaughter of Eleanor and Franklin D. Roosevelt. who maybe knows something about the wealthy.

Rothman, Andrea. The DNA of You and Me. Morrow. Mar. 2019. 256p. ISBN 9780062857811, $26.99; ebk. ISBN 9780062857835. LITERARY
Once a postdoctoral fellow and then research associate at New York's Rockefeller University, Rothman draws on her specialty—the neurobiology of olfaction—which is precisely the issue graduate student Emily is studying at the lab where she's just been hired. She doesn't know that two other hires, Aeden and Allegra, are working on the same question, and she's not prepared to fall in love with Aeden, whose decision to leave the lab puts her life in an uproar. With a 50,000-copy first printing.

Rum, Etaf. A Woman Is No Man. Harper. Mar. 2019. 352p. ISBN 9780062699763. $26.99; ebk. ISBN 9780062699787. LITERARY
In 1990 Palestine, 17-year-old Isra dreamily buries herself in books, then is yanked out by her father to marry a stranger who takes her to Bay Ridge, Brooklyn (and a Palestinian American community much like the one where author Rum was raised). There she must act like a traditional wife,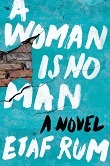 enduring the scorn of her mother-in-law, especially after birthing four girls. Years later, her eldest daughter suffers similarly, especially because she wants to go to college. Rum is famous for her Instagram account @booksandbeans.

Serpell, Namwali. The Old Drift. Hogarth: Crown. Mar. 2019. 640p. ISBN 9781101907146. $28; ebk. ISBN 9781101907160. Downloadable. LITERARY
Divided into three parts—"the Grandmothers," "the Mothers," and "the Children"—this large-scaled saga follows three curse-ridden families over three generations, beginning with David Livingstone stumbling across the Victoria Falls and ending in southern Africa in the 2050. And those buzzing mosquitoes? They function as a Greek chorus. Zambia-born, California-based Serpell is a Caine Prize and Rona Jaffe Foundation Writers' Award winner.