Harman, Claire. Murder by the Book: The Crime That Shocked Dickens's London. Knopf. Mar. 2019. 272p. ISBN 9780525520399. $25.95; ebk. ISBN 9780525520405. Downloadable. HISTORY/TRUE CRIME
In the mid-1800s, new printing methods facilitated the publication of more and cheaper books, and everyone in Great Britain—including Charles Dickens—was hooked on the resulting flood of true-crime stories. Then Lord William Russell was found with his throat slashed. When the culprit was finally cornered, he used William Harrison Ainsworth's Jack Sheppard, the chronicle of an unrepentant criminal, in his defense. John Llewellyn Rhys Prize winner Harman delivers a juicy story.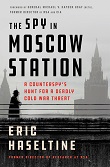 Haseltine, Eric. The Spy in Moscow Station: A Counterspy's Hunt for a Deadly Cold War Threat. Thomas Dunne: St. Martin's. Mar. 2019. 320p. ISBN 9781250301161. $29.99; ebk. ISBN 9781250301154. CD. HISTORY/ESPIONAGE
Former director of research at the National Security Agency (NSA), Haseltine tells the story of NSA engineer Charles Gandy, who traveled to the USSR on a visa in the 1970s and was accused of spying by the Soviets at a time when the NSA did not officially exist. Evidently, there was a leak in the United States Embassy in Moscow, and, then as now, the Russians proved themselves to be way ahead of us in technologically enhanced espionage.

Lacey, James. The Washington War: FDR's Inner Circle and the Politics of Power That Won World War II. Bantam. Mar. 2019. 480p. ISBN 9780345547583. $35; ebk. ISBN 9780345547590. Downloadable. HISTORY
To best facilitate the conduct of World War II, Franklin Delano Roosevelt surrounded himself with tough-minded individuals from Army Chief of Staff George Marshall to ever-reliable Harry Hopkins. Naturally, sparks sometimes flew, and here is how FDR managed to avoid conflagration. From the author of The First Clash, a digital New York Times best seller.

Morgan-Owens, Jessie. Girl in Black and White: The Story of Mary Mildred Williams and the Abolition Movement. Norton. Mar. 2019. 272p. ISBN 9780393609240. $27.95. HISTORY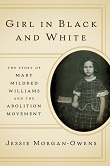 In 1855, seven-year-old Mary Mildred Williams's family won its freedom after decades of fighting, and Mary's photograph was used by abolitionists to promote their movement; she was a slave girl who looked "white," which brought out particular sympathies in many observers. Morgan-Owens, dean of studies at Bard Early College in New Orleans, resurrects Mary's story and reveals the racial politics that underlay abolitionism.

Oller, John. White Shoe: How a New Breed of Wall Street Lawyers Changed Big Business and the American Century. Dutton. Mar. 2019. 448p. ISBN 9781524743253. $30; ebk. ISBN 9781524743277. Downloadable. HISTORY/LAW
A retired white-shoe Wall Street lawyer who spent 30 years as an associate and then partner at Willkie Farr & Gallagher, Oller explains how the legal profession changed at the turn of the 20th century. Once about the presentation of arguments before judge and jury, it moved to helping make business big. (Think Paul Cravath, who revolutionized corporate law as he helped George Westinghouse score a significant win against Thomas Edison.) Folks will want to know.

Robertson, Cara. The Trial of Lizzie Borden. S. & S. Mar. 2019. 384p. ISBN 9781501168376. $28; ebk. ISBN 9781501168383. HISTORY/TRUE CRIME
Everyone knows the story of Lizzie Borden, accused of whacking parents Andrew and Abby Borden to death in 1892 Fall River, MA. Lawyer Robertson provides context for this gruesome bit of American mythology, drawing on transcripts of Lizzie's trial, contemporary newspaper accounts, unpublished local accounts, and recently discovered letters from Lizzie herself to capture what the crime looked like at the time. With a 100,000-copy first printing.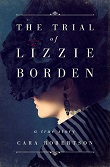 Strauss, Barry. Ten Caesars: Roman Emperors from Augustus to Constantine. S. & S. Mar. 2019. 416p. ISBN 9781451668834. $28; ebk. ISBN 9781451668858. HISTORY
Cornell classicist Strauss captures three and a half centuries of the Roman Empire by recounting the accomplishments of ten key emperors, from its founder Augustus to Constantine, who radically transformed it by making it Christian and moving the capital east to Constantinople.