Allen, Samantha. Real Queer America: LGBT Stories from Red States. Little, Brown. Mar. 2019. 304p. ISBN 9780316516037. $27; ebk. ISBN 9780316516013. SOCIAL SCIENCE
In the last decade, Allen has morphed from a neatly dressed Mormon missionary to a senior reporter at the Daily Beast married to another woman. Here she travels Red State America, which she continues to love, showing us LGBT hangouts everywhere (e.g., a queer night club in Bloomington, IN) and LGBTers making a difference.

Burns, William J. The Back Channel: A Memoir of American Diplomacy and the Case for Its Renewal. Random. Mar. 2019. 480p. ISBN 9780525508861. $32; ebk. ISBN 9780525508878. Downloadable. MEMOIR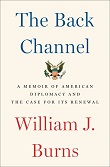 Currently president of the Carnegie Endowment for International Peace, Burns retired from the U.S. Foreign Service in 2014 after a three-plus-decade diplomatic career that saw him serve not only as ambassador to Jordan and Russia but eventually deputy secretary of state. More than a memoir revealing diplomacy in action, this book remains plea for the importance of diplomacy in our brave new world.

Cerulo, Erica & Claire Mazur. Work Wife: The Power of Female Friendship To Drive Successful Businesses. Ballantine. Mar. 2019. 192p. ISBN 9781524796778. $24; ebk. ISBN 9781524796792. Downloadable. BUSINESS
Close since college, Cerulo and Mazur founded the website Of a Kind in 2010, revealing themselves to be past masters at spotting the next big trend before it starts building. (They have Forbes 30 Under 30 credentials.) Here they interview other good girlfriends—e.g., Amanda Hesser and Merrill Stubbs of Food52, Misty May-Treanor and Kerri Walsh Jennings, triumphant together in Olympic volleyball—to show how women can successfully work together.

Eberhardt, Jennifer L. Biased: Uncovering the Hidden Prejudice That Shapes What We See, Think, and Do. Viking. Mar. 2019. 352p. ISBN 9780735224933. $28; ebk. ISBN 9780735224940. Downloadable. SOCIAL SCIENCE
An expert in the issue of unconscious racial bias, Stanford psychology professor and MacArthur fellow Eberhardt argues that even those who don't believe they are biased and who strive to treat others equally can be affected by bred-in-the-bone stereotypes. To make her case, she draws on both research—in the lab as well as police departments, courtrooms, prisons, and boardrooms and on the street—and personal experience, showing that bias isn't restricted to a few screechy outliers but can affect us all. And it can be fixed by all of us together.

LoBianco, Tom. Piety & Power: Mike Pence and the Taking of the White House. Dey Street: HarperCollins. Mar. 2019. 336p. ISBN 9780062868787. $26.99; ebk. ISBN 9780062868800. lrg. prnt. CD. POLITICAL SCIENCE
Currently covering the White House and the Trump Russia investigation for the Associated Press, LoBianco has been eyeing Vice President Mike Pence since the first campaign rally for governor Pence held in his hometown of Columbus, IN. Here he tracks Pence's rise to power, his reputed ambitions to shove Trump aside, and the "shadow government" he has built to keep conservatism rolling. With a 125,000-copy first printing.

Minoui, Delphine. I'm Writing You from Tehran: A Granddaughter's Search for Her Family's Past and Their Country's Future. Farrar. Mar. 2019. 288p. tr. from French by Emma Ramadan. ISBN 9780374175221. $26; ebk. ISBN 9780374716578. POLITICAL SCIENCE
Born in Paris of a French mother and an Iranian father, award-winning journalist Minoui decided upon her grandfather's death in 1998 to whisk herself to Iran for the first time since the revolution, when she was just four years old. She stayed through a decade of tumultuous change, learning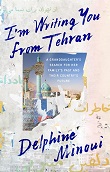 how to dodge the morality police, enduring interrogation by the secret police, and finding love and marriage before she is separated from her husband by world events. Her book is framed as a letter to her grandfather.

O'Neill, Eric. Gray Day: My Undercover Mission To Expose America's First Cyber Spy. Crown. Mar. 2019. 336p. ISBN 9780525573524. $28; ebk. ISBN 9780525573548. Downloadable. POLITICAL SCIENCE
At age 26, O'Neill was given a momentous assignment: conduct an undercover investigation of a man suspected of passing nuclear secrets and more to the Russians for two decades. While officially updating the FBI's computer system to protect it from hackers and spies, unofficially he was gathering evidence against his boss, Robert Hanssen, who was eventually convicted in 2002. O'Neill chronicles his efforts to outsmart a smart spy while considering how Russia managed to become dominant in cyberespionage.

Pandith, Farah. How We Win: How Cutting-Edge Entrepreneurs, Political Visionaries, Enlightened Business Leaders, and Social Media Mavens Can Defeat the Extremist Threat. Custom House: Morrow. Mar. 2019. 384p. ISBN 9780062471154. $28.99; ebk. ISBN 9780062471192. POLITICAL SCIENCE
Adjunct Senior Fellow at the Council on Foreign Relations and Senior Fellow at Harvard's Kennedy School of Government, the first-ever U. S. special representative to Muslim Communities argues that we can dissuade young people from adopting extremist ideologies through the combined efforts of diplomats, corporate leaders, mental health experts, entrepreneurs, and Muslim youth themselves. With a 100,000-copy first printing.

Stoller, Matt. Goliath: How Monopolies Secretly Took Over the World. S. & S. Mar. 2019. 352p. ISBN 9781501183089. $28; ebk. ISBN 9781501183096. POLITICAL SCIENCE
Formerly senior policy advisor and budget analyst to the Senate Budget Committee, Stoller contends that since Thomas Jefferson's condemnation of political tyranny, Americans have regarded the consolidation of political and economic power with deep suspicion. Unfortunately, financial power is now more concentrated than ever. Based on the author's viral Atlantic article, "How the Democrats Killed Their Populist Soul," which argued that post-Watergate liberals dangerously stopped fighting monopoly power. With a 75,000-copy first printing.

Tamblyn, Amber. Era of Ignition: Coming of Age in a Time of Rage and Revolution. Crown Archetype. Mar. 2019. 272p. ISBN 9781984822987. $25; ebk. ISBN 9781984823007. Downloadable. SOCIAL SCIENCE/FEMINISM
An actor and director whose shelves are weighed down by Emmy, Golden Globe, and Independent Spirit honors, a poet whose Dark Sparkler was a best seller, and a newly minted novelist whose punch-in-the-gut Any Man features a female serial rapist, Tamblyn here throws herself headfirst into key feminist issues like discrimination, sexual assault, reproductive rights, and pay parity. Not surprising; she's a force behind the #TIMESUP movement who wrote a New York Times op-ed that lit a fire under the #MeToo movement. Framing the discussion: her own feminist awakening.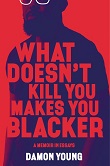 Young, Damon. What Doesn't Kill You Makes You Blacker: A Memoir in Essays. Ecco. Mar. 2019. 320p. ISBN 9780062684301. $27.99; ebk. ISBN 9780062684332. MEMOIR
A key cultural critic and cofounder of VerySmartBrothas.com, Young here examines the stress of being American while black—the ceaseless anxiety, the desire as a teenager for a white person to toss him a racial slur so that he could fight back, the question, "How should I react here, as a professional black person?" Then there was his pondering whether he could ever be good at the "being straight" thing. Acid-etched insight; with an impressive 200,000-copy first printing.