Grandin, Greg. The End of the Myth: From the Frontier to the Border Wall in the Mind of America. Metropolitan: Holt. Mar. 2019. 384p. ISBN 9781250179821. $30; ebk. ISBN 9781250179814. HISTORY

Because of its ever-expanding frontier, America once saw itself as an exceptional nation, individualistic and forward-looking. Yet its constant expansion was facilitated by fighting wars and opening markets, which, says NYU professor Grandin (Fordlandia), allowed it to offload internal political and economic stress. Now, with the frontier settled, that stress has curved inward, leading to the rise of reactionary populism—and a country defined instead by the Wall. From a Bancroft Prize winner and multi-award finalist.

Heller, Peter. The River. Knopf. Mar. 2019. 272p. ISBN 9780525521877. $25.95; ebk. ISBN 9780525521884. lrg. prnt. CD/downloadable. ACTION/ADVENTURE
Tight as a good, strong handshake since freshman orientation, gentle Wynn and scrappy Jack decide to canoe northern Canada's Maskwa River together. But the journey doesn't turn out to be the dreamy, star-gazing experience they anticipated. A wildfire threatens, and when they seek to warn a man and a woman they hear arguing on a distant, fog-ridden shore, they can't even find them. But the next day they see a man paddling the river alone, launching a lot of questions and finally a terrible fight for survival.

Jacob, Mira. Good Talk: A Memoir in Conversations. One World: Random. Mar. 2019. 368p. ISBN 9780399589041. $30; ebk. ISBN 9780399589058. GN/MEMOIR
Jacob, author of the multi-best-booked novel The Sleepwalker's Guide to Dancing, returns with a graphic-format memoir exploring life as a first-generation American in an interracial marriage. Inspired by her viral Buzzfeed piece "37 Difficult Questions from My Mixed-Raced Son," written in response to her six-year-old's asking whether the new president hated brown boys like him, Jacob presents difficult conversations she has had with her husband, in-laws, and parents, who arrived here from India a month after their arranged marriage.



Smith, Ali. Spring. Pantheon. Mar. 2019. 304p. ISBN 9781101870778. $25.95; ebk. ISBN 9781101870785. LITERARY
Celebrated Scottish author Smith's "Seasonal Quartet" of linked but stand-alone novels exploring contemporary issues both personal and social began with the Man Booker short-listed, multi-best-booked Autumn, already in its ninth printing in trade paperback here, then continued with Winter, published here in 2018 and multi-best-booked in the UK, where it was published in 2017. What will spring bring? More of the best, though plot details aren't out yet.

Taylor, Yuval. Zora and Langston: A Story of Friendship and Betrayal. Norton. Mar. 2019. 304p. ISBN 9780393243918. $27.95. LITERATURE
Senior editor at the Chicago Review Press, Taylor drew on unpublished material to examine the friendship—and falling out—of two momentous stars of the Harlem Renaissance, Zora Neale Hurston and Langston Hughes. He examines their collaborative efforts and rich correspondence and considers their relationship with their patron, Charlotte Osgood Mason, a wealthy white woman who insisted on being called Godmother and who may have been the cause of their rupture. Or was it quarrels over the typist they shared or authorship of Bone Mule? Exciting.

Vann, David. Halibut on the Moon. Grove. Mar. 2019. 272p. ISBN 9780802128935. $26. LITERARY FICTION
Treading the landscape that inspired his Grace Paley Award–winning debut, Legend of a Suicide, Vann paints a portrait of middle-aged, black-dogged Jim, who travels from Alaska to California to put himself under the care of his brother Gary. The narrative follows Jim through his manic highs and trench-deep lows as he tries to find meaning in his life and stretched-thin relationships and battles his therapist with increasing ferocity. Having been published in 23 languages, won 14 prizes, and appeared on 83 Best Books of the Year lists in a dozen countries, Vann's the man to watch. Always a personal favorite.

Wilson, G. Willow. The Bird King. Grove. Mar. 2019. 440p. ISBN 9780802129031. $26. FANTASY
Celebrated for her graphic novels and New York Times best-selling comic book series Ms. Marvel and World Fantasy Award winner for the debut novel Alif the Unseen, Wilson returns with a new novel set during the Spanish Inquisition and featuring Fatima, a concubine in the royal court of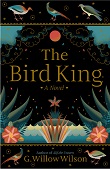 Granada, the last emirate of Muslim Spain. Fatima's close friend, palace mapmaker Hassan, has a gift for drawing maps of places he has never seen and for shaping reality, which puts him in grave danger of being accused of sorcery when the newly formed Spanish monarchy comes to visit. What must she sacrifice to make sure he will escape?

Wilson-Lee, Edward. The Catalogue of Shipwrecked Books: Christopher Columbus, His Son, and the Quest to Build the World's Greatest Library. Scribner. Mar. 2019. 416p. ISBN 9781982111397. $30; ebk. ISBN 9781982111410. HISTORICAL
In the early 1500s, as the Age of Exploration dawned, a man named Hernando Colón aspired to building a great library that would encompass all books, in all languages and featuring all matter of material, from scholarly tomes to popular ballads and pornography. That he was the illegitimate son of Christopher Columbus aided his visionary quest; he first traveled to the New World with his father, enduring shipwreck and mutiny, and then through Europe to acquire thousands and thousands of books. From a Fellow in English at Sidney Sussex College, Cambridge; with a 75,000-copy first printing.