Damour, Lisa. Under Pressure: Confronting the Epidemic of Stress and Anxiety in Girls. Ballantine. Feb. 2019. 272p. ISBN 9780399180057. $27; ebk. ISBN 9780399180064. CD. PARENTING
Studies show that from 2009 to 2014 the number of girls age ten through college reporting anxiety or fearfulness jumped 55 percent while the number for boys reporting such feelings remained unchanged. Here, the New York Times best-selling author of Untangled: Guiding Teenage Girls
Through the Seven Transitions into Adulthood explains both the benefits of stress and how parents can help their daughters cope with overload.
Dyer, Geoff. Broadsword Calling Danny Boy: Watching "Where Eagles Dare." Pantheon. Feb. 2019. 128p. ISBN 9781524747572. $22; ebk. ISBN 9781524747589. Downloadable. FILM
A critic/essayist/novelist of wide purview and rampant originality, Dyer (White Sands) offers a scene-by-scene analysis of Where Eagles Dare, an Alpine-set World War II story both heroic and kitschy that he's loved since childhood. In time for the film's 50th anniversary; Dyer has won a stack of awards ranging from the Somerset Maugham Prize to the Windham-Campbell Prize.
Fletcher, Emily. Stress Less, Accomplish More: Meditation for Extraordinary Performance. Morrow. Feb. 2019. 272p. ISBN 9780062747501. $26.99; ebk. ISBN 9780062747525. WELLNESS
Fletcher's Ziva Technique combines Mindfulness (destressing), Meditation (deep resting), and Manifesting (setting goals) to put high achievers in the place they want. Her 15-minute twice-daily plan could meet anyone's schedule. Hey, if she can get the folks at Google, Barclays Bank, and Viacom to chill, she could do it for you.

Hogan, Shanna. Secrets of a Soldier's Wife: A True Story of Marriage, Obsession, and Murder. St. Martin's. Feb. 2019. 320p. ISBN 9781250127303. $28.99; ebk. ISBN 9781250127327. TRUE CRIME
In June 2014, a pregnant 19-year-old named Erin, wife of U.S. Marine Corporal Jon Corwin, vanished into the California desert and was found months later in an abandoned mine shaft with a homemade garrote tight about her neck. It turns out that Erin was having a heated affair with another marine in their community, Christopher Lee, who was subsequently found guilty of her murder. From an award-winning journalist and New York Times best-selling author (e.g., Picture Perfect: The Jodi Arias Story).
Jeste, Dilip & Scott LaFee. Wiser, Faster: Make Smarter Decisions, Gain Emotional Control, and Boost Your Wisdom Index. Hachette. Feb. 2019. 272p. ISBN 9780316475204. lib. ebk. ISBN 9780316475235. NEUROSCIENCE
Wisdom: it's that burnished je ne sais quoi we all wish we had. In fact, say neuropsychiatrist Jeste, past president of the American Psychiatric Association, and award-winning science writer LaFee, scientists are beginning to agree that wisdom is a cluster of characteristics and behaviors defined by biology and thus could be ramped up through medical or personal intervention. A scientific study with a self-help bent; a 50,000-copy first printing.
Kan, Karoline. Under Red Skies: Three Generations of Life, Loss, and Hope in China. Hachette. Feb. 2019. 272p. ISBN 9780316412049. $26; ebk. ISBN 9780316412032. lib. ebk. ISBN 9780316491440. Downloadable. SOCIAL SCIENCE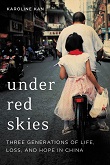 Her grandmother pulled the family through the Great Famine, her mother flouted the draconian one-child policy, her factory-worker cousin earns a pitiful 6 yuan (88 cents) per hour, and she herself is a millennial with big dreams and as much confusion. Beijing-based New York Times reporter sweeps through three generations of women in her family to show us what China is like today. With a 35,000-copy first printing.
Khrushcheva, Nina & Jeffrey Tayler. In Putin's Footsteps: Searching for the Soul of an Empire Across Russia's Eleven Time Zones. St. Martin's. Feb. 2019. 320p. ISBN 9781250163233. $28.99; ebk. ISBN 9781250163240. POLITICAL SCIENCE
Journalist/author Khrushcheva (Imagining Nabokov), a New School Professor of International Affairs and Nikita Khrushchev's great-grand daughter, uses a New Year's Eve speech by Russian president Vladimir Putin as a means of understanding the forces shaping Russia today. Interestingly, the speech was supposed to have been delivered once an hour through Russia's 11 time zones, but the process proved as fractious as Russia itself.
Malcolm, Janet. Nobody's Looking at You: Essays. Farrar. Feb. 2019. 304p. ISBN 9780374279493. $26; ebk. ISBN 9780374718251. LITERATURE
New Yorker writer Malcolm, purveyor of penetrating essays and author of books including PEN/Jacqueline Bograd Weld award winner Two Lives: Aliceand Gertrude and NBCC award winner Forty-One False Starts, here offers a trove of pieces ranging from portraits of trenchant TV commentator Rachel Maddow and stunningly garbed pianist Yuju Wang to thoughts on the pitfalls of translation and Supreme Court confirmation hearings.
Raftery, Brian. Best. Movie. Year. Ever.: How 1999 Blew Up the Big Screen. S. & S. Feb. 2019. 416p. ISBN 978150117538. $28.99; ebk. ISBN 9781501175404. FILM
As you might remember, 1999 was a great year for the movies: the films released included Fight Club, The Matrix, The Blair Witch Project, Being John Malkovich, American Beauty, Boys Don't Cry, and Three Kings. Senior writer for Wired magazine, where he covers film, television, and Internet culture, Raftery limns this groundswell, explaining how it happened, why it happened, and what it has meant for art and culture. With a 60,000-copy first printing.
Rajan, Raghuram. The Third Pillar: How Markets and the State Leave Society Behind. Penguin Pr. Feb. 2019. 400p. ISBN 9780525558316. $30; ebk. ISBN 9780525558323. BUSINESS/GLOBALIZATION
Most economists home in on the relationship between markets and the state, but Rajan sees that as shortsighted; markets don't exist in isolation but are intimately a part of the human community, making all economics actually socioeconomics. When new technologies disrupt the market, they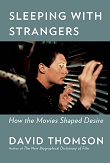 disrupt that community as well, with the sort of consequences we are seeing today. Rajan here argues that economic and political power are too concentrated and should go local. Food for thought and an intriguing portrait of how economics works.
Thomson, David. Sleeping with Strangers: How the Movies Shaped Desire. Knopf. Feb. 2019. 352p. ISBN 9781101946992. $27.95; ebk. ISBN 9781101947005. Downloadable. FILM
One of our most distinguished film critics and historians, Thomson relies on his sharp eye and encyclopedic knowledge, as well as personal memoir, to consider how movies have reinforced ideas of male supremacy and how, in light of gay and feminist perceptions, film is pushing itself to get a better take on gender roles and human desire. A hot topic and a smart author with a great sales record: not just for film aficionados.