Week ending August 17, 2018
Carruthers, Charlene. Unapologetic: A Black, Queer and Feminist Mandate for Radical Movements. Beacon. Aug. 2018. 240p. notes. index. ISBN 9780807019412. $22.95. SOC SCI
Community organizer Carruthers (founder, Black Youth Project 100) makes an argument for why the movement for black liberation must be anticapitalist, antiliberal, and pro-Palestinian as well as antiracist and profeminist. As the subtitle suggests, the author places particular emphasis on the benefits to women and queer and trans people in the movement. The book is very carefully worded to be inclusive and inspirational, but this also means that the meanings are often vague. The words liberation, leadership, and healing convey different things to different people, and their connotations shift dependent on the situation. Because of the stress on the emotional aspects of community leadership, the book does not offer much practical advice about building, structuring, or running community organizations. Carruthers also mentions that because community leaders are held to high standards among their constituents, the dilemmas that their organizations face may be difficult to solve because of competing interests.
VERDICT An emotional examination of the goals of behind the black liberation movement.—Jessica Spears, Brooklyn P.L.
Cucuzzella, Mark. Run for Your Life: How To Run, Walk, and Move Without Pain or Injury and Achieve a Sense of Well-Being and Joy. Knopf. Sept. 2018. 384p. illus. index. ISBN 9781101946305. $26.95; ebk. ISBN 9781101946312. SPORTS/HEALTH
Fifteen years ago, the "Born To Run" movement emphasized the joys of running barefoot and pain-free. Cucuzzella (West Virginia Univ. Sch. of Medicine) presents a plan for runners incorporating anatomy, biomechanics, nutrition, and minimalist footwear. The author created the U.S. Air Force Running Program and has completed more than 100 marathons. To make running safer and more fun, he points to people who run playfully, shoeless, and without pain. Instead of wearing thick-soled athletic shoes, thin-soled footwear with a wide toe box and no arch support, sandals, or running barefoot is recommended. The author suggests putting the body through a wide range of motions and taking "exercise snacks," breaks that help to get the body moving and blood flowing. There is an emphasis on eating a diet of simple, natural foods and avoiding carbohydrate loading before races. Postures and drills, such as toe yoga, are illustrated by line drawings, photographs, and links to online videos. Included are guidelines that allow readers to customize their training for need and ability.
VERDICT For beginning runners through marathoners, or those who have quit running owing to pain, this book offers an alternate approach to fitness.—Susan Belsky, Oshkosh P.L., WI
DeMent, Jamie. Canning in the Modern Kitchen: More than 100 Recipes for Canning and Cooking Fruits, Vegetables, and Meats. Rodale. Aug. 2018. 336p. photos. index. ISBN 9781635652031. pap. $24.99; ebk. ISBN 9781635652048. COOKING
Dement (Farmhouse Chef) wants to show that canning is both fun and delicious, filling her book with more than 100 classic and modern recipes for water-bath and pressure canning along with a few methods to preserve in the freezer and a few dishes featuring her canned creations. Experienced canners who enjoyed Rebecca Lindamood's Not Your Mama's Canning Book will also enjoy this guide and will be eager to try its unusual concoctions (like soy vinegar dipping sauce or ginger-scallion sauce). But while Dement asserts she'll walk novices through the basics, her brief introductory matter lacks the detailed explanation, discussion of precision, and safety precautions that beginners benefit from in recent titles by Ball or America's Test Kitchen's Foolproof Preserving, which addresses water-bath canning. Equipment is mentioned with no warning to examine jars or guidance on why some jar styles are more appropriate for some foods (though various jar styles, brands, and sizes are depicted). Sloppily, text of a recipe for four pints of pickled cherry tomatoes has an accompanying illustration of a nonpint jar (which may require a different processing time). A glossary would have also been helpful.
VERDICT For experienced canners desiring new recipes, but not for the first-timer.—Bonnie Poquette, Milwaukee
Jacobson, Mark. Pale Horse Rider: William Cooper, the Rise of Conspiracy, and the Fall of Trust in America. Blue Rider: Penguin. Sept. 2018. 288p. illus. notes. bibliog. index. ISBN 9780399169953. $27; ebk. ISBN 9780698157989. SOC SCI
Conspiracy theories and theorists have deep roots in American history. This biography of Milton William "Bill" Cooper (1943–91) uncovers a significant activist who challenged official accounts of events beginning with his manifesto Behold a Pale Horse, published in 1991, in which he claimed the government had secret dealings with extraterrestrials. He argued that John F. Kennedy was assassinated because he was about to reveal that extraterrestrials were in the process of taking over the earth. The book sold hundreds of thousands of copies and remains popular in prisons and among members of militia movements. Journalist Jacobson (New York Magazine) credits Cooper with providing a platform for contemporary skepticism about official information. He traces the influence of Cooper's radio show, Hour of the Time, on which he exhorted listeners not to believe anything without doing their own research, to contemporary distrust of the media. Cooper's personal war with the government ended in a shootout at his home, where he was killed in 2001. The biography draws on interviews and transcripts to reveal a deeply flawed individual who attracted disaffected members of society with his paranoia.
VERDICT Readers fascinated by conspiracy theories will appreciate.—Judy Solberg, Sacramento, CA
Jones, Valerie M. Nonprofit Hero: Five Easy Steps to Successful Board Fundraising. Rowman & Littlefield. Oct. 2018. 184p. illus. notes. index. ISBN 9781538115022. $32. BUS
Jones has crafted a valuable toolkit for individuals serving on volunteer Boards of Directors (BOD) for nonprofit agencies. This work lays out the fundraising strategies Jones has developed, in part based on her interest in Sufi meditation. This may seem disconnected from the world of fundraising but, in fact, spotlights what's most unique and effective about her approach: she believes wholeheartedly in authenticity as a campaign strategy. Because of this, Jones focuses on aligning procedures to BOD members' strengths and gifts. An empowerment-based scheme such as this makes people more comfortable and therefore more successful, she argues, and the templates, exercises, and quizzes in the book make it easy for organizations to move from strategy to action. At times, Jones includes a little too much anecdata, and some chapters have enough material as to overwhelm a small BOD or individuals new to the process. However, it's easy to search through the book to find useful tools and tailor or scale them based on specific needs.
VERDICT A simple yet fresh approach to fundraising.—Emily Bowles, Univ. of Wisconsin, Madison
Keinan, Tal. God Is in the Crowd: Twenty-First-Century Judaism. Spiegel & Grau. Sept. 2018. 352p. bibliog. index. ISBN 9780525511168. $28; ebk. ISBN 9780525511175. REL
Former Israeli Air Force pilot Keinan pens an inflammatory debut proselytizing for the conservation of Judaism. He is originally from Miami, FL, but an increased exposure to Judaism throughout high school and college inspired a transfer to Tel Aviv University. His "ticket to true membership" was becoming an Israeli citizen and completing his mandatory military service in the air force. Interacting with Jewish colleagues of various affiliations while working in asset management fostered "intellectual engagement" that "provided a framework for the prescriptive thinking behind" this book. It posits numerous cultural and societal threats to Judaism with proscribed solutions. Keinan's rhetoric is both fiery and calculated. He presents an academically well-formulated case that aspects of modern society are "threatening the tribe's existence…ancient and enduring, but never secure." Yet his blueprint for change is extreme, including suggesting all Jewish families contribute to a "Jewish World Endowment" fund and justifying restrictive "Particularism." Frowning upon marriages outside the faith to prevent diluting the religious gene pool brings Zionism within an uncomfortable proximity to eugenics for many potential readers.
VERDICT Radical solutions to rescue Judaism will attract a similarly small segment of the audience.—Jessica Bushore, Xenia, OH
Martin, Justin. A Fierce Glory: Antietam—the Desperate Battle That Saved Lincoln and Doomed Slavery. Da Capo. Sept. 2018. 336p. photos. notes. index. ISBN 9780306825255. $28; ebk. ISBN 9780306825262. HIST
Martin (Rebel Souls) ventures into the crowded field of Civil War history in this brief account of the bloody Battle of Antietam (Sept. 17, 1862). He attempts to distinguish his work from previous accounts of this encounter by interspersing short descriptions of Lincoln's actions during and after the fighting as well as the role of Clara Barton in helping treat the multitude of casualties. Martin is at his best relating the intersection of the experiences of individual soldiers and the places in which they found themselves as the battle progressed. Attempting to provide a sense of the emotion of the time, Martin employs prose that occasionally becomes overly dramatic and excessively florid. He, too, frequently speculates as to what individuals, including President Lincoln, must have been thinking. For readers seeking a sense of the landscape of the events, Martin provides a useful epilog in which he narrates his own walk around the Antietam National Battlefield in northwestern Maryland, revealing how he attempted to share the soldiers' perspectives.
VERDICT Based largely on published sources, this work lacks the depth of research of James McPherson's concise Crossroads of Freedom (2002) and the breadth of Stephen W. Sears's classic Landscape Turned Red (1983). Yet the book may still be useful as a readable introduction for those unfamiliar with this crucial battle.—Charles K. Piehl, Minnesota State Univ., Mankato
Schwarcz, Lilia M. & Heloisa M. Starling. Brazil: A Biography. Farrar. Aug. 2018. 800p. maps. notes. index. ISBN 9780374280499. $40; ebk. ISBN 9780374710705. HIST
Written by two leading Brazilian historians and translated from Portuguese, this is a critical "biography" of the country of Brazil. Schwarcz and Starling argue that Brazil was forged with violence, which pervades its history and challenges its self-image as a just society as it has a long tradition of racial and cultural intermingling. The authors call out widespread "Bovarism" (a notion inspired by Frenchman Gustave Flaubert's eponymous Madame Bovary), from which Brazilians experience chronic dissatisfaction and a sense of lacking agency. After this provocative start, the narrative becomes a conventional history complete with dates, names, events, crises, and social movements. Coverage runs from 16th century European colonization through Brazil's return to democracy in the 1990s. Along this journey, readers will encounter many objects of fascination. Quilombos were free cities established by slaves who broke their chains. Brazil and its allies decimated Paraguay in the ghastly War of the Triple Alliance. Fascist sympathizer and strongman Getúlio Vargas committed suicide rather than lose power. Seminal treatises such as Gilberto Freyre's Casa-Grande & Senzala and Oswald de Andrade's Manifesto Antropófago transformed 20th century Brazilian intellectual life.
VERDICT Specialists and Lusophiles will enjoy this history's depth and rigor, though its prosy 800 pages may faze casual readers.—Michael Rodriguez, Univ. of Connecticut, Storrs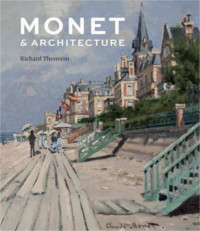 Thomson, Richard. Monet and Architecture. Yale Univ. May 2018. 240p. illus. notes. bibliog. index. ISBN 9781857096170. $40. FINE ARTS
This large-format book accompanies a recent exhibition at the National Gallery in London and boasts more than 200 color illustrations. Thomson (fine arts, Univ. of Edinburgh; Monet: A Bridge to Modernity) serves as the guest curator. Known for his Impressionist landscape paintings, Claude Monet (1840–1926) also drew city and rural scenes, including many buildings, with some of his series capturing landmark structures. The narrative spans the 1860s to 1912, when the artist worked in France, England, the Netherlands, and Italy. The author describes Monet as often painting old buildings with irregular massing. He also chose views of structures in natural settings, creating visual contrast. Subjects include the Rouen Cathedral, Charing Cross Bridge, Waterloo Bridge, the Houses of Parliament, the Doge's Palace, and San Giorgio Maggiore. As Thomson notes, Monet was very concerned with reproducing the changing light and color effects on and around these structures.
VERDICT Thomson's thorough study of Monet's early and middle career puts architecture in context as an element of the artist's work to create, part of his rare blend of "the picturesque, the modern, and the mysterious."—David R. Conn, formerly with Surrey Libs., BC