Week ending August 17, 2018
Franz, Aisha. Shit Is Real. Drawn & Quarterly. Jul. 2018. 288p. tr. from German by Nicholas Houde. ISBN 9781770463158. pap. $24.95. LITERARY
In a mildly futuristic world, Selma undergoes an awkward breakup with boyfriend Max, an experience that disconnects her from actively engaging in life and somehow forces her internal world of dreams to merge with her waking life. She's tacitly supportive of best pal Yumi, who is quite happy to overshare with her depressive friend all the glories and reveries of her blossoming relationship, which furthers Selma's alienation. Feeling a kinship with an oddly shunned fish at a local eatery, Selma imagines herself as a visitor in its aquarium as the other fish ignore it. She obsesses over a potential new love, a pet shop owner, but the connection is fraught with missed opportunities. She dreams of deserts and sometimes sex, but every exciting possibility ultimately deflates into bland nothingness. In the midst of her shifting realities, a chance finding of the key to her rich and glamourous neighbor's apartment gives Selma new direction as she explores other lives and options.
VERDICT Franz's (Earthling) dream of a comic reveals a gently sad take on desire and depression that uses a loose, almost naïve pencil-line style to create an unsettling yet entirely empathic worldview worth experiencing. [Previewed in Jody Osicki's "Graphically Speaking," LJ 6/15/18.]—Douglas Rednour, Georgia State Univ. Libs., Atlanta
Matz (text) & Luc Jacamon (illus.). The Complete The Killer. Archaia: BOOM! Jul. 2018. 768p. tr. from French by Edward Gauvin & Matz. ISBN 9781684151882. pap. $39.99; ebk. ISBN 9781641440035. Rated: Mature. CRIME FICTION
A nameless, cold-blooded contract killer on the verge of cracking under the pressure of his job retires to Mexico, hoping to live out the rest of his days in peace. Double-crossed by one of his few trusted associates, he's now drawn back into a life of crime, this time alongside members of a dangerous cartel involved in a geopolitical conspiracy stretching from Europe to North and South America. Not exactly the most original setup for a thriller, but author Matz (The Assignment; Black Dahlia ) channels the icy cool and explosive action of Dashiell Hammett through the contemplative cool of Albert Camus to create an enigmatic protagonist whose narration of his actions takes the form of a captivating meditation on a life devoted to violent survival at any cost. Photorealistic illustrations of exotic locales combined with expressively cartooned characters courtesy of illustrator Jacamon (Cyclops, Vol. 1) give the proceedings a slick, fresh feel. While the plot occasionally seems a touch too convoluted, following every twist and turn is beside the point—what matters here is the collision of sex, violence, glamour, and attitude.
VERDICT A thrilling and surprisingly literary crime epic. This omnibus collects for the first time the entire previously released series.—Tom Batten, Grafton, VA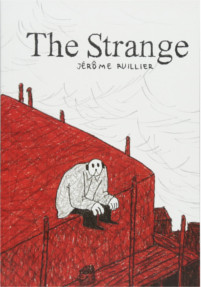 Ruillier, Jérôme. The Strange. Drawn & Quarterly. Jun. 2018. 160p. tr. from French by Helge Dascher. ISBN 9781770463172. pap. $21.95. LITERARY
An unnamed character sells all of his belongings in order to flee one unidentified country for another, seeking a fresh start and a chance at a better life for his family. There, a rotating cast of characters, including a crow, his neighbors, a group of activists, and others, narrate his adventures as he attempts to take new opportunities and dodges a brutal police force operating under strict immigrant expulsion quotas. Based on interviews with undocumented workers, activists, police officers, and others familiar with the plight of immigrants and refugees, French author Ruillier's (Dad, Mom, Anita and I) first book to be translated into English manages to dramatize and humanize a story most readers will identify with from headlines and politician talking points. Most powerful, the unique narrative structure offers a chorus of impressions from a diverse cast, fascinatingly implicating every member of society for the role they play in the system that alternately embraces or rejects the displaced.
VERDICT As moving as it is timely and provocative.—Tom Batten, Grafton, VA