Cullen, Dave. Parkland. Harper. Feb. 2019. 224p. ISBN 9780062882943. $26.99; ebk. ISBN 9780062882974. lrg. prnt. SOCIAL SCIENCE

In 1999, journalist Cullen was among those first arriving at the scene of the Columbine High School massacre, whose story he told in the New York Times best-selling Columbine. After the similar massacre last year at the Marjory Stoneman Douglas High School in Parkland, FL, Cullen was impressed by the courage of surviving students who stood up to political pressure and the NRA to campaign for gun control. Here he blends their activism with a portrait of their post-shooting lives, as they manage their way through the end of the school year. Just dropped into the schedule (note the February date); with a 150,000-copy first printing.

duBois, Jennifer. The Spectators. Random. Apr. 2019. 352p. ISBN 9780812995886. $27; ebk. ISBN 9780812995893. Downloadable. LITERARY FICTION
Talk show host Matthew Miller entertains his millions of viewers as he chronicles a flailing, failing society by revealing the unsavory secrets of others on live TV. But neither his audience nor his colleagues know much about Mattie himself until high school students responsible for a mass shooting are revealed to be big fans, and he is caught in the glare, with his own secrets as a rising young politician in New York City suddenly exposed. Expect good (and clearly topical) work from duBois, one of the National Book Foundation's 5 Under 35 Authors, a PEN/Hemingway finalist for A Partial History of Lost Causes, and NYPL Young Lions finalist for Cartwheel.

George, Nina. The Book of Dreams. Crown. Apr. 2019. 400p. ISBN 9780525572534. $26; ebk. ISBN 9780525572558. lrg. prnt. CD/downloadable. LITERARY FICTION
In this follow-up to George's beloved best sellers The Little Paris Bookshop and The Little French Bistro (the former a LibraryReads Favorite of the Favorites and the latter a LibraryReads pick), Henri lies in a coma after pulling a young girl from the Thames, former girlfriend Eddie learns that she's listed as next of kin in his will, and Henri's teenage son, Sam, whom Henri has never met because he just couldn't commit to Sam's mother, builds a relationship with Eddie and prepares to meet his father. But things don't always work out as they should. With scenes of Henri's childhood in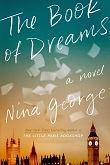 Brittainy, which figured in Bistro and where George partly resides.

Lee, Robert W. A Sin by Any Other Name: A Reckoning with the South's Past and Future. Convergent: Crown. Apr. 2019. 256p. ISBN 9780525576389. $25; ebk. ISBN 9780525576396. Downloadable. RACE RELATIONS
Associate rector at a North Carolina church, Lee spoke forcefully at the 2017 MTV Awards, saying that Robert E. Lee, his great-great-great-great-uncle and the Confederate general whose statue stood center stage at the Charlottesville protests, had been made "an idol of white supremacy, racism, and hate." His speech won him accolades, death threats, and an ouster from his church. Here he discusses being raised a Lee in the South, racism as America's original sin, the way cultural assumptions of white supremacy damaged his Christian values, and the dangers of nostalgia for the Lost Cause.

Panowich, Brian. Like Lions. Minotaur: St. Martin's. Apr. 2019. 320p. ISBN 9781250206947. $26.99; ebk. ISBN 9781250206954. CD. MYSTERY
Introduced in Panowich's acclaimed debut, Bull Mountain—it won the International Thriller Writers Award for best first novel and SIBA's Pat Conroy Award for best crime novel—Georgia sheriff Clayton Burroughs here finds himself tangled up with Bull Mountain's most dangerous criminal family, which happens to be his own. He's still recovering from being shot in a fight that killed his two brothers, and with their deaths creating a power vacuum in the local underworld, he must decide whether to save the family or stick to law enforcement—and protect his wife and son. Big promotion.

Stack, Megan K. Women's Work: A Reckoning with Home and Help. Doubleday. Apr. 2019. 352p. ISBN 9780385542098. $26.95; ebk. ISBN 9780385542104. Downloadable. MEMOIR
Quitting her big-time job as a foreign correspondent to write a book at home in Beijing while having a baby, National Book Award finalist Stack soon faced a conundrum:  to do what she wanted to as a successful, upper-class woman, she had to hire cheap Chinese labor to handle the childcare and housework. The woman she initially hired left her own daughter in the countryside to earn much-needed cash, and others who worked for Stack over the years eventually revealed hardships ranging from domestic abuse and alcoholism to medical and family emergencies. Not just the story of one woman but a study of an ethnical challenge women must make daily and key reading for everyone.