Bannalec, Jean-Luc. The Missing Corpse: A Brittany Mystery. Minotaur: St. Martin's. Apr. 2019. 336p. ISBN 9781250173362. $25.99; ebk. ISBN 9781250173379. MYSTERY
A corpse discovered by a venerated actress near Brittany's oyster-bearing Belon River vanishes by the time Commissaire Dupin arrives on the scene, but another corpse of unknown provenance appears in the Monts d'Arrée hills, which are said to be swarming with demons and fairies. In his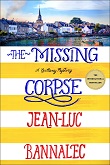 fourth outing, the commissaire must thus confront not just a mysterious sand-theft operation but busy druids and Celtic mythology. From the internationally best-selling author of The Fleur de Sel Murders.
Fredericks, Mariah. Death of a New American: A Mystery. Minotaur: St. Martin's. Apr. 2019. 304p. ISBN 9781250152992. $26.99; ebk. ISBN 9781250153005. MYSTERY
In this follow-up to the LJ-starred debut A Death of No Importance, ladies maid Jane Prescott sojourns with the Benchleys in 1912 Long Island for the marriage of daughter Louise to William Tyler at his parents' stately mansion. All's well until the Tyler children's Italian American nanny is murdered, which is interpreted as the botching of a kidnapping meant as vengeance for Charles Tyler's crusade against New York's notorious Italian mafia, the Black Hand. But Jane begins to wonder.

Harris, C.S. Who Slays the Wicked. Berkley. Apr. 2019. 352p. ISBN 9780399585654. $26; ebk. ISBN 9780399585661. MYSTERY
Sebastian St. Cyr, Viscount Devlin, has always taken issue with the unscrupulous Lord Ashworth, whom he suspects of assisting in the murder of innocent street children, yet HE can't dissuade his willful young niece Stephanie from marrying him. Now the young lord lies dead, and Stephanie—who was deserted by her husband when she was pregnant with just-delivered twins—is suspected of murdering him. From the USA Today best-selling author of Why Kill the Innocent.

Huber, Anna Lee. An Artless Demise. Berkley. Apr. 2019. 384p. ISBN 9780451491367. pap. $16; ebk. ISBN 9780451491374. MYSTERY
In 1831, Lady Kiera Darby returns to London, the city she fled in the face of scandal two years previously. Now she's facing more scandal, having received a blackmail letter threatening to reveal her late anatomist husband's involvement with body snatchers even as people on the streets are being killed and their bodies sold to medical schools. Meanwhile, she and new husband and investigative partner Sebastian Gage are asked to probe the murder of a young nobleman a block from his home—by body snatchers or not? From the Daphne Award–winning author.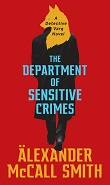 McCall Smith, Alexander. The Department of Sensitive Crimes: A Detective Varg Novel. Pantheon. Apr. 2019. 208p. ISBN 9781524748210. $24.95; ebk. ISBN 9781524748227. lrg. prnt. MYSTERY
Wouldn't it be just like the author of the No. 1 Ladies' Detective Agency mysteries to offer a gentle parody of the Scandinavian noir currently defining the crime fiction scene? Led by Ulf Varg, who considers his cases even more important than his dog's happiness, the Malmö Police's Department of Sensitive Crimes considers three momentous cases: a back-of-the-knee stabbing, an imaginary boyfriend's disappearance, and possibly supernatural incursions at the local spa. For readers of humorous fiction as well as mystery; from an author who has sold millions and millions of books.
McGuinness, Patrick. Throw Me to the Wolves. Bloomsbury. Apr. 2019. 336p. ISBN 9781620401514. $27. MYSTERY
An Oxford professor of French and comparative literature whose debut novel, The Last Hundred Days, was long-listed for the Man Booker Prize, McGuinness returns with a crime novel steeped in literary language and reflection. When a young woman is found dead by the Thames, eccentric former teacher Mr. Wolphram is suspected of the crime, which sets off a media frenzy. Former student Ander investigates, interviewing pupils from their elite boarding school who either revere or revile him while he himself recalls best friend Danny, who vanished from the school when IRA terror was in full swing.
Murphy, Shirley Rousseau. Cat Chase the Moon: A Joe Grey Mystery. Morrow. Apr. 2019. 288p. ISBN 9780062838049. $24.99; ebk. ISBN 9780062838063. lrg. prnt. MYSTERY
In this latest from award-winning feline mystery maven Murphy (Cat Shining Bright), Joe Grey and partner Dulcie hunt desperately for their missing teen kitten Courtney, with Joe Grey also worrying that his colleagues at the Molina Point Police Department are missing some major clues regarding a woman found beaten on the beach. Meanwhile, Courtney is enjoying her time with a local antiques shop owner, unaware that humans can be devious. As usual, the cat's meow.
Perry, Anne. Triple Jeopardy: A Daniel Pitt Novel. Ballantine. Apr. 2019. 288p. ISBN 9780525620952. $28. MYSTERY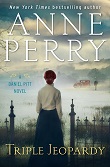 Having introduced himself in the LJ-starred Twenty-One Days, Daniel Pitt—the lawyer son of Perry's long-running protagonists Thomas and Charlotte Pitt—returns to face a sticky case. His sister Jemima is back in London from the States, and so is a British diplomat named Sydney, who's accused of stealing a family heirloom from a friend of Jemima. Unfortunately, Daniel is set to defend him but begins to suspect that he's not been told the whole story.
Thompson, Victoria. Murder on Trinity Place. Berkley. Apr. 2019. 352p. ISBN 9780399586637. $26; ebk. ISBN 9780399586651. MYSTERY
In this next in the "Gaslight Mystery" series from the Edgar and Agatha award–nominated Thompson, Frank and Sarah Malloy are anticipating a joyous New Year's event at New York's Trinity Church—it's 1899—when they notice the relative of a neighbor bothering others as he meanders through the crowd. The next day, he's found dead, the family wants the whole thing hushed up, and private investigator Frank takes the case, with Sarah by his side.
Tuti, Ilaria. Flowers over the Inferno. Soho Crime. Apr. 2019. 360p. tr. from Italian by Ekin Oklap. ISBN 9781641290685. $25.95; ebk. ISBN 9781641290692. MYSTERY
When a naked man is found with his eyes gouged out in the ancient forests crowning the Italian Alps, Supt. Teresa Battaglia is called in for her expertise in criminal profiling. In her sixties and having battled male colleagues to earn her rank, Battaglia doesn't entirely trust the city-slicker young inspector she's been assigned, but she does understand that this case is connected to the region's dark history. Winner of 2014 Gran Giallo Città di Cattolica literary prize and a debut to boot.
Upson, Nicola. Sorry for the Dead: A Josephine Tey Mystery. Crooked Lane. Feb. 2019. 304p. ISBN 9781683319849. $26.99; ebk. ISBN 9781683319856. MYSTERY
Upson, who's recent Nine Lessons was short-listed for the CWA Historical Dagger Award, offers her eighth mystery featuring leading British crime writer Josephine Tey, who here returns to Charleston Farmhouse on the Sussex Downs, where she once lodged as a young teacher during the Great War. Another young lodger was killed at the time, and murders past and present force Tey to consider possible connections.