Bazelon, Emily. Charged: The New Movement to Transform American Prosecution and End Mass Incarceration. Random. Apr. 2019. 432p. ISBN 9780399590016. $28; ebk. ISBN 9780399590023. Downloadable. LAW
A staff writer for the New York Times Magazine and the Truman Capote Fellow for Creative Writing and Law at Yale Law School, from which she graduated, Bazelon argues that in our out-of-balance justice system prosecutors have far too much power, determining who walks, who goes to jail, and who dies—all of which contributes to the mass incarceration problem. Correcting that problem means reshaping the role of prosecutor, and fortunately some reform-minded souls have done so on election to that office—election being the key word here, which means we the people can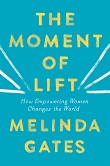 have a say.
Gates, Melinda. The Moment of Lift: How Empowering Women Changes the World. Flatiron: Macmillan. Apr. 2019. 288p. ISBN 9781250313577. $26.99; ebk. ISBN 9781250313560. CD. WOMEN'S STUDIES
Cochair of the Bill and Melinda Gates Foundation and declared the third most powerful woman in the world by Forbes, Gates here explains why her philanthropy focuses on women, making the connection between women's empowerment and the health of societies. That means promoting family planning, job opportunities, paid family leave, and the equitable division of household labor and booting out gender bias in all its forms. Huge publicity.
Sherman, Jake & Anna Palmer. The Hill To Die On: The Battle for Congress and the Future of Trump's America. Crown. Apr. 2019. 352p. ISBN 9780525574743. $28; ebk. ISBN 9780525574767. CD/downloadable. POLITICAL SCIENCE
In a study that will appear after the 2018 midterm elections, two senior writers at Politico chart the run-up to those elections, clarifying the battle between Democrat and Republican, the Freedom Caucus and Speaker Paul Ryan, and Brett Kavanaugh and his accusers, as Donald Trump ranges (and rages) across the twitter-sphere. Not just politics but how politics works.
Sedgwick Davis, Shannon. To Stop a Warlord: My Story of Justice, Grace, and the Fight for Peace. Spiegel & Grau. Apr. 2019. 352p. ISBN 9780812995923. $27; ebk. ISBN 9780812995930. Downloadable. MEMOIR
CEO of the Bridgeway Foundation, the charitable arm of an investment firm, lawyer and human rights advocate Sedgwick Davis did something unexpected to achieve a humanitarian goal: she coordinated with a South African private military contractor and a specialized unit within the Ugandan army to combat the activities of Joseph Kony and his Lord's Resistance Army, which have rampaged through central Africa for two-plus decades, killing over 100,000 people, displacing millions, and forcing countless children to become child soldiers. Along the way, she has had tough ethical questions to ask.
Wolf, Naomi. Outrages: Sex, Censorship and the Criminalization of Love. Houghton Harcourt. Apr. 2019. 304p. ISBN 9780544274020. $30; ebk. ISBN 9780544273344. SOCIAL HISTORY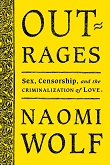 Key cultural critic and New York Times best-selling author, Wolf clarifies the current struggle for LGBTQ rights by pointing back to a single law passed in 1857 England whose tenets were quickly assimilated in America. Before its passage, only individual acts of sodomy were criminal; afterward, homosexuality itself was illegal and even referencing it was considered obscene. To highlight the impact of the law, Wolf draws on a secret memoir by John Addington Symonds, a closeted 19th-century homosexual English critic, that she considers the first gay rights manifesto in the West.