Sweet and spicy love from Alisha Rai, debut historical Pride & Prejudice style romance from Leah Garriott, and more from Janna MacGregor in the "Cavensham Heiresses" series.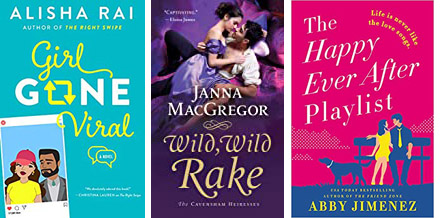 Adams, Lyssa Kay. Undercover Bromance. Berkley. (Bromance Book Club, Bk. 2). Mar. 2020. 352p. ISBN 9781984806116. pap. $16. CONTEMPORARY ROMANCE
Anyone who can last in a Royce Preston restaurant can write their own ticket in the culinary world, so Liv Papandreas is determined to keep her job at the celebrity chef's restaurant for one more year. But when she catches her boss harassing an employee, she's fired and blacklisted from the Nashville restaurant scene. Not one for giving up, she accepts the help of nemesis Braden Mack and his Bromance Book Club, whose members use the strategies of romantic suspense to expose her powerful ex-boss. In the process, prickly Liv and confident Braden experience some scorching chemistry and the book club's matchmaking attempts. The main romance is supported by an eccentric group of secondary characters, including a farm-owning activist named Rosie, a Russian hockey player with gastrointestinal problems, and an amorous rooster named Randy. ­
VERDICT Adams's latest (The Bromance Book Club) combines humorous elements that balance the heavier themes of workplace harassment, resulting in a fast-paced romance that offers both laughs and greater social relevance. —Meagan Day, High Plains Lib. Dist., CO
Basso, Adrienne. Every Bit a Rogue. Zebra: Kensington. (Ellinghams, Bk. 4). Feb. 2020. 336p. ISBN 9781420146226. pap. $7.99. HISTORICAL ROMANCE
Abandoned at the altar, Jon Burwell, ­Viscount Kendall, hides behind his scientific pursuits to cope with the humiliation. For Emma Ellingham, rejection has resulted in a loss of her passion to sketch and paint, which she used to do earnestly. In Jon's workshop, however, Emma's dormant creative impulses spring back to life when she discovers his latest invention. Reluctant to allow anyone to view his creations, Jon banishes Emma from the lab, but not before the two get caught in a storm and Emma is compromised. Facing scandal and being forced to wed and relive their painful pasts, the couple will have to rely on each other in ways they never expected.
VERDICT Basso (Intimate Betrayal) allows for romance to kindle and build between Emma and Jon with just a touch of drama to keep the plot compelling. This is perfect for readers who prefer a Regency romance driven by the characters' desires rather than an outside element of suspense. —Kellie Tilton, Univ. of Cincinnati Blue Ash
Garriott, Leah. Promised. Shadow Mountain. (Proper Romance). Feb. 2020. 368p. ISBN 9781629726144. pap. $15.95. HISTORICAL ROMANCE
DEBUT Miss Margaret Brinton has been duped once by love, and she won't allow it to happen again. The only sure way to protect her heart is to marry a man she cannot love. When she meets the handsome Mr. Northam at a house party, she immediately sets her sights on him, knowing that the rakish man is exactly as he seems. The charming Northam is nothing like his rude cousin, Lord Williams. Brooding and inscrutable, Williams is against the idea of Margaret marrying Northam, arguing that the match will end in heartbreak. Angry with Lord Williams for interfering with her plans, Margaret returns home only to find that her father has arranged an engagement for her—with Lord Williams. Margaret is certain Williams only wants to stop her from marrying his cousin and does not actually care for her. Fans of Pride & Prejudice will feel a sense of familiarity as the two rival suitors duke it out for Margaret's affections. VERDICT Debut ­author Garriott's smooth prose and character-driven story will enthrall readers looking for sweet ­historicals with Austen-esque plots. —
Kathryn Howe, Saint John Free P.L., NB
Jeffries, Sabrina. The Bachelor. Zebra: Kensington. (Duke Dynasty, Bk. 2). Feb. 2020. 288p. ISBN 9781420148565. pap. $7.99. HISTORICAL ROMANCE
Lady Gwyn Drake may pretend not to notice the handsome family estate gameskeeper, Maj. Joshua Wolfe, but she's outraged when her twin brother appoints him her bodyguard for the Season. He doesn't seem to like her, and Gwyn was hoping to spend that time figuring out how to get rid of a previous lover threatening to divulge their past. For Joshua's part, Gwyn is untouchable; the chemistry between them is a curse. As the couple travels to London, the blackmail Gwyn faces becomes more serious. When the War Office sends Joshua on a new assignment to locate a spy in London, he and Gwyn discover they can work well together despite society's views.
VERDICT Jeffries ("Sinful Suitors" series) explores the cultural mores of early Regency London to weave a tale of blackmail, spies, and a Season debut. Joshua is a fascinating hero, the only untitled male among the series' rather gentried family and always aware of the fact. There is an overarching series mystery developing, but readers yet to pick up the previous title, Project Duchess, shouldn't be deterred. —Kellie Tilton, Univ. of Cincinnati Blue Ash
Jimenez, Abby. The Happy Ever After Playlist. Forever: Grand Central. Apr. 2020. 400p. ISBN 9781538715642. pap. $15.99. CONTEMPORARY ROMANCE
It's been two years since Sloan lost her fiancé. On her way to visit his grave, she nearly runs over a dog, and when she stops to check on him, he hops right into her car. After a quick check on his collar, and a visit to the vet to make sure he's okay, Sloan calls the number on the dog's ID tag. Every day for a week she leaves a message for this mysterious owner, even though she's getting more and more attached to the pooch. Jason has been in Australia, out of touch for weeks. When he can finally check his voicemails, he finds out that not only did his friend not take care of his dog but someone else now has him. And she's not about to just give the dog back to a possibly neglectful owner. Thus begins a series of texts, phone calls, and voicemails between Jason and Sloan. This delightfully adorable story features a heroine who is finally ready to break out of the shell of grief and an on-the-rise musician hero.
VERDICT With a playlist running throughout the novel, this book will strike a chord with music-loving romance readers. A first-tier purchase for public libraries. —Amanda Toth, Lane Libs., Hamilton, OH
Lauren, Christina. The Honey-Don't List. Gallery: S. & S. Mar. 2020. 320p. ISBN 9781982145217. $28. CONTEMPORARY ROMANCE
Carey Douglas has worked alongside Melissa and Rusty Tripp for years, starting as a teenager in their brick-and-mortar store, Comb + Honey, and continuing as Melissa's assistant as they built their television empire. She works constantly, but Carey has a condition that affects her hands and her insurance is too good to give up. James McCann, meanwhile, was promised a job as a structural engineer but functions as Rusty's assistant. He hates fetching coffee and managing schedules, but his last job was at a firm plagued by high-profile scandals, and he wouldn't be employable elsewhere. Melissa and Rusty are about to go on a West Coast tour to celebrate their highly anticipated new guide to making marriage work. Unfortunately, they can't stand each other, and with a new Netflix series about to drop and so much riding on the success of the book, the company's publicist insists that Carey and James travel with the Tripps and keep them in line. ­
VERDICT The author duo's many fans will enjoy this charming romance. [see the Q&A with Christina Lauren, LJ 2/20] —Erin Holt, formerly with Williamson Cty. P.L., Franklin, TN
MacGregor, Janna. Wild, Wild Rake. St. Martin's Paperbacks. (Cavensham Heiresses, Bk. 6). Feb. 2020. 368p. ISBN 9781250296016. pap. $7.99. HISTORICAL ROMANCE
After the death of her horrid husband, whom she did not love, Lady Avalon Warwyk establishes herself in the town of Thistledown, raising her son away from city life. When Devan Ferris arrives as the replacement of the local vicar, Avalon is dismayed. The brother to her son's guardian, Devan has been sent to spy on how she is raising Thane. When he discovers Avalon has set up a business to help resettle women who have fallen on hard times, his interest grows, and Avalon begins to wonder if he might be just the help she needs.
­VERDICT ­MacGregor's latest in the "Cavensham Heiresses" series (The Bad Luck Bride) will delight those looking to warm their hearts with a tender read. Passionately defiant of her past, Avalon aims to right the wrongs in Regency England, while ­Devan stands at the ready to help her. Though the sixth book in the series, this is still a great jumping-on point for new readers. —Kellie Tilton, Univ. of Cincinnati Blue Ash
Rai, Alisha. Girl Gone Viral. Avon. (Modern Love, Bk. 2). Apr. 2020. 400p. ISBN 9780063003989. $27.99. CONTEMPORARY ROMANCE
Reclusive former model Katrina King doesn't make new friends easily or go out very often thanks to a horrific incident in her past. So when she visits a favorite coffee shop and allows a cute guy to share her table in the crowded shop, she thinks nothing of it. After all, her bodyguard Jasvinder Singh, a former soldier, is watching so she knows she's safe. But her innocent encounter goes viral thanks to a couple sitting at a nearby table, and suddenly she's the mysterious woman in a trending hashtag. When she panics at the thought of people following her every move, Jas sweeps her away to his family's home. Now Kat has another problem. How does she handle close quarters with the man she's been falling in love with, especially since she's getting mixed messages from him? Could Jas see her as more than a client after all these years?
VERDICT Rai follows up The Right Swipe with a sweet and spicy romance that delves into some deep issues of mental health for both main characters (severe anxiety and PTSD), as well as the effects of social media on people's lives. Essential for public libraries. [See Prepub Alert, 10/14/19.] —Melanie C. ­Duncan, Washington ­Memorial Lib., Macon, GA
Reid, Charish. Hearts on Hold. Carina: Harlequin. Feb. 2020. NAp. ebk. ISBN 9781488055157. $3.99. CONTEMPORARY ROMANCE
Dr. Victoria Reese thrives on always having a plan. As a black woman, she stands out among the English professors at the prestigious Pembroke University. The department chair may not respect or support her, but she's confident about her new idea for a program that partners students with work experience at the public library. What she didn't plan for was that the head children's librarian helping her create the program would be a laid-back, gorgeous man with long hair and tattoos. John Donovan is extra busy right now as the caretaker of his 12-year-old niece while her mom is in Europe for a few months for work, but he knows that finding time for the professor is worth it, especially time in a nonprofessional capacity. He proposes an affair. ­Victoria craves the physical release with him, but she isn't ready when her heart gets involved.
VERDICT The sex is exciting and sometimes risqué (getting it on in a public greenhouse!), but the more satisfying and well-developed elements are the examination of identity and the importance of supportive friends. Reid's latest ( The Write Escape) is a win for readers who desire steam and substance. —Jenna Friebel, Oak Park P.L., IL
Wray, Sharon. In Search of Truth. Sourcebooks Casablanca. (Deadly Force, Bk. 3). Feb. 2020. 512p. ISBN 9781492655664. pap. $7.99. ROMANTIC SUSPENSE
After the death of her husband, Allison Pinckney is thrown together with a man she has been trying to avoid. Former Green Beret Zack Tremaine is given a second chance to redeem his past. Drawing on Allison's historical expertise, they have to hunt down the lost treasure that is the key to Zack's redemption. Their shared mission brings them closer than they ever expected. The third book in Wray's "Deadly Force" series hits the ground running and immediately drops readers into the action. Unfortunately, this means there are plot points and characters from previous books whose importance is not well defined. This book should not be a reader's entry into the series. VERDICT The plot is fast paced but may require some suspension of disbelief, while the romance is mediocre at best, with not much in the way of chemistry between Allison and Zack. Purchase only where previous series entries (Every Deep Desire) circulate well. —Amanda Turk, Corvallis-Benton Cty. P.L., OR
CORRECTION
In the starred review of Anna Harrington's An Inconvenient Duke (Romance, LJ 1/20), author Harrington was misidentified as Hampton. LJ apologizes for ­the error.