Coxon, Ann & others. Anni Albers. Yale Univ. Aug. 2018. 192p. illus. notes. index. ISBN 9780300237252. $50. FINE ARTS
Accompanying a traveling retrospective, this catalog successfully shows Anni Albers's role in the development of 20th-century modernism, familiarizes the public with her art, and questions the hierarchy of mediums. Albers studied and worked at the Bauhaus in the 1920s; taught at Black Mountain College, NC, in the 1940s and at Yale University in the 1950s and 1960s. Her "pictorial weavings" were meant only to be looked at, as opposed to her "functional textiles" created for architecture and interiors. At the end of the 1960s, she began focusing on printmaking, which brought her more recognition than her weaving, which she noted bitterly. Art historian Briony Fer (Univ. Coll., London) discusses how through Albers's work weaving became a modernist medium at the intersection of pictorial abstraction, technology, and architecture. Easily understood essays by curators Coxon (Tate, London) and Maria Müller-Schareck (Kunstsammlung Nordrhein-Westfalen, Germany) explain the artist's place in the history of international abstract movement and her drive to make an ancient craft into modern art.
VERDICT Thoroughly researched and with high-quality images that do justice to the color and dimensionality of Albers's weavings, this book will interest fiber artists and historians and students of modern art and architecture.—Nancy J. Mactague, formerly Aurora Univ. Lib., IL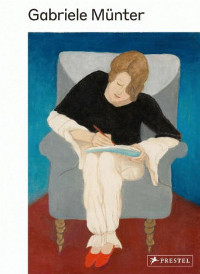 Gabriele Münter.
Prestel. Jan. 2018. 256p. ed. by Isabelle Jansen. illus. filmog. notes. bibliog. ISBN 9783791357058. $60. FINE ARTS
This accompaniment to a traveling exhibition of 20th-century German artist Münter showcases her in a different light than previous books and exhibitions, which examined her in relation to her colleague and first partner, Wassily Kandinsky, and contextualized her work mainly within the framework of the early 20th-century German expressionist group, the Blue Rider. The curators reveal a complex, stylistically diverse artist by presenting her paintings thematically rather than chronologically. They further show that the expressive aspect of her work was more important than the form it took, and that Münter worked methodically and thoughtfully at her art throughout her life. The paintings include portraits, interior scenes, landscapes, and repetitions and variations of themes. While some of Münter's well-known paintings are included, many of the works here have never been exhibited publicly and are drawn from the artist's estate, maintained by the Lenbachaus Museum in Munich.
VERDICT With beautiful color images and a chronology, this work is recommended for readers interested in 20th-century German art and women artists.—Sandra Rothenberg, Framingham State Univ. Lib., MA